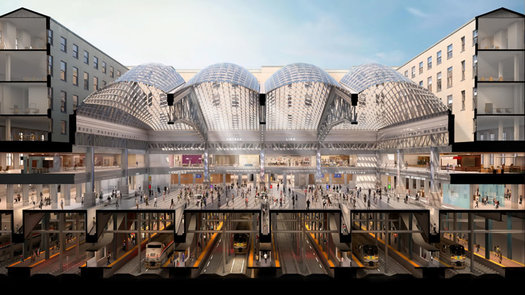 The Cuomo admin announced Thursday that construction is starting on the Moynihan Train Hall, which serve as the new station for Amtrak trains in New York City. The $1.6 billion project is expected to be finished in 2020.
The train hall will be in the Farley Building -- a post office complex -- across the street from Penn Station. Former New York US Senator Daniel Patrick Moynihan proposed the trains-at-Farley idea decades ago, and there was a plan dating back as far as 10 years ago for the construction of a "Moynihan Station" on the site. Now a version of the idea is finally happening.
An underground concourse will connect Moynihan to Penn Station. The train hall will also serve the Long Island Rail Road.
This is of interest here, of course, because NYP is by far the most popular destination from Albany-Rensselaer. And Albany-Rensselaer is one of the nation's 9th busiest train station, with more than 825,000 "on offs" each year. Also: Penn Station is depressing.
Here are new renderings, along with an animated promo video....
Renderings
They're at the top in large format -- click or scroll all the way up.
Promo video
A Cuomo admin promo video that shows what the station will look like in action:
Earlier
+ The plan for a new NYC train station. (For real this time. Probably.)
+ Amtrak is now running some trains from Albany-Rensselaer to Grand Central
Hi there. Comments have been closed for this item. Still have something to say? Contact us.