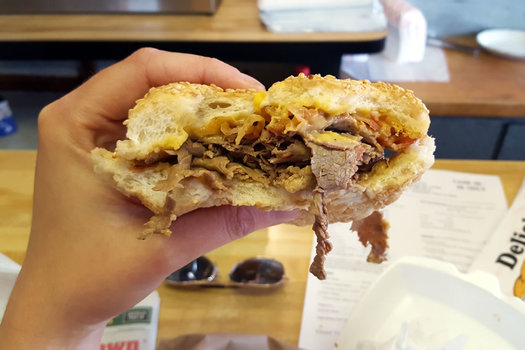 By Deanna Fox
Whoever coined the saying "absence makes the heart grow fonder" probably didn't mean for the quip to apply to a sandwich.
Hey, love comes in many forms, including -- but not limited to -- roast beef layered between bread.
When people speak of comfort food, sandwiches are rarely listed in the ranks, but sometimes a PBJ just the way Mom made it, or a melty grilled cheese, provides a feeling of warmth akin to the embrace of a lover after a detente from distance or quarrels.
The Super Neba from Mike's Neba in Schenectady offers the same.
Many longtime Capital Region residents remember Mike's-Neba on Central Avenue in Albany, glistening and resplendent in neon lights. But that location closed nearly 30 years ago and while others have tried to replicate the taste of the roast beef au jus that Mike's-Neba was best known for, it ain't nothing like the real thing (baby).
(Mr. Dave writes about the Mr. Subb version here.)
The family that retained the rights to the Mike's name (and roast beef recipe) opened Mike's Neba (hyphen-free) on Edison Avenue in Schenectady this summer, bringing back the classic Neba sandwich that would rival the western New York beef on weck (a staple of Upstate New York cuisine) for top billing in a round robin Best State Sandwich tournament.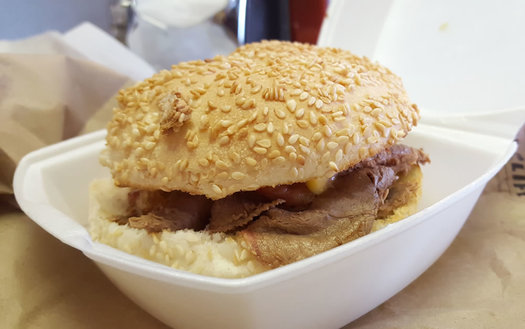 Neba is an acronym for "nicest eating beef around," a claim that is substantiated by perfectly seasoned meat that is sliced wafer thin and takes limited effort to chew. The meat is salted and retains hints of sweet vinegar, almost as if it were cooked in a brine. Looking at recipes online, garlic and tomatoes seem like possible inclusions in the cooking liquid for the beef.
I opted for the Super Neba, which comes with bacon and cheddar cheese. The bacon is cooked to be the same texture as the meat -- not too chewy, not too crisp. Its presence is almost unnecessary, save for the slightly smoked flavor it imparts. The neon orange color of the cheese (harkening to the signage of the former Albany location?) and viscous texture points to jarred cheese sauce. It's not an exquisite inclusion, but it doesn't deter from the flavors of the sandwich and points to the nostalgic nature of the sandwich. (Plus, a little cheese-product everyone now and again won't kill you.)
Sesame-studded rolls come from Bella Napoli's bakery in Troy. The warm nuttiness from the seeds are really what sets this sandwich apart from fast-food versions of roast beef sammies, and the texture is just soft enough to be bitten into with ease (and not torn with the teeth like a wild dog descending on fresh kill).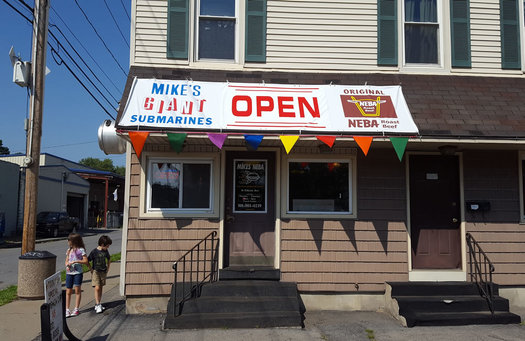 The Super Neba is $5, sans the chips and pickle that some other sandwiches come with. My companions and I (read: my kids) also tried the small BLT sub with American cheese and a small turkey sub with lettuce and house dressing (a spicy blend of oil, vinegar, cayenne pepper, and garlic powder).
We shared our sandwiches at the counter, leaving nary a morsel to take home, and watched construction vehicles pass by in this light-industrial section of Schenectady between Broadway and 890. As soon as we left, my kids asked when we could come back, further prodding the issue before bed and insisting we go back for lunch today.
We probably will.
Deanna Fox writes about many things, mostly about food. More can be found on her website, Twitter, or Instagram.
More Eat This
+ Wagel bagel at West End Bagels
+ Halal options at Zaitoon Kitchen
+ Ice cream sandwiches at Different Blend Bakery
Find It
Mike's Neba (Mike's Giant Submarines)
451 Edison Avenue
Schenectady, NY 12305
Hi there. Comments have been closed for this item. Still have something to say? Contact us.