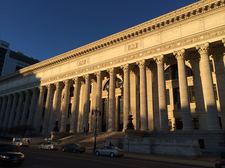 Quick follow-up on that new series of monthly tours of the beautiful state Education Building: they are very popular.
The tour dates for September, October, November are all booked up. And it looks like the December tours -- December 9 at 12:30 pm and 2:30 pm -- are starting to fill up. So if you've been thinking you'd like to go, don't wait to sign up (it's the link just above).
Tour blurbage:
New York State Museum staff will lead the 45-minute Education Building tour, and visitors will have the opportunity to explore the historic Chancellors Hall, Regents Room and the Rotunda adorned with murals by Albany native Will H. Low. The State Education Building is located at 89 Washington Avenue, Albany. This is the first time the building has been made available for regular public tours since the State Museum and Library were moved from the Education Building to the Cultural Education Center in the 1970s.
The state Education Department says via Twitter the tours will continue in 2018. Each tour is limited to 25 people each. They're free.
Hi there. Comments have been closed for this item. Still have something to say? Contact us.