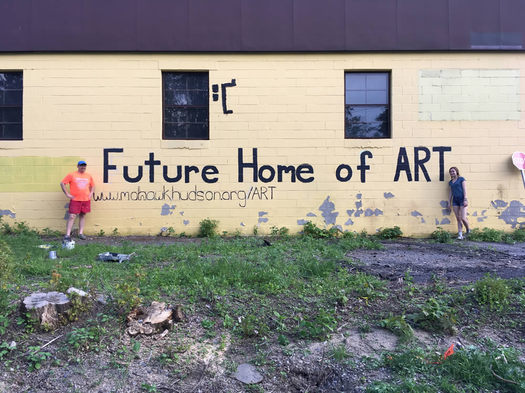 Quick update on that Helderberg-Hudson Rail Trail mural project: The three artists selected as finalists will be at a public meeting at Bethlehem Town Hall September 7 from 5:30-7:30 pm.
Press release blurbage: "The artists will be on hand at the community meeting, to discuss their proposals and address any questions from attendees. Each artist will bring their drawings and community members are invited to view each proposal and submit opinions to the committee."
Here are the three finalists selected by the Mohawk Hudson Land Conservancy's Art on the Rail Trail committee:
+ Andrea Hersh from Bethlehem

+ Michael Conlin from Albany
+ Dan Mehlman from Bethlehem
(You might remember that Conlin created the blue bird mural on the side of the Quackenbush Garage in downtown Albany.)
The mural site is a building at the corner of Adams Street and Hudson Ave in Delmar. If you've walked or biked along that section of the trail, you can't miss it. The land conservancy is hoping to have the mural completed by late October.
photo via Mohawk Hudson Land Conservancy