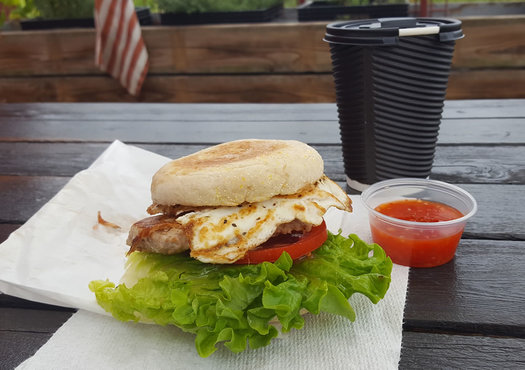 By Deanna Fox
A little piece of nirvana exists in the geographical center of Albany County. It's tucked away in a gravel yard in New Scotland behind a series of red barns, an unassuming tin-roofed trailer bordered by enormous pine logs and framed by a few ecru umbrellas.
Unless you were passing by on a regular basis, commuting into Albany or off to buy a load of pea gravel for walkways and patios, it is unlikely you would find Wren & Rail, a food "truck" that serves fresh, seasonal, and locally-sourced food.
The air was damp and the sky dreary when I came to visit Wren & Rail a few weeks ago. Perhaps that was why I was only one of two patrons there; lucky for me, it gave me the chance to chat with Monika Bonacci, who runs the Wren & Rail kitchen with owner Jane Twomey.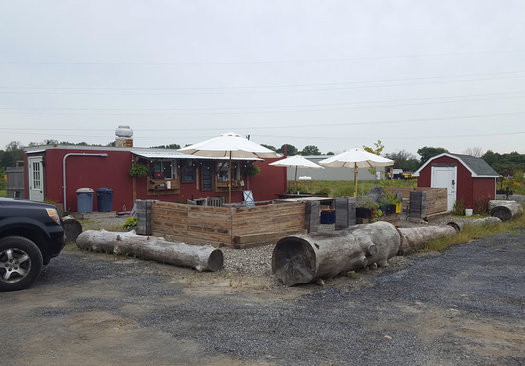 Monika makes or grows as many ingredients as possible for the diminutive restaurant, and not because it's trendy or popular, but because that's how she was brought-up and thinks the world ought to operate. She buys from local farms and businesses -- Capital City Roasters for coffee, Golden Organics ice cream, Meadowbrook for chocolate milk -- because helping a neighbor out is ingrained in her modus operandi. She speaks of planning out her gardens with neighbors so there's never too much zucchini being dropped on doorsteps or too few green beans to go around.
The breakfast menu is small and changes frequently depending on what's seasonally available. When I was there peach-topped French toast was listed alongside a breakfast quesadilla brimming with the summer's first peppers. Ten dollars netted me a cup of medium-roast coffee with nutty, chocolate tones; a hash brown patty flecked with rough-cracked peppercorns that had the crispy, lacey texture of a blue-ribbon latke; and a breakfast sandwich that brought the typical greasy-spoon option into a fresher realm.
The sandwich starts with an English muffin, toasted just enough to soak up the juices from a fresh slab of tomato and molten egg yolk that borders between over-medium and perfectly set. The crunch of just-picked leaf lettuce appears as a frilled Victorian collar around the sandwich but offers fresh punctuation to break-up the richness of bread, egg, and meat. A large hand-formed patty of turkey sausage is made by Monika and flavored with fennel, sage, and a little crushed red pepper.
It's a great take on a breakfast staple, though a classic make-your-own version -- choose from thoughtful options like corned beef hash, pork tenderloin, and Catskill wheat Portuguese rolls -- is also available for $3.75.
Whichever breakfast sandwich you opt for, be sure to include a cup of the hot sauce to dunk your sandwich in. Monika takes peppers from her garden and blends them with a hint of sugar, plenty of salt, and white vinegar to make a soupy version of hot sauce that is not to be missed. It's just hot enough without being offensively flavorless.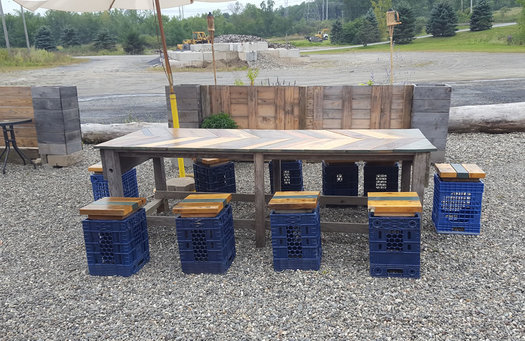 Wren & Rail's lunch menu includes items such as a burger, a fried chicken sandwich, and a gyro. Like the breakfast menu, it changes over time.
Barn wood tables with milk crate seats keeps Wren & Rail rustic, while buckets of herb plants lining the seating area lend to the pastoral setting. Open for breakfast and lunch (7 am-3 pm) Monday-Friday only, it's not the most convenient eatery, but it's worth the late-summer journey through rural Albany County.
Owner Jane Twomey says the plan is to keep Wren & Rail open into November, but that will depend on the weather. Keep an eye on the Facebook page for end-of-summer details
Deanna Fox writes about many things, mostly about food. More can be found on her website, Twitter, or Instagram.
More Eat This
+ Neba Sandwich from Mike's Neba
+ Wagel bagel at West End Bagels
+ Halal options at Zaitoon Kitchen
Find It
Wren and Rail
209 New Scotland South Road
New Scotland, NY 12159
Hi there. Comments have been closed for this item. Still have something to say? Contact us.