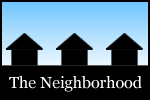 Among the topics in this most recent spin around the Capital Region's online neighborhood: political potatoes, Albany labor, old paint, rightside up, the Patroons, being a stronger person, a yurt, late-summer finds, dish ownership, working in a restaurant, the Tour de Donut, Lost & Found, mac 'n cheese, a tiny spice company, and congrats.



98 Acres continued the story the Ryan's produce market -- and how it ended up moving from downtown Albany.
Suzanne explored the history of steam power (and steam punk) and Troy.
Paula told the story of a poem carved in granite.
The Friends of Albany History noted the anniversary of the surrender of New Netherlands -- including "Fort Aurania" -- to the English.
Carl found an odd bit of local history about... car window stickers.
Daniel recapped the latest Tour de Cider Donut, which was a champions league-type affair.
Melinda did a head-to-head comparison of mini hot dogs from Famous Lunch and Gus's.
Mr. Dave: "Proust had his madeleines, I have an off-brand soda made in Scotia."
Zena enjoyed the injera plate at Umana.
Jackie took on a happy task at Pyramid Lake.
Jona hiked some mountains in New Hampshire.
And Chuck detailed the creation of of a project using Saratoga Vichy bottles and a crate.