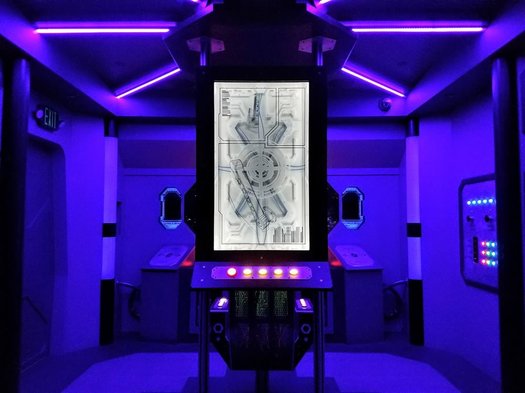 By Cristin Steding
One of the fastest growing branches of the entertainment industry is one that's still largely under the radar of most people: the escape room. More than 1,700 have popped up around the country since 2015 -- including five of them here in the Capital Region.
So I got together a group and checked one out.
Escape rooms?
For the uninitiated, escape rooms are real life adventure games in which players must solve puzzles and use creative thinking to "escape" a room, usually following a storyline or theme along the way.
Because the industry is so new, the production quality and difficulty of puzzles can vary wildly from room to room. Environments span from spartan rooms with a single bookshelf to elaborate sets rivaling a Disney ride. The puzzles themselves can be as simple as a laminated piece of paper, to playing a certain melody on a piano to unlock the next step.
It's important to do a bit of research when you sign up for an escape room -- do you want to test your mind, or pretend you're in an action movie? Reading reviews of different rooms ahead of time can help you to find a room that jives with your expectations and doesn't disappoint.
5 Wits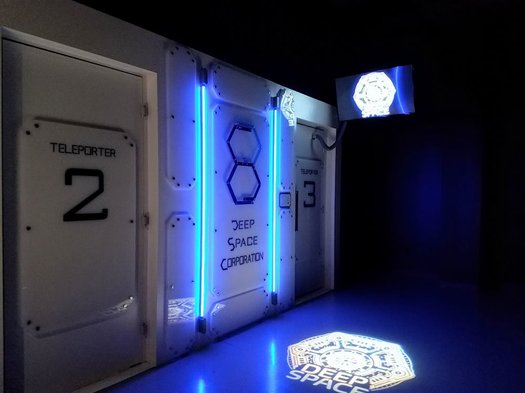 The 5 Wits "Deep Space" adventure. / photo: Cristin Steding
I recently tried out 5 Wits at Crossgates (next to Macy's), which falls at the very highest end of the production quality scale and towards the bottom of puzzle difficulty scale.
But the appeal of 5 Wits isn't in the puzzles anyway. Instead, the feeling of participating in a video game or movie is its strong suit. Because of some format differences and the emphasis on theming over puzzling, 5 Wits doesn't categorize itself as an escape room exactly, though the similarities are ample enough for most customers to group them together.
Walking in the door, it's easy to see why you might think 5 Wits is for children. The toys sold out front and the over-the-top theming of the facade give the impression it's built for pre-teen birthday parties. But the manager of the Albany location, Zephyr Goza, told me the majority of their customers are over the age of 18. He said many adults who visit start out sheepish, only planning to do one room, but end up enjoying the experience so much they come back to do the others.
Unlike many escape rooms, 5 Wits does not take advance reservations. On recent Friday and Saturday evenings when I visited, however, there was no wait for any of the three rooms. 5 Wits is similar to most escape rooms in that they combine groups together if it's busy, though they only combine groups of similar experience. If there are no other groups waiting to start, your group won't be combined (on the two visits I made, neither time was my group combined with another). And while technically groups of 2-12 people can go through, it seems somewhere in the 4-6 person range would be ideal.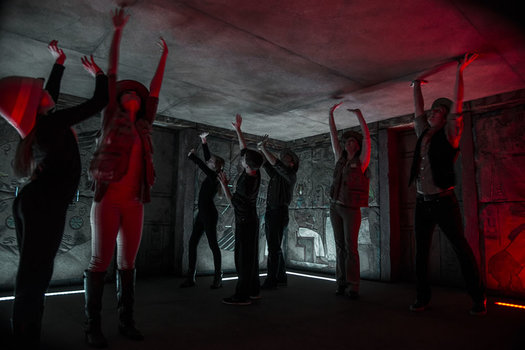 From the "Tomb" adventure. / photo courtesy of 5 Wits
Walking past the front facade, there's a theatrical vibe, with the outside of each room cloaked in thick stage curtains. A host leads you to the entrance of your chosen room and gives a brief introduction. If there's anything 5 Wits could do to improve the experience for adults, it would be dialing back the cheesiness of the introduction. I felt like an out-of-place adult at a Chuck E. Cheese when the host said to our all-adult group, "You guys are going on an excavation to an Egyptian tomb! What do you think you should bring?"
Once past the awkward introduction however, it was all movie magic. From the moment you step in the first room, the experience is controlled by a computer program that adjusts the difficulty and provides hints based on your group's performance. I quickly found myself totally immersed in the story, rushing to complete challenges and excited to find what came next.
The quality and quantity of the props and effects was staggering. Think: secret doors, walls moving, dramatic lighting, hidden buttons, and subtle nods to the cultural tropes relevant to the room's theme. Once in the room, it truly feels like you've been transported. There's not an inch of plain wall visible.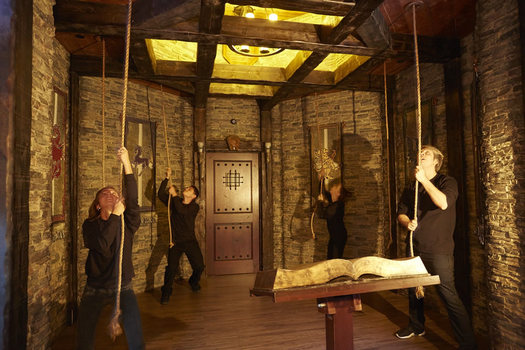 From the "Drago's Castle" adventure. / photo courtesy of 5 Wits
The puzzles themselves were fun but not difficult, and unlike most escape rooms, you get to proceed to the next stage even if you fail to complete a challenge. I don't want to give any spoilers, but the finale of all three rooms featured show-stopping special effects.
5 Wits is a worthwhile diversion from the stress of the real world, and would be a fun alternative to activities like going to the movies. Tickets to go through one adventure are $20, and a ticket for all three is $30, with the ability to split up the three rooms between different visits. Each adventure takes approximately 30 minutes (half the time of a traditional escape room).
More escape rooms in the Capital Region
With its prominent spot in Crossgates, 5 Wits is probably the best-known of the Capital Region's escape rooms, but it's far from the only one. If less Hollywood and more puzzling is closer to your style, you may find some of the more traditional escape rooms in the region a better fit.
The Great Escape Room
2 Kross Keys Dr, Suite 5, Albany, NY 12205
Host to two room options, reviewers give this Sherlock Holmes-themed company high marks for challenging and creative puzzles.
Pursue the Clue
1500 Central Ave Albany, NY 12205
Currently offering one room option, Pursue the Clue offers a cohesive story and puzzles for the room.
Enigmatic Escapes
49 4th St Suite 2770 (in the Atrium), Troy, NY 12180
The newest player to the local escape room scene, Enigmatic Escapes is also the only one in Troy. Currently offering one room (and a student discount), this company provides a challenging and well-themed room.
Escape the Mystery Room
Crossgates Mall, 1 Crossgates Mall Rd C107, Albany, NY
One of the first escape rooms to come to Albany, Escape the Mystery Room doesn't have the immersive theming of some newer rooms, but focuses primarily on the puzzles.
____
Cristin Steding is a freelance writer and founder of Upstate Club, a guide to outdoor living in upstate New York. You can find her on Twitter and Instagram.
Hi there. Comments have been closed for this item. Still have something to say? Contact us.