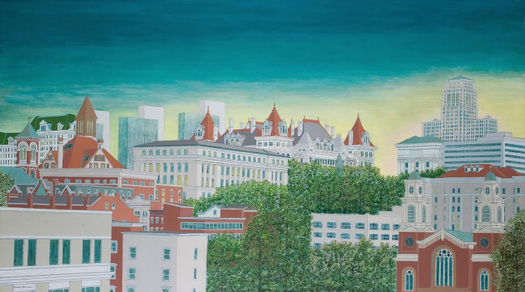 Now on display at the Albany Heritage Area Visitors Center at Quackenbush Square: Cityscapes, an exhibit of paintings and photos by local artist David Hinchen. Blurbage:
"For me, buildings are the significant carriers of cultural memory. Surviving the builders and residents, they are reminders of remoter lives and times," says Hinchen. "Over the years, a city takes on an almost geological aspect, with successive generations leaving behind a layering of architectural styles."
Hinchen's work is characterized by these carefully constructed layers, remarkable for their complex details. In Hinchen's work, each stone and leaf is enumerated, each window lovingly detailed. In fact, Hinchen's buildings take on a human quality. He imparts these structures with an air of nobility, of quiet grace and dignity, befitting their cultural status. "There is a hard, beautiful dignity in weathering all those years - pure to themselves and uncompromising," says Hinchen. But if the buildings have a human quality, they also have the ability to impact humanity, says Hinchen. "The enduring physical makeup of a city directly influences its culture as well as its ability to survive as a place people care about."
We especially like Hinchen's architectural paintings, which have a certain warmth about them. You can see more of his work online and prints are available through his Etsy store.
Cityscapes will be on display at the visitors center through November 2.