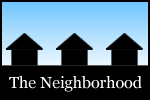 Among the topics in this most recent spin around the Capital Region's online neighborhood: 1 Monument Square, turns on the slide, 50 restaurants, hamburgers, Schenectady food, hosting the hosts, Six Mile Waterworks, Lens Lake, Allen Mountain, yoga on Pearl Street, dancing in Albany, and a sign of inspiration.



Jessica on the proposed 1 Monument Square project: "A movie theater in downtown could be amazing, but this particular project is simply... just not good enough for this piece of property. (Sooo SNOTTY, right?) If refusing to graciously accept a mediocre offer makes you crazy, then yeah, Troy is definitely crazy."
Amy reflected on the real aspects of life and the many turns going down the slide.
Greg K uncorked thoughts on 50 restaurants that represent the food culture of the Capital District to him.
Daniel thought about the price of hamburgers.
Katie stopped in at the Slidin' Dirty in Schenectady.
Steve shared the story of a restaurant customer who threw a party for the staff of restaurant he frequented.
Mr. Dave went fishing at Six Miles Waterworks with his son.
Jackie went for an early autumn paddle on Lens Lake.
Jen hiked -- relaxed at -- Allen Mountain in the Adirondacks.
Silvia went to a yoga class -- in the middle of Pearl Street.
Carl recalled the life of Olga Beauman, an Albany dancer in the 1920s and 30s.
And Chuck was inspired by the old L-Ken's sign.
Hi there. Comments have been closed for this item. Still have something to say? Contact us.