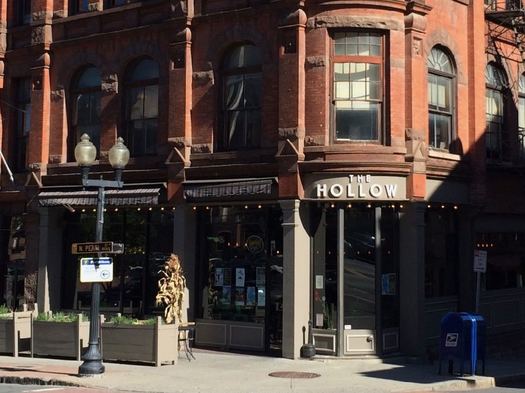 The Hollow in downtown Albany is hosting a vegan food / beer pairing event October 11. It's a tag-team effort by Berben & Wolff's Joey Berben and Anna Weisheit, The Hollow's chef.
The event will include a buffet of "beautiful vegan cuisine" and suggested cash bar pairings with beer. The menu is below.
It's a benefit for the Catskill Animal Sanctuary, and the founder of the sanctuary will be there for a talk.
The event starts at 6:30 pm. Tickets are $35 and available online.
Menu via The Hollow's Facebook page, which notes the it's subject to change.
Brown's Cherry Razz:
-sweet potato root vegetable fritter with beer cream
- dark chocolate truffle with beer reduction
New Belgium Clutch Stout:
-brownie stout float with fried coconut ice cream
-vegan cheese plate with vegan smoked sausage + an herbed farm vegan cheese
Golden Road Wolfpup Session IPA:
-terrapin fill grilled cheese shooter with heirloom tomato bisque + dried basil
Goose Island Sophie:
-deconstructed moussaka, chickpea and pinenut medallions, spiced tomato sauce, pickled fried eggplant + micro greens
____
Earlier: Follow up: Berben and Wolff's