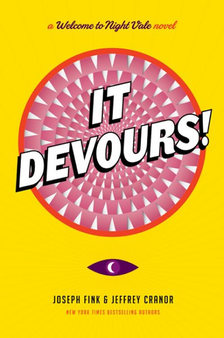 Joseph Fink and Jeffrey Cranor -- the creators of the popular Welcome to Night Vale podcast -- will be at Skidmore November 16 to talk about their new Night Vale novel It Devours!. The event is organized by Northshire Bookstore. Blurbage:
From the authors of the New York Times bestselling novel Welcome to Night Vale and the creators of the #1 international podcast of the same name, comes a mystery exploring the intersections of faith and science, the growing relationship between two young people who want desperately to trust each other, and the terrifying, toothy power of the Smiling God.
The event -- at 7 pm on Thursday, November 16 in Palamountain Hall -- will include a book signing.
Tickets are $23.52 and include a copy of the book (the ticket price is the price of the book). They're available online.