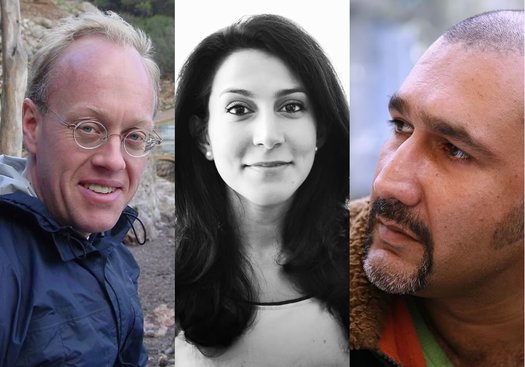 The upcoming fall season of events at the Sanctuary for Independent Media in Troy is out. As in seasons past, it includes music, talks, films, and community events.
Here's a quick-scan look...
October 21: Melissa Aldana
"A rising tenor saxophone star taking the jazz world by storm, Melissa Aldana leads a high octane quartet featuring Michael King on piano, Pablo Menares on bass and Tommy Crane on drums." $20
October 21: Gallery opening
"'Troy Projec'" features photographs juxtaposing past and present in the Underground Gallery, plus 'Echoes from Lock One' in the NATURE Lab Gallery."
October 29: Nano Stern
"Nano Stern, appearing with Patricio Rojas on bass and Cristian Carvacho on drums, is the voice of a newly politicized Chilean generation squarely in the nueva canción tradition. Local heroes Taína Asili and Gaetano Vaccaro open the show." $15
November 10: Chris Hedges
"Pulitzer Prize-winning journalist and New York Times Best Selling author Chris Hedges will speak on fascism in the age of Trump. Gourmet vegan fundraising dinner to benefit WOOC 105.3 FM at 5 PM."
November 18: A Sinner in Mecca with Parvez Sharma
"Muslim and openly gay, Parvez Sharma travels to Mecca to reveal a never-before-seen side of Islam with his book and film, A Sinner in Mecca."
December 1: Azmat Kahn
"An investigative reporter working to fuse righteous journalism and innovative storytelling, Azmat Khan's groundbreaking work has taken her to conflict zones around the world."
December 9: Quest with director Jonathan Olshefski and producer Sabrina Schmidt Gordon
"Filmed with vérité intimacy for over a decade, this moving portrait of a family in North Philadelphia is set against the backdrop of a country now in turmoil."
December 13: North Central Justice & Peace Holiday Celebration
"Join us for the seventh annual year-end festivities, featuring free food, music, arts activities, portraits by internationally recognized photographer Brenda Ann Kenneally, a tree lighting, and more!"