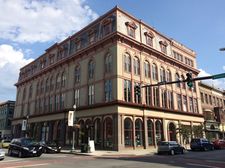 The Troy Small Business Summit returns for a second year on October 17 at the Tech Valley Center of Gravity. The event includes talks and breakout sessions about various aspects of running a business. Blurbage:
The formal program includes a 'Troy Gaming Industry' panel discussion with Guha Bala, President of Velan Ventures and Steven Flenory, Head of Studio for WB Games New York.
This year's summit features extended breakout programming, an expanded two tracks of group breakout sessions from local and regional experts in marketing, human resources, and restaurant entrepreneurship, led by Francesca LoPorto-Brandow of GreyCastle Security, Danika Atkins of Excelsior College, Heidi Knoblauch, owner of Plumb Oyster Bar, and Aneesa Waheed, owner of Tara Kitchen.
Following the breakout sessions will be a group presentation about "Navigating Uncharted Territory in Small Business" which will go over information regarding the pipeline for small business in Troy, including business and financial planning, location and lease structure, navigating local regulations, and ultimately the awareness the local resources available to help make your business a success.
The summit will also feature a keynote address from Sinclair Schuller, CEO of Apprenda.
The events are from 10 am-5 pm that day, which is a Tuesday. It's free to attend, but space is limited -- you can register online (see link above).