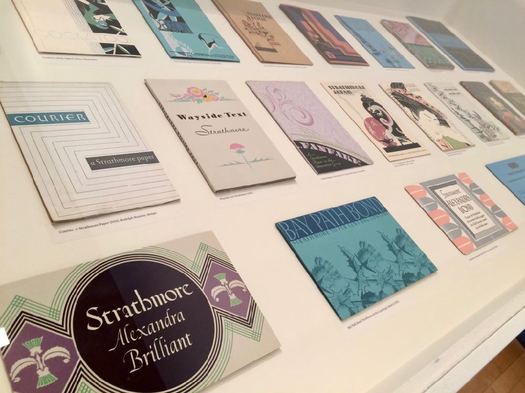 If you have any design nerd interests -- papers, vintage posters, typefaces, the business of design, and so on -- the current exhibit at the Opalka Gallery on the Sage Albany campus is worth a quick stop.
Paper Is Part of the Picture chronicles the evolution of the promotional materials for the 100+ years of the Strathmore Paper Company. Blurbage:
The company, founded in 1892 and now owned by Mohawk, pioneered the notion of paper as an essential visual and tactile aspect of a printed piece, rather than a simple commodity. It did so by embracing artists and designers as collaborators. Strathmore's paper promotions reflect the changing trends in American graphic design across the 20th century from Arts & Crafts to the digital era.
The headquarters of Mohawk Fine Papers is in Cohoes, as you know. The materials in the exhibit are from the Strathmore archive.
There's a curator's talk with Paul Shaw about the exhibit October 26 at 6:30 pm. And on November 3 at 6:30 pm there's a tour with Chris Harrold, VP and creative director at Mohawk. Both are free.
The exhibit is on display through December 15.
Luba Lukova
If you're interested in this exhibit, there's a good chance you'd also be interested in an AIGA Upstate New York event at the Opalka Gallery October 17 with Luba Lukova, creator of "arguably some of the most iconic and indelible imagery in the realm of contemporary poster design."
The talk is at 6:30 pm Tuesday. Tickets are $20 / free for students with ID.