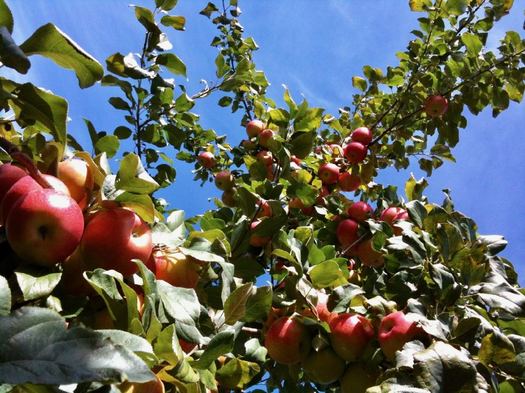 By Greg
Upstate New York is one of the world's premier spots for growing apples. And one of the great things about living in this specific part of it is that we're close to many different orchards.
So, let's just be clear about this: Yes, go apple picking. Go apple picking however you want. Have fun in the way you want to have fun. This isn't my lawn. You don't have to get off it.
But as someone who's become a bit of an apple nerd -- and can think of few places better places to be than an orchard on a warm autumn weekend -- I've developed some curmudgeonly opinions about apple picking.
And you're probably going to disagree with a few of them.
Agritainment is no fun
My ideal apple picking experience is low key. You show up, you get the picking sheet, and head out into the orchard. There's no hubbub. There are no farm animals to pet. There's no hayride. There are no crowds for the corn maze. It's just really chill.
I get why orchards have these things. They help draw crowds, especially families with kids. And given how hard it can be to make a buck as a farmer, I don't begrudge them a bit for doing it. I just would really rather skip all that stuff.
It's too crowded
This is a ridiculous assertion on my part. I think you should go apple picking. And if all of us go apple picking, there will be crowds.
But I've found that I enjoy apple picking a lot more when there aren't a lot of people in the orchard. There's something really peacefully about wandering the rows of trees and hearing nothing but the birds and breeze. So, if possible, I try to head out early and get some picking in before the crowds show up. Even better, though it's hard to pull off: Knocking off work early on Friday and doing some picking in the afternoon of a weekday.
Indoor voices, please
So, it's pretty clear I'm looking for calm in the orchard. To that end, I've come to the conclusion that even though it's outside, we should all be using our indoor voices. You don't have to whisper like it's a library. But maybe you don't have to shout to the people you're with over in the next row, either.
Embrace the peace. Try being quiet.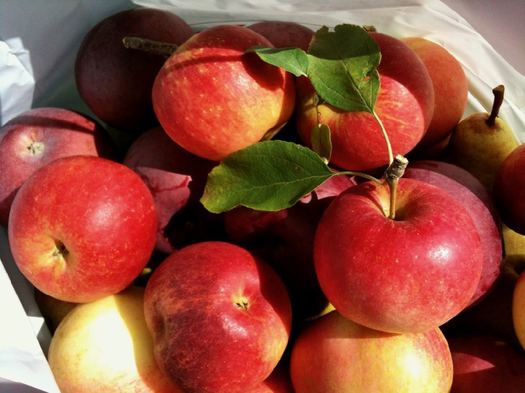 You probably pick too many apples
I totally understand the impulse to just keep picking apples. There are so many of them. And they're right there. And you're here, so why not?
Because you're probably picking too many. And if you don't realize that now, you will weeks from now when your fridge is still full of apples you're not going to eat. There are exceptions, of course. Maybe you're making a bunch of pies or crisps (a good way to make friends). Maybe you're going to make a ton of apple sauce to freeze (try a savory version with curry powder).
One shopping bag per person is usually enough. That's a lot of apples, even if doesn't look like it.
Honeycrisp are overrated
I make no apologies for this one. Honeycrisp are totally overrated. They just are -- they're all texture and no flavor. And given the fact that orchards around this area grow so many different types of apples -- including some really interesting or odds ones (ask about them) -- you're missing out by loading up on honeycrisp.
That said, if you all want to descend upon the rows of honeycrisp leaving the other, more interesting apples alone so I can pick them in peace... then maybe that's not so bad.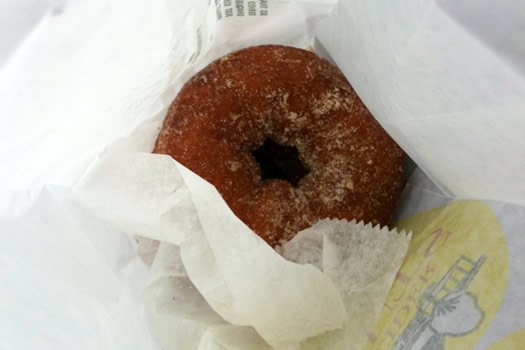 It's OK to just go for the cider donuts
One of the perfect autumn moments is plucking an apple off the tree, still warm from the sun, running your finger over the subtle roughness of the skin, feeling the weight of the object in your hand, and then crunching into it. (I mean, you're allowed one apple in the orchard, right?)
But maybe trudging out in the orchard isn't for you. That's fine. If you just want to stop at the orchard's stand to pick up a bag of apples, great. And if you really just want to stop for a cider donut, there's absolutely no shame in that, either.
OK, maybe this last one is an opinion on which we can all agree.
Say Something!
We'd really like you to take part in the conversation here at All Over Albany. But we do have a few rules here. Don't worry, they're easy. The first: be kind. The second: treat everyone else with the same respect you'd like to see in return. Cool? Great, post away. Comments are moderated so it might take a little while for your comment to show up. Thanks for being patient.