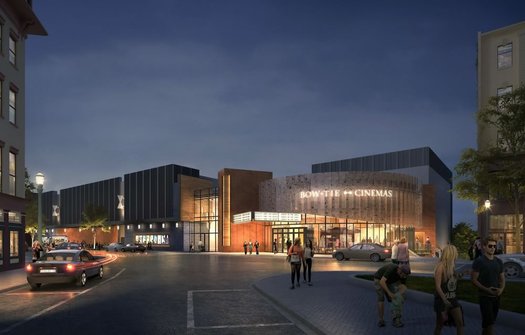 The proposed Bow Tie movie theater project at 1 Monument Square in downtown Troy is off, the administration of mayor Patrick Madden announced late Friday afternoon. A clip from Madden's statement:
"As a result of multiple and ongoing legal actions brought by a neighboring property owner against the City of Troy, Bow Tie Cinemas has notified the city of their decision to terminate the development agreement for the One Monument Square site. We are deeply disappointed with this lost opportunity to construct a world-class cinema in the Collar City.
"For several months, my administration and representatives of Bonacio Construction met on multiple occasions with the neighboring property owner to address his demands, including those not contained within the multiple legal actions filed against the city. Unfortunately, a mutually agreeable resolution to resolve these additional demands could not be reached.
"My administration strongly believes the issues identified in the multiple legal actions were solvable, but due to concern over potential future litigation Bow Tie Cinemas opted to end their involvement in the project.
The "neighboring property owner" is developer Sam Judge, who himself had once tried to develop something on the site. His early-September lawsuit alleged the Bow Tie project would do "irreparable harm" because of traffic and parking issues. It also argued a full environmental review would be necessary for the project. The Bow Tie project's movement through the city planning process was paused when the lawsuit was filed.
The idea of a theater at the site originally seem to get relatively warm reception from officials and the public when it was introduced earlier this year. But criticism of the project's design mounted during the planning process. Specific criticisms included the way the project largely blocked the river view, the windowless wall facing the river, and the lack of interaction between the building and River Street.
This was the fourth major attempt to redevelop this site since the old city hall was demolished in 2011 -- the second to end in the threat of some sort of legal action. If/when there's another attempt made, it'll be interesting to see if 1) there's some way to build a bulletproof consensus early on and 2) whether, because of the history, any developer will even want to take a shot based on the project.
Hi there. Comments have been closed for this item. Still have something to say? Contact us.