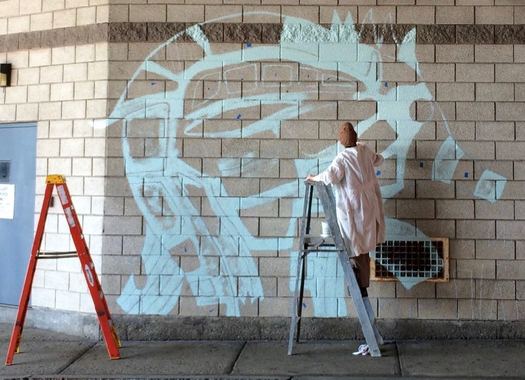 Something you might notice this week: Three new murals are going up in downtown Albany.
Two of the murals are in the Green Street drive-through section of the Green-Hudson parking garage, and the other is on the side of a wall along Water Street and I-787 by the Riverfront parking garage.
The work is part of the Capital Walls project -- a collaboration among the Albany Center Gallery, curator Tony Iadicicco, and the Albany Barn. And it's being funded by the Albany Parking Authority as part of its ongoing effort to make its garages feel more welcoming. (See also: The two large murals on the Quackenbush garage.)
"The goal is to inspire and create community and sense of place," said Iadicicco of the murals.
The works should be finished within the next two weeks. Here's a quick in-progress look at each one...
Green-Hudson: Sylvie Kantorovitz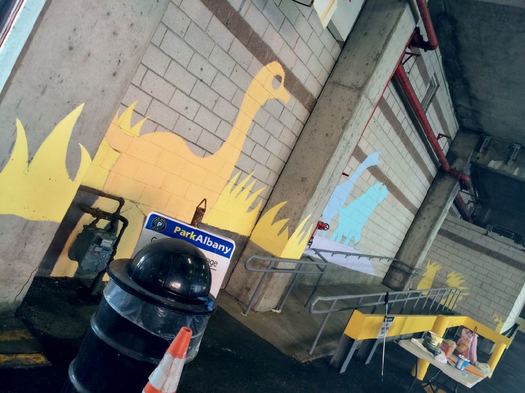 Sylvie Kantorovitz is an illustrator and author of children's books. Her mural wraps around the corner of the Green-Hudson garage (map). It will depict some fanciful creatures as if they've taken up the garage as their habitat -- and sometimes venture our into our world.
"I was happy to do something whimsical and kind of magical," she said Sunday when we stopped by for a quick chat.
Green-Hudson: Cara Hanley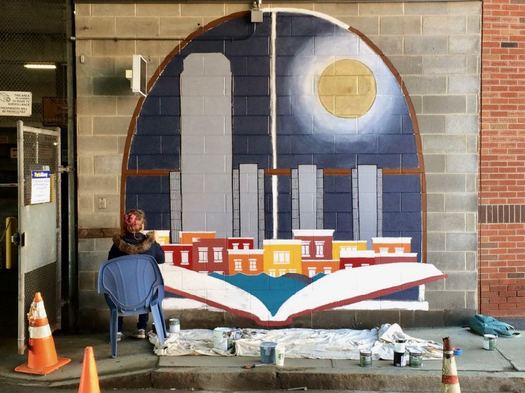 Cara Hanley's mural is on a section of the Green-Hudson garage wall just about a hundred feet up Green Street from the other mural. Hanley said her work lately has been inspired by dreamscapes. And her mural depicts the Albany city skyline rising from the river and a book.
Water Street: Rachel Baxter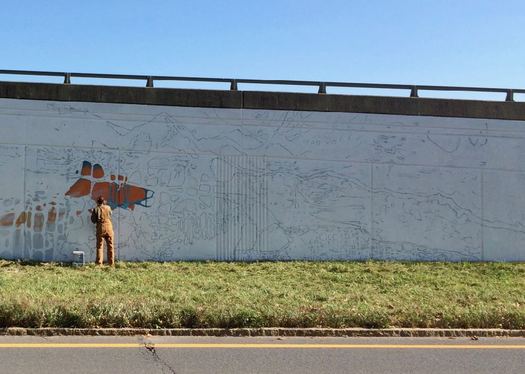 Rachel Baxter is an abstract painter. And you might already know some of her work. She created the mural on the plywood facade at 27 N. Pearl and Maiden Lane in downtown Albany.
Baxter's new mural stretches along one of the walls that holds up a 787 ramp next to Water Street (map). She said the idea is to create an abstract landscape of mountains that transitions into a map of the Hudson River.
(If you stand back and take the whole mural in as a whole, you'll recognize the map outline of the river -- north is to the left.)
More to come
Tony Iadicicco said the overall goal of Capital Walls is to provide people with opportunities to see art in their everyday lives and make neighborhoods feel special.
And they're already planning more work for 2018 and 2019. If you have suggestions -- or maybe would like to be involved in some way -- contact him at Albany Center Gallery.
Hi there. Comments have been closed for this item. Still have something to say? Contact us.