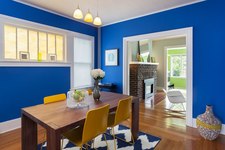 Christina emails:
Can you ask your readers to recommend any interior decorators or designers they have worked with? I am looking for some help for my living room, but don't want to commit to buying everything at once, so a focus on someone I can pay to help me with a plan that I can implement over time would be great.
A designer can be an added expense for a home project. But we're often pleasantly surprised by how a talented designer can look at a building/space/place and see solutions, angles, and ideas a non-designer might miss. And if you buy a home that needs a lot of updating, being able to talk over a plan with someone who does this often could be a help.
So, got suggestion for Christina -- whether it's a designer or some other sort of resource? Please share! And a sentence or two about why you're recommending a person/service can be a big help.
Earlier: Help with kitchen renovation design?
photo: Paul Gallo
Hi there. Comments have been closed for this item. Still have something to say? Contact us.