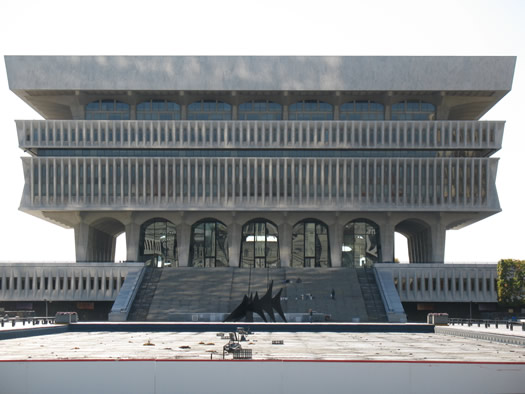 The State Museum's "Brainfood for the Curious" series of short lunchtime talks starts a new season this Tuesday, October 17.
A museum historian or scientist gives a 20-minute talk in the museum's Huxley Theater and then answers questions. The talks cover all sorts of topics, from history to fashion to geology to archaeology to biology. Each event starts at 12:10 pm. They're free.
Here's the schedule for the new season...
October 17: Ten Thousand Women Descend on Albany: The 40th Anniversary of the New York State Women's Meeting
"Learn about the New York State Women's Meeting that was held at the Empire State Plaza on July 8-10, 1977. Planners expected 3,000 attendees, but approximately 10,000 showed up to discuss women's issues that would then be discussed at the National Women's Conference in Houston in November 1977."
October 31: Is it a Ghost or a Ghoul? Costume vs. Clothing in the New York State Museum's Collection
"We use the words 'clothing', 'costume', 'dress', and 'fashion' to describe what we wear. Explore various examples from the Museum's history collection, including clothing related to All Hallows' Eve."
November 14: Contemporary Native American Art Collection
"Learn about new acquisitions to the Museum's Contemporary Native American Art Collection, including photography, basketry, painting and intricately carved woodwork."
November 28: Astronauts of Inner-Space: The Millbrook Commune and the '60s
"Explore New York's unique role in the psychedelic '60s through the history of the Millbrook Commune, Timothy Leary's 'Grounded Space Colony' housed on a 2,500-acre estate in Dutchess County."
December 12: Beyond Global Warming - A Future of a Hyper-warming Earth
"Learn more about climate change as sea levels have risen 10 inches in the last century with the melting of ice sheets and thermal expansion of ocean water."
December 19: Pre-Contact and Early-Historic Social Networks in Northern Iroquoia
"Iroquoian pottery is characterized by often complex geometrical designs. Hear about how recent analyses of these designs are changing our understanding of Iroquoian social interactions in New York and southern Ontario."
January 9: Archaeological Evidence for Pre-Clovis Occupation of Northeastern North America
"When and how did humans first colonize the Americas? Learn about current theories for the Ice Age peopling of the Americas and archaeological evidence for earliest human occupations of northeastern North America."
January 23: The Origin of Life on Earth
"Every year scientists get closer to understanding how life could have evolved on early Earth. Hear how geologic life likely arose and how that process may have taken place."
February 6: The Champlain Sea: North America's Last Inland Sea
"About 10,000 years ago, whales, seals and other sea life made the area now covered by Lake Champlain and the St. Lawrence River their home. Learn about the geology and animals of this unique period in New York history."
February 20: Exploring the Fascinating Freshwater Mussels of New York
"Among the most endangered groups of animals on the planet are the freshwater mussels, yet their presence in our lakes and rivers often goes unnoticed. Hear about recent Museum studies that are supporting the restoration and recovery of populations in New York."
March 6: Challenges of Geology Fieldwork in the Forested Catskill Mountains
"Scientific researchers often talk about their result, but to gather the data they need, there are sometimes real challenges. Hear about challenges of geological fieldwork in the mountains of New York, including the Catskill Mountains."
March 20: A New Look at a Classic Mineral Group: The Amphiboles
"Among the common rock-forming minerals, perhaps no major group is as interesting as the amphibole group. Take a geological tour through the amphibole's world."
March 27: The Marvelous Bird Egg Collection of the New York State Museum
"The Museum's ornithology collection includes nearly 6,000 sets of bird eggs. Learn how this collection has recently been rehoused and how bird eggs are being used for new research."