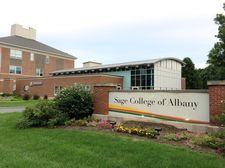 The Opalka Gallery on the Sage Albany campus is hosting another PechaKucha night this Friday. The announced lineup:
+ Doug Bartow, designer, "Craft x Beer x Design"
+ Caroline Barrett
+ John Chaplin, dog-lover, "To Breed or Not to Breed"
+ Frida Foberg, architect, "Why are we eating together?"
+ Andrea Hersh, artist, "Get Out of the Studio"
+ Kristen Holler
+ Rob O'Neil, photographer, The College of St. Rose, "The Sublime Highway Rest Stop"
+ James Preller, children's book author, "The Red Thread"
+Alana Sparrow
+ Joe Ullman, can't fight, "Big Ring Advice"
+ Jennifer Wilkerson, designer, "The Best Design Job Ever"
PechaKucha? It's a format in which the speaker talk along with 20 slides, each slide only on display for 20 seconds. (Each talk is just short of 7 minutes total.) So, it moves quickly and it forces people to get right to the point.
The event starts Friday, October 27 at 6:30 with snacks and drinks. Talks start at 7 pm. It's free to attend.