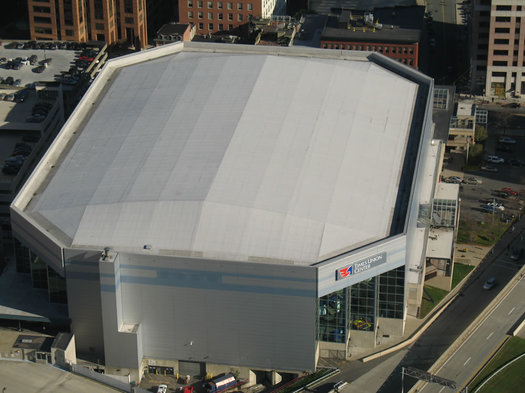 It's now official: Albany is getting an Arena Football League team. Again.
The ownership group for the team publicly announced the new, un-named team Tuesday morning. It will start play in the spring of 2018.
The team's ownership group includes Times Union publisher George Hearst III, Dan Nolan, and Ed Swyer. And it's partnering with the league's Philadelphia team. The teams will share top level management, and there will also be local management here in Albany.
And the name? Press release blurbage:
The name of the team has yet to be selected. Fans can go to AlbanyAFL.com and submit a team name suggestion. Final choices will be selected and made available for fan vote. The winning name will be announced after the voting period. The person that submitted the team name that was ultimately selected will receive a special team prize pack.
(Paul's voting for "The Albany Steamed Hams.")
This will be the AFL's second go-around in Albany.
The Albany Firebirds played at the downtown arena from 1900 1990 to 2000 (and won the championship in 1999). And they were popular. Bob Belber, the general manager of the TU Center, said Tuesday that the team drew an average of 11,000 fans per game during that run. The arena also hosted an arenafootball2 team during the 2000s.
The Arena Football League itself has fallen on some tough times lately. There were just five teams last season after a bout of contraction. The new Albany team will make six announced (so far) for the 2017 season with Baltimore, Cleveland, Philadelphia, Tampa Bay and Washington D.C.
The league also faces an issue that's confronting the NFL: the rising understanding of the dangers of head injuries sustained while playing the game.
Season tickets for the next season are on sale now -- they're $143 and up. (The team is taking $50 deposits to reserve seats.)
This is the second recent recycled local pro sports idea: There's a pro basketball team setting up at the Washington Ave Armory next year as the Albany Patroons.
Hi there. Comments have been closed for this item. Still have something to say? Contact us.