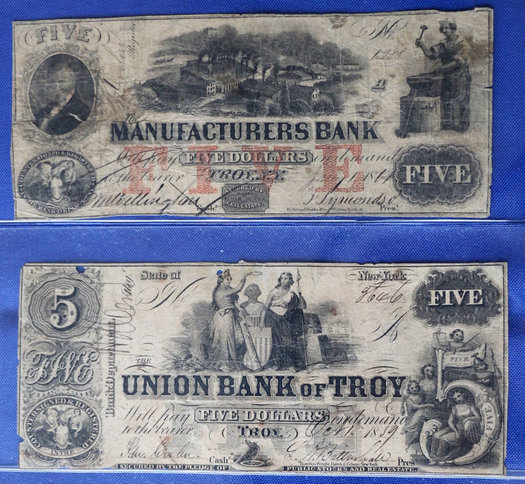 Paper money in the United States is pretty boring in its design. (Other countries really have more fun with currency.) But its history includes plenty of weirdness.
The Ferris Coin Co. has moved to a spot on Wolf Road, and as part of the grand opening of its new shop it's displaying a collection of old paper money from this area. Press release blurbage:
Opening next Wednesday, Ferris Coin invites the public to view its first themed display: "Capital Region Currency: A History of Money in America." The small exhibit features a sampling of currency used in the Capital Region dating from the Colonial era to present day. Many of the paper notes were printed locally and bear the names of Capital Region cities, including Albany, Schenectady, Watervliet, Hudson and Troy. ...
Continental Currency notes from New York are printed on thick stock paper, with ornamentation around the border, and early versions of the New York Seal with beavers, windmills, kegs and Dutch trading symbols. Some notes have pieces of mica embedded in them or impressions of leaves, which are unique, like fingerprints.
"After the Revolutionary War, some towns printed notes, but Americans didn't have much trust in paper money," Demis said. "Americans wanted hard assets, mostly coins."
During the 1820s through 1850s, small banks, like Manufacturers Bank of Troy, issued what are now called "obsolete notes" that would circulate in specific geographic areas like the cities of Troy and Schenectady or Albany County.
The shop's Facebook page has a bunch of images of the old currency, along with some of the history.
The small exhibit will be on display November 1-22, Monday-Friday 9 am-5 pm and Saturday 9 am-3 pm.
See also: "An Illustrated History of American Money Design" at Gizmodo.