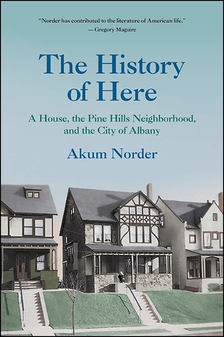 Check it out: The History of Here -- Akum Norder's book about "A House, the Pine Hills Neighborhood, and the City of Albany" -- is available for pre-order from SUNY Press.
Blurbage:
The History of Here follows Albany, New York's, Pine Hills neighborhood through more than one hundred years of change. At its heart is the story of Norder's 1912 house and the people who built and lived in it. As Norder traced their histories, she came to see the development of her house, her street, and her neighborhood as a piece of Albany's story. In the lives of its residents, their struggles and triumphs, she saw a reflection of twentieth-century America.
Drawing on interviews, city records, newspapers, out-of-print books, and other sources, Norder's narrative makes a case for city neighborhoods: their value, their preservation, and the grassroots involvement that turns a jumble of houses into a community. Funny and thought-provoking, readable and relevant, The History of Here celebrates the sense of place that fuels the new urbanism.
We've been looking forward to this book since we heard Norder was working on it. She's a wonderful writer who has a keen eye for details and stories. (We were lucky to have her write for AOA many years ago.) Also, according to sources, she is "kind of a local celebrity in the nerd world."
The History of Here is set to be published in February. It's $19.95 pre-ordered on the SUNY Press website.
Hi there. Comments have been closed for this item. Still have something to say? Contact us.