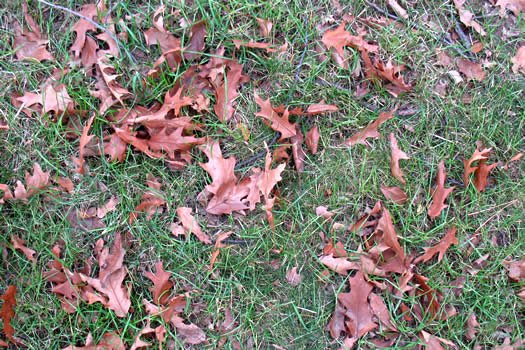 It is near the end of fall. The leaves have mostly fallen from the trees. So time to rake them from the yard, right? PROBABLY NOT! (* Though see comments below about maple tar spots.)
Here are five reasons:
1. Leaves are basically fertilizer waiting to happen, and you can speed along the process by running them over with a mower. You could use a mulching blade for a very fine chop, but just the regular mower will do fine. [Washington Post]
2. Researchers at Michigan State have been studying this practice and reports that the resuling leaf compost both helps the grass grow the next season and helps inhibit weeds. Said one of those Michigan State researchers of mowing the leaves into the lawn: "It's not only not a problem, it's awesome." [Michigian State Extension] [CS Monitor]
3. If you have a ton (well, probably not literally a ton) of leaves, you can mow and bag some of them and use them as mulch for garden beds or for composting. Again, free, natural fertilizer and weed control. [Fine Gardening]
4. Mulching and composting the leaves in your yard keeps them from having to be picked up as part of curbside garbage/recycling collection.
5. Leaf blowers are the devil's clarinet.
Hi there. Comments have been closed for this item. Still have something to say? Contact us.