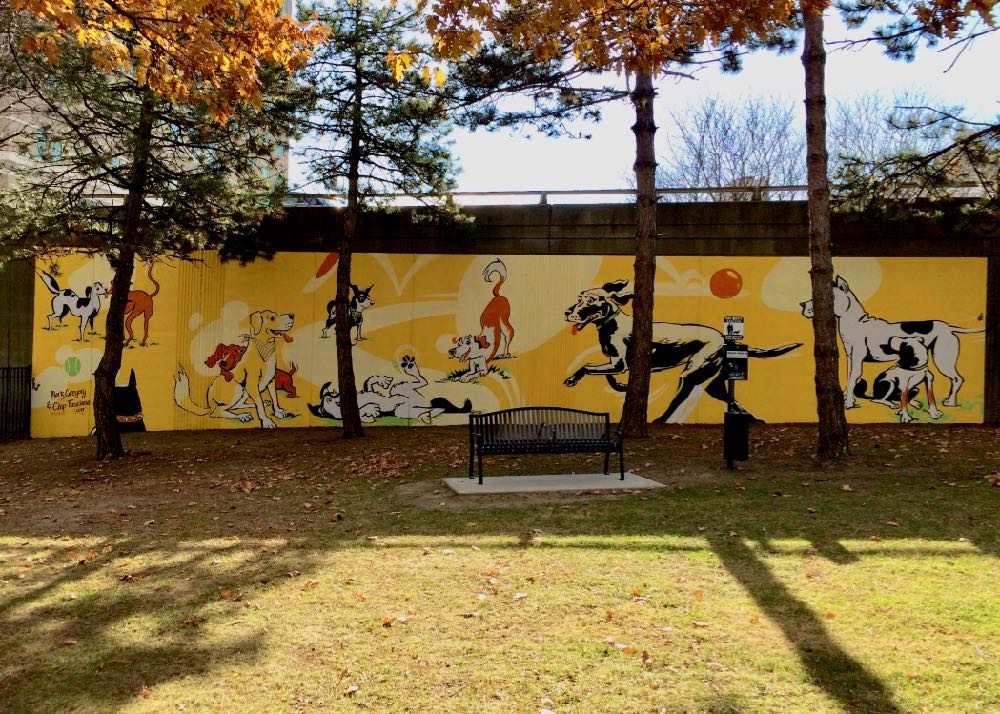 The dog park that's been in the works for downtown Albany officially opens today.
The park is in Wallenberg Park, the slice of land that sits diagonally from The Palace, up against the on-ramp for I-787. The 15,000-square-foot enclosure will be open dusk to dawn dawn to dusk, seven days a week.
Here are few more bits and pics...
A few pics
They're at the top in large format -- click or scroll all the way up.
A few bits
The dog park is the work of the Downtown Albany Business Improvement District, which planned and funded it. The BID worked with the state (which owns the land) and the city of Albany (which maintains the park) to make it happen.
The total cost of creating the park was $60,000, according to BID executive director Georgette Steffens. Most of that money to went to the decorative metal fencing that encloses the space. Steffens said the upgraded fencing was important for blending in with surrounding architecture.
"Our goal was to the match the aesthetic of downtown," she said Wednesday of the fence.
(There's currently some netting around the lower portion of the fence to help keep very small dogs in. Steffens said the fence will be getting some additional low crossbars to permanently address that issue.)
One planned element that didn't make it in was a drinking fountain for dogs. Steffens said some underground electrical and fiber optic cables prevented in the installation of the necessary water infrastructure.
But that left money for the mural on the wall of the on-ramp, which was created by local artists Mark Gregory and Chip Fasciana.
Downtown Albany has been adding a lot of residential units in recent years, and Steffens said the change has been very noticeable of late. So one of the goals in creating the park was to create an amenity for people to visit and meet each other.
"I think this will build a community and connect the people who live here," said Steffens, noting that people often end up getting to know each other through their dogs.
Going forward, Steffens said the city will be maintaining the park day to day, taking care of tasks such as mowing. The BID will be responsible for larger items like replacing benches or fencing.
"It's really a city park that we implemented," she said.
The official opening of the park is Wednesday, November 29 at 4:30 pm. Following at 5 pm there's a fundraising reception at the Olde English to benefit the Mohawk Hudson Humane Society.
Earlier
Hi there. Comments have been closed for this item. Still have something to say? Contact us.