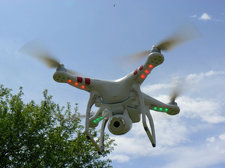 Lindsey emails:
I'm looking to gift drone lessons to a family member for the holidays this year, and am struggling to find much in the Capital Region area. I have found a few classes at Hudson Valley Community College, but beyond that I have come up with nothing. I'm wondering if any AOA readers might know of anyone who offers lessons in the area, or even within a short distance (Hudson Valley region, Central NY). Thank you!
As Lindsey mentions, HVCC does offer drone flying classes, which can lead to a certification. They're 12 hours and 6 hours long (on multiple days) and cost roughly $1,000 and $500. So we're curious if there's something out there shorter and cheaper for hobbyists just looking to get some of the basics.
Got a suggestion for Lindsey? Please share!
The rules
While we're on topic, here are the FAA rules for flying drones. There are two sets -- one for hobbyists, and the other people using them for work.
photo: Flickr user Peter Linehan (CC BY 2.0)
Hi there. Comments have been closed for this item. Still have something to say? Contact us.