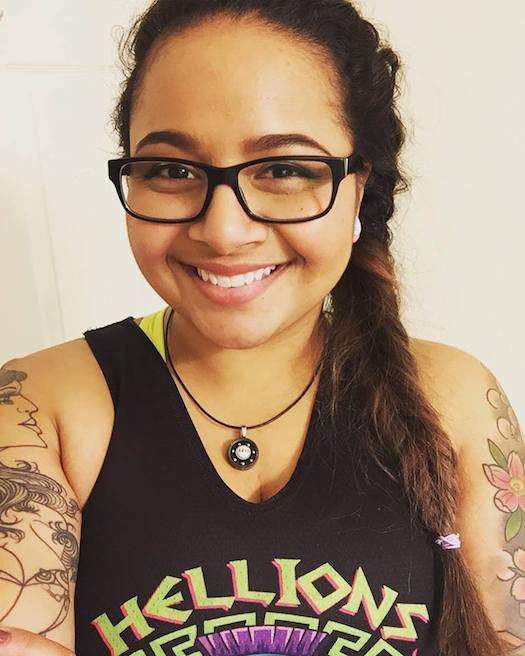 Gifts and giving are on most everyone's mind this month. So we're again asking people to share some thoughts on presents, past and present, charities -- and wishes for the next year.
Evelyn Melendez was born and raised in the Bronx, but today she calls Clifton Park home. She's a Navy veteran, a nursing student, a mom to a fur baby named Mowgli -- and a coach, skater and ref for the Hellions of Troy Roller Derby. She loves to eat, travel, and laugh.
What gifts would you like to get this year?
I'm always weird about receiving gifts. Not because I feel guilty, undeserving, or anything like that, I just prefer to give than to get that's all. If I had to choose, though, I'd love a 24-hour, no-cost-to-me shopping spree to all my favorite fitness and derby gear websites. Oh, and a tattoo gift card!
What gift would you like to give this year?
So, I went to JoAnn's for the first time ever this year (shocking, right?!). Before that, I had never, ever been into a crafts store. I must admit, it was a little overwhelming at first. I probably would've run away with no intention of coming back, if it wasn't for my friend Ms. Teach. Her VIP tour of JoAnne's has inspired me to never want to just buy someone a gift, but to make it instead (time permitting of course). I enjoy gifting items based on memorable events shared between loved ones and me, so sharing a homemade, more personal gift would make it that much more special.
What charities would you like to support?
I have, and would love to continue to support, the Navy-Marine Corps Relief Society. Their mission is to provide financial, educational, and community assistance, among other services, to Navy and Marine Corps members, and eligible family members. I have witnessed shipmates getting assistance with travel expenses during family emergencies, and urgent financial need.
I'd also like to give a shout out to another charity I hope people will support: Ben's Green Drakkoman St. Baldrick's Hero Fund, created to honor the memory of 9-year-old Ben Stowell. The fund is named after the superhero he created, Green Drakkoman, whose archenemy is the Evil Alien. The analogy helped Ben understand what was happening in his body's fight against an aggressive form of osteosarcoma cancer (Evil Alien). Like Ben, Green Drakkoman always had a courageous, never-give-up attitude, resolving to "Focus on the Positive". His family continues Ben's legacy with this fund, which supports osteosarcoma research.
What is your most memorable gift?
While in the service, my husband and I were stationed apart (he went to Japan, and I to Washington State). My most memorable gift was a laptop that he had bought for me so that we could Skype each other. We may not have been physically in the same country, but being able to see him still meant the world to me.
What is your wish for the new year?
I wish for mental strength. On top of working full time, and transferring into a new roller derby team, I'll be going back to school full time, and coaching my previous home derby team. I already have my hands full for next year!
We all experience bad days, but I hope to be able to face trying times with positivity and optimism. I can do it!
____
More holiday gifts
+ Holiday gifts: Jason Vengersammy
+ Holiday gifts: Nick Foster
Hi there. Comments have been closed for this item. Still have something to say? Contact us.