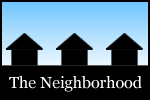 Among the topics in this most recent spin around the Capital Region's online neighborhood: surprise nudity, questioning a promotion, tying one on for Christmas, Rensselaer Westerlo, the grand quick step, NYC, hiking, the new Albany Patroons, the Cuckoo's Nest, Cafe Capriccio, shopping, and budgeting.


Katie: "surprise nudity is a just terrible, terrible strategy."
Steve questioned a promotion at a downtown Albany bar.
Rob on the importance of tying one on for Christmas.
Paula shared the story of Rensselaer Westerlo (who is a person).
Carl recalled the life of William C. Bouck and his grand quick step.
Jackie turned her keen eye for detail to a different landscape: NYC.
Julie is continuing to string together hiking ideas in the Hudson Valley.
Chuck is getting excited about the new Albany Patroons -- maybe.
Melinda tried out the Cuckoo's Nest.
Silvia took a cooking class at Cafe Capriccio.
Daniel enjoyed some half-baked pizzas from DeFazio's.
Shop along with Dominic.
And Jona continued budgeting.