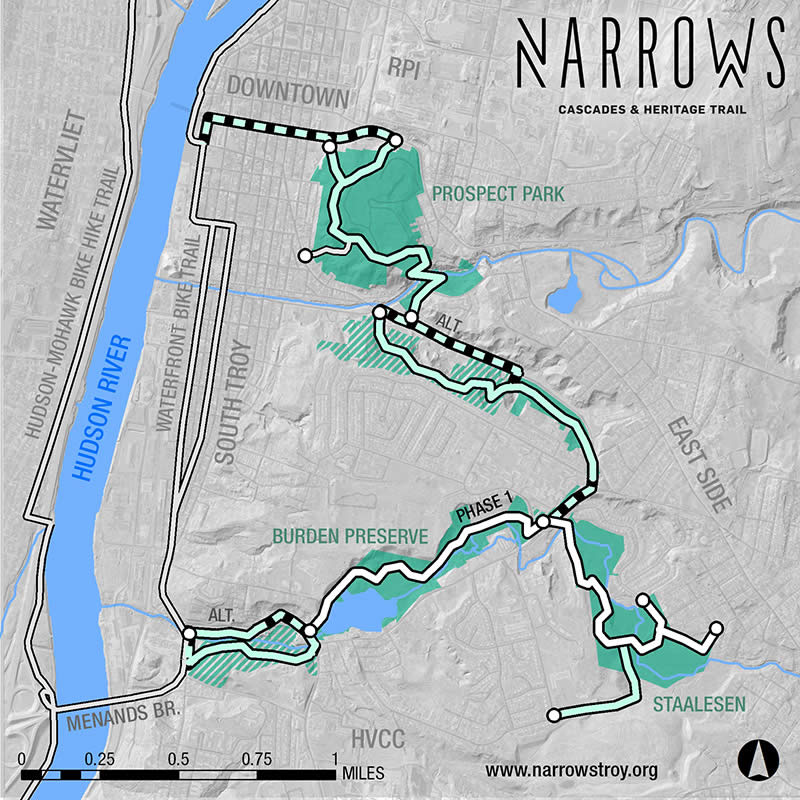 Check out the plan for The Narrows, a formalized series of walking trails through Troy. It's a collaboration between the Rensselaer Land Trust, Post Contemporary, and the city of Troy. Blurbage:
The Narrows is an extensive 5 mile hiking trail proposal that winds through the waterfalls, outcrops, and historic landscapes of Troy's Wynantskill and Poestenkill valleys: a wilderness hike... in the City. When complete, the wilderness trail will wind to Downtown Troy from the Hudson Mohawk Bike-Hike Trail over the river on the 378 Bridge.
The Narrows will highlight Troy's exceptional cultural heritage and scenic beauty, exhibit strong connectivity to regional trail systems, heighten quality of life and health for citizens of Troy and the region, bolster community identity, and add to economic development. ...
Phase One will connect the Burden Pond Preserve to the Staalesen Preserve along an over 2 mile trail that weaves its way along the Wynantskill's gorgeous waterfalls, gorges, and uplands. This route was chosen because of its spectacular natural features, and its complete site control. The connectivity to date has been impossible because of lack of infrastructure, most notably of two long span bridges needed to cross the Wynantskill at key locations
That first link above includes more info, including photos of some of the landscape.
Project backers say construction on phase one could start in the spring and be finished by the end of 2018.
Hi there. Comments have been closed for this item. Still have something to say? Contact us.