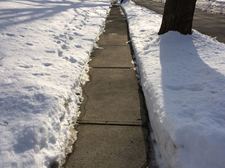 Laura emails with a timely question:
Would you be willing to ask your readers to recommend a reliable, reasonably-priced residential snow removal service in Albany? Thank you.
We've had a similar question in the past, but things change. Businesses close, businesses open.
So, got a suggestion for Laura? Please share! And sentence or two about why you're recommending a service can be helpful.
Hi there. Comments have been closed for this item. Still have something to say? Contact us.