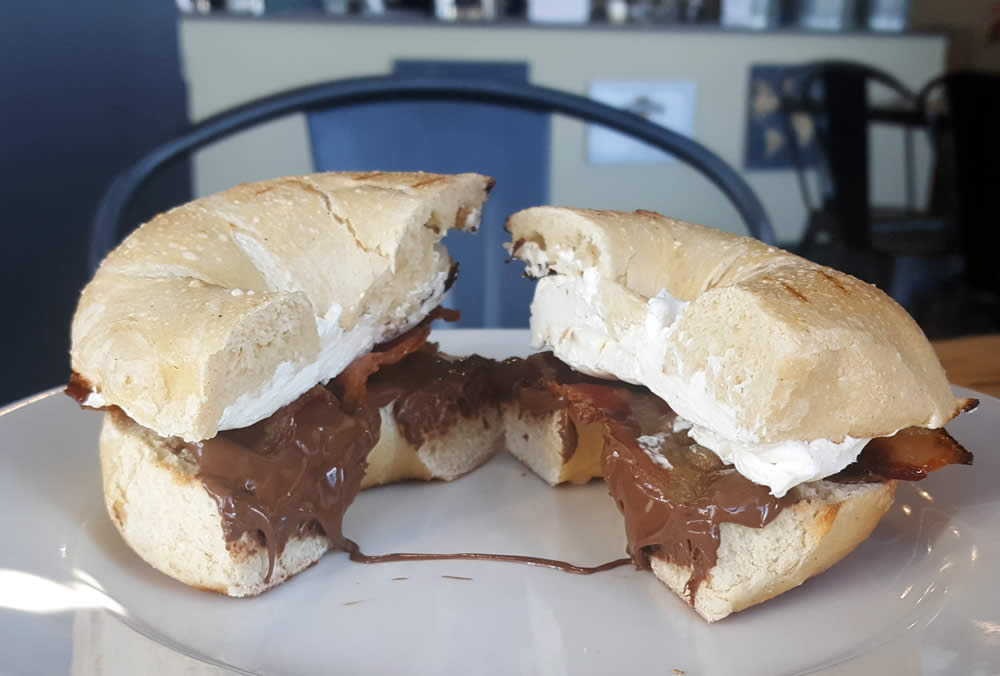 By Deanna Fox
There are certain foodstuffs that really only exist for those moments when you just don't care about life anymore. Those items that make it hard to believe the eater actually places value on their health, life expectancy or general well-being.
For those moments when all hope is gone, there is the Nutella Bacon Bagel from Wired Coffee.

With a description like that, you may think this bagel is somehow subpar, somehow voided of any quality that might make it something worth living for.
You'd be wrong, in that thinking: This bagel is a happy blend of sweet and savory, creamy and crisp. Many cravings satisfied in a single bite.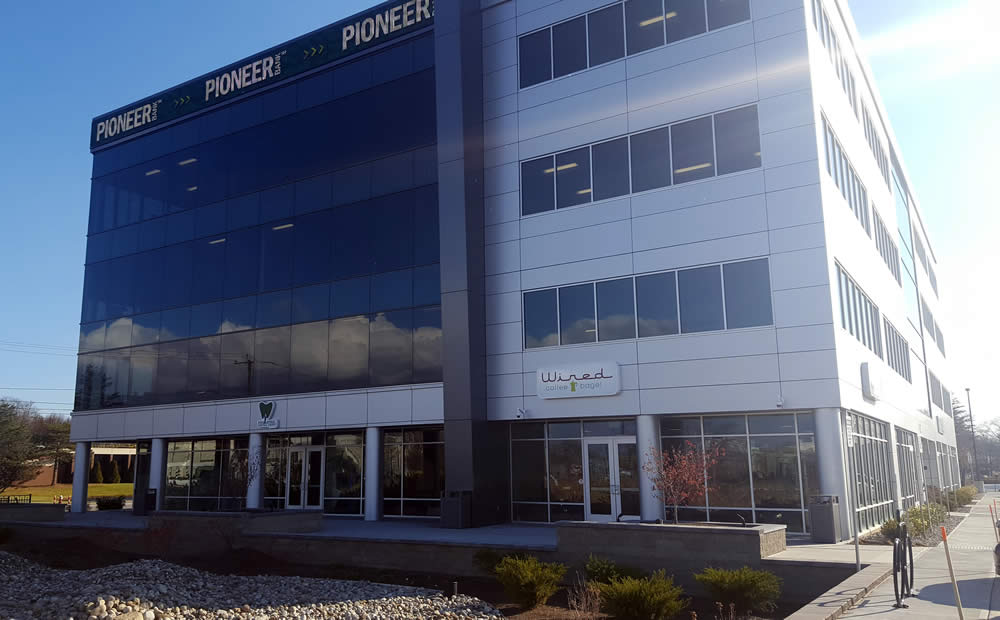 The bagel, shipped from Brooklyn to the Wired Coffee in Colonie, is toothsome and chewy. I ordered a plain version, but the bagel for this Eat This! item is customizable. Add more crunch with a sesame seed bagel. Bump up and play with flavor with an everything bagel. Go into full-on dessert mode with a cinnamon sugar bagel.
Whichever you choose, trust that the bagel itself has the unmistakable texture of well-worked gluten with a crackling blistered crust that is the marker of a mastery level product.
With bagels like this, any topping would suffice, any addition besides butter or cream cheese is almost superfluous. That doesn't stop Wired from offering a classic lox bagel with red onion and capers, or egg sandwiches on bagels. (A wrap and sandwich menu is also available.)
But why not go all in and add Nutella and bacon, too. A generous base layer of cream cheese (on both sides of the cut bagel, no less) provides a foundational glue to keep Nutella -- the classic and increasingly popular Italian chocolate hazelnut spread -- from melting right off the bagel after it has been toasted. Instead, nutella gingerly drips down the edges of the bagel like chocolate ganache on an Instagram-worthy Boston cream pie and gives you something to lick off your fingers. The bacon is burnished on the edges but retains soft-cooked, fatty ripples for optimum mastication.
This bagel is a gut-bomb, filling every inch of your internal food pouch and leaving you with a heavy feeling, but my goodness is it worth it.
This bagel is a gut-bomb, filling every inch of your internal food pouch and leaving you with a heavy feeling, but my goodness is it worth it. It's has all the craveable qualities of a death row last meal, but with a $5 price tag.
Eat it in the morning only if you have nothing else to do for the day, and enjoy every moment of it as though each bite was your last.
Deanna Fox writes about many things, mostly about food. More can be found on her website, Twitter, or Instagram.
More Eat This
+ Galaktoboureko at Blue Ribbon
+ Benedict Trio at Tipsy Moose Tap and Tavern
+ Pollo mofongo from Mi Ecuador Juice Bar
Find It
Wired Coffee
652 Albany-Shaker Road
Albany, NY 12211
Hi there. Comments have been closed for this item. Still have something to say? Contact us.