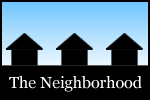 Among the topics in this most recent spin around the Capital Region's online neighborhood: testifying, women's suffrage, the Albany Theatre, a principal monument, a snowy walk, Christmas, gifts not wanted, mountain biking, High Peaks, brick chicken, beer, and musical memoir.


Silvia shared what it was like to testify at a murder trial.
The Friends of Albany History walked through the history of the women's suffrage movement in Albany.
Paul detailed the history of the old Albany Theatre.
Paula told the tragic story behind one of the Albany Rural's "principal" monuments.
Jackie took a snowy walk through Saratoga Spa State Park.
Anna mentioned some of her favorite Christmas events and local charities.
Katie provided a home for an abandoned, orphan Christmas tree.
Kristi on the gifts your child's teacher doesn't want.
Jen listed some of her favorite mountain biking gear.
Chuck got some help identifying High Peaks.
Ashley had "so perfect" brick chicken at Rocco's on Main.
Daniel was fussy about beer temperature.
And Amy shared more of her musical memoir.