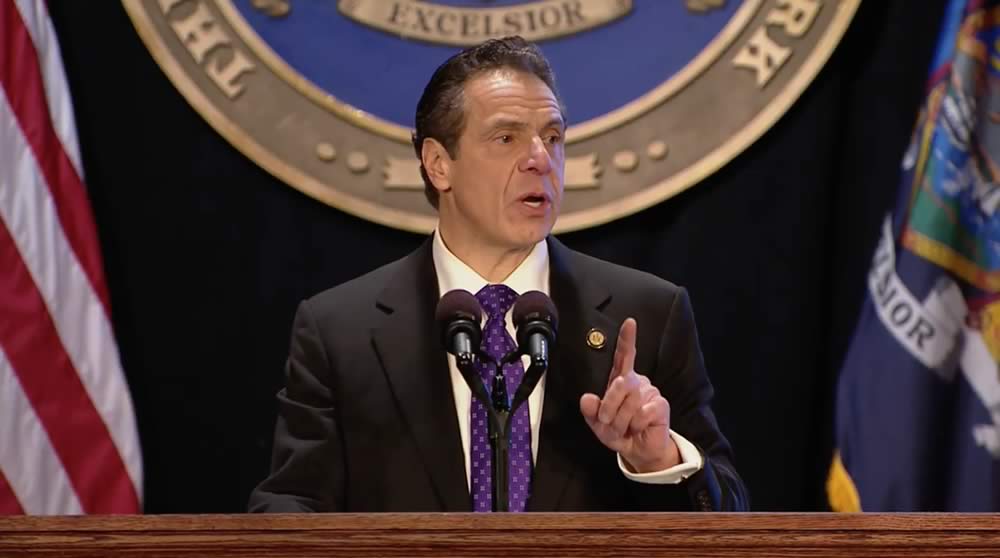 Andrew Cuomo delivered his 8th State of the State speech Wednesday. And, citing the recent Republican tax plan, he continued to play up the theme of a federal government that's taken adversarial stance toward New York -- he argued that 2018 is shaping up to potentially be "the toughest year New York has faced in modern political history."
The State of the State is sort of like the opening ceremony for the new legislative season at the state Capitol. State government is Albany's #1 industry, and politics is probably its favorite sport. But even if you're not connected directly to what goes on there, the actions and decisions do eventually end up affecting you.
So, it's good to know what's up. Here's quick overview of some highlights...
This isn't comprehensive. Other outlets have much more thorough and detailed coverage, including TU Capitol Confidential, Politico NY, and State of Politics.
Bail system reform
Maybe the most significant policy change Andrew Cuomo talked about during Wednesday speech was a group of criminal justice reforms including a change in how bail is used in the state. Specifically, he's put forth a plan that would eliminate monetary bail for people facing misdemeanor and non-violent felony charges. And in the case of violent felony charges, a judge would have to review each case individually for what type of bail might be available.
The goal of this change is narrow the disparities in how the justice system treats people of varying economic means. Because, under the current system, many people of limited means end up serving long periods of jail before any sort of conviction because they can't pay the bail. "If you are too poor, you are punished," Cuomo said Wednesday.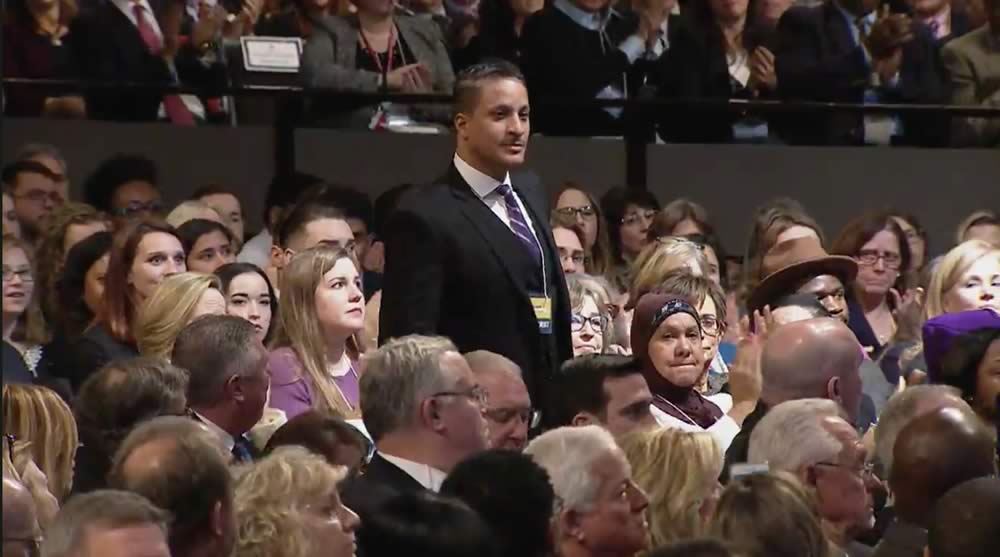 Akeem Browder
The ordeal of Kalief Browder has focused attention on this issue in recent years. In 2010, the then-16 year old was arrested for allegedly stealing a backpack -- and was then held in jail for more than three years, suffering horrific abuse. He committed suicide in 2015.
Cuomo mentioned Browder's story Wednesday, and Browder's brother, Akeem, was in the audience. Said Cuomo of Kalief Browder: "He opened our eyes to urgent need for real reform."
New York vs. the feds on taxes
The governor really leaned in an idea that's he's been floating lately that the federal government, specifically the recently passed Republican tax plan, has become an adversary to New York State. "It is an economic civil war," he said, pointing to the tax plan's provision to cap the deduction for state and local taxes and how that is more likely to affect 'blue' states rather than 'red' states. "Make no mistake, they are aiming to hurt us."
(He also made sure to again point out how much tax revenue New York State sends to the federal government versus how much it gets back -- a difference the Rockefeller Institute figures is a negative balance of $2,425 per person in the state. That's the third largest in the country.)
Cuomo pitched a few potential responses. The first is the idea that capping the exemption is illegal, and the state will sue in response. (This got a standing ovation.) But another, potentially more significant idea, is that New York could change the structure of its tax code, switching from an income tax to a payroll tax (like Social Security) -- which, theoretically, could be deductible. That would be a big, complicated change, which Cuomo acknowledged Wednesday, and said more details would be released later. (Here's an Empire Center discussion of some of the potential complications.)
At the same time, Cuomo sort of played the other side of this issue, too. One of the arguments for capping the state and location tax deduction is to apply pressure of local governments to hold down taxes. And the governor, citing the effect of the deduction cap, spoke about the need for local governments in the state to do just that. "Property taxes are now toxic to our economy and stability," he said.
In recent years, Cuomo's framed this issue largely as a situation in which local governments have too many layers or don't cooperate enough. And that's probably true to some extent. But the larger picture is more complicated, and if local governments are going to significantly cut property taxes, it's going to mean making some hard, unpopular choices. An example: See the report prepared for the city of Albany as part of a review by the state's Financial Restructuring Board for Local Government -- one of its main arguments is that the city just has too many people working for it in departments such as police.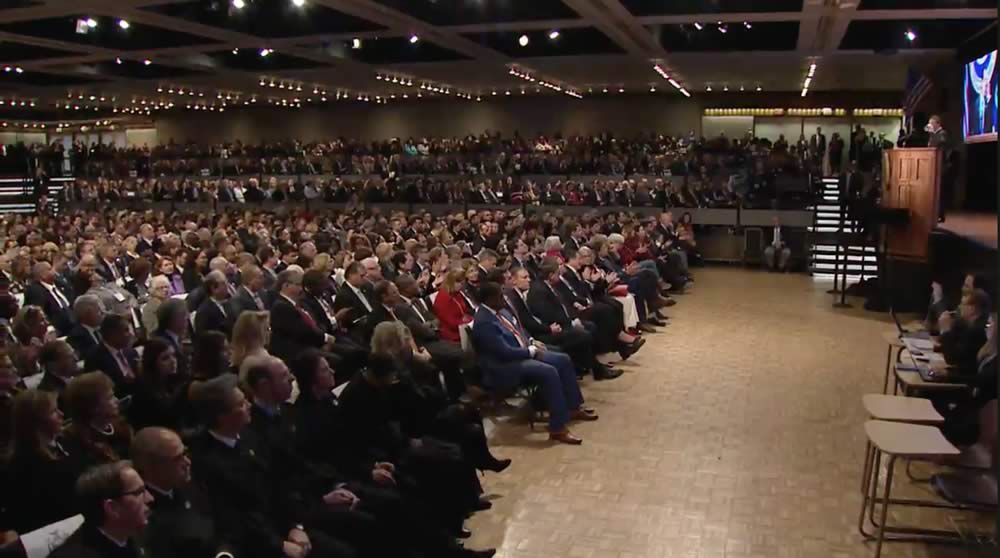 Education funding
Andrew Cuomo briefly discussed funding disparities between rich and poor school districts, a persistent topic at the Capitol, and called for more aid for poor districts. This topic is especially relevant to districts such as Schenectady and Albany. (Schenectady's superintendent consistently raises this issue.)
But the governor also added a bit of twist: He said the state should also be monitoring how school districts distribute aid within their districts, and that there should be some sort of mechanism for making sure increased aid goes to the schools within in a district with the most need.
Sexual harassment
Cuomo opened the list of issues in the speech with the recent string of high-profile stories of sexual harassment in various industries, including entertainment and the media. "We must acknowledge it and stamp it out," he said.
Toward that end, he proposed a group of new policies. Among them:
+ legislation that would prohibit public funding from being used to pay sexual harassment claims against individuals connected to state government
+ the elimination of forced arbitration policies in employee contracts
+ forcing contractors that do business with the state to disclose the number of sexual harassment cases and harassment-related NDAs they've dealt adjudicated or executed.
He also floated the idea of implementing a uniform code of sexual harassment policies across all branches of the state and local government, as well as an anonymous whistleblower system.
Let New York stand and say we are not the state of denial," he said during the speech. "We will set the standard for other states and industry to follow."
Easier voting
Andrew Cuomo is proposing a group of measures related to elections and campaigns. A subset is focused on making it easier to vote, including allowing early voting during the 12 days ahead of Election Day, and automatic and same-day voter registration.
Cashless tolling
This isn't necessarily a huge thing, but it potentially affects everyone drives: Cuomo said he wants to see cashless tolling on the entire Thruway. (The method is already in use downstate.) If you use E-ZPass, basically nothing would change. For everyone without E-ZPass, license plate readers would log vehicles at each toll plaza and then issue a bill to the registered owner of the vehicle.
screengrabs via Cuomo admin livestream
Say Something!
We'd really like you to take part in the conversation here at All Over Albany. But we do have a few rules here. Don't worry, they're easy. The first: be kind. The second: treat everyone else with the same respect you'd like to see in return. Cool? Great, post away. Comments are moderated so it might take a little while for your comment to show up. Thanks for being patient.