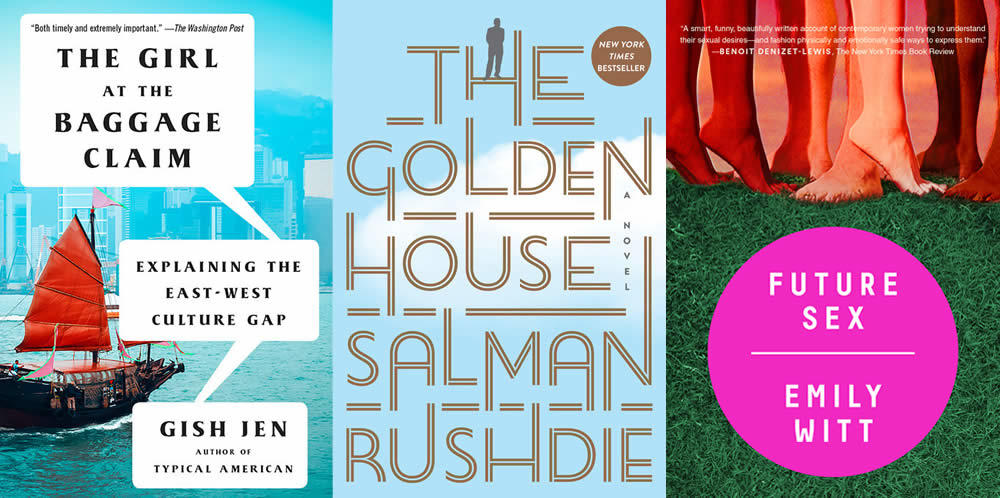 The spring lineup for the NYS Writers Institute visiting writers series is out. And it is once again jammed with high-profile authors, discussions, and film screenings.
Here's a quick-scan overview of the schedule...
Check the full schedule at the NYSWI page for times and locations, which vary, as well as additional film events.
Blurbage clips via NYSWI. Events are free unless otherwise noted.
January 30: Gish Jen - novelist and nonfiction writer
"Gish Jen is a beloved and prize-winning chronicler of the Chinese-American experience in fiction. Her new work, The Girl at the Baggage Claim: Explaining the East-West Culture Gap (2017), explores stark differences between Eastern and Western ideas of the 'self.'"
January 31:A Celebration of William Kennedy's 90th Birthday and the 35th Anniversary of the New York State Writers Institute
"Albany Mayor Kathy Sheehan and the City of Albany invite the public to Albany City Hall to celebrate William Kennedy's transformative impact on the city's life, lore, and literary culture. ... To mark these two significant birthdays, Mayor Sheehan and other political and civic leaders will offer proclamations, followed by a talk by Kennedy. Light refreshments will be served."
February 2: Lupe Under the Sun (Lupe Baja El Sol) - Film screening with commentary by writer/director Rodrigo Reyes
"Rodrigo Reyes', right, debut fiction feature, LUPE UNDER THE SUN, won the two top prizes--Best Film and Best Narrative Feature--at the 2017 Brooklyn Film Festival. A first-of-its-kind dramatic film that uses non-actors who are real farm workers, LUPE follows the grinding routine of an aging Mexican migrant worker in southern California as he comes to terms with his past."
February 6: 2018 Martin Luther King, Jr. Celebration Keynote Speaker: Michele Norris
"Michele Norris, eminent American broadcast journalist, became the first African-American female host in the history of National Public Radio, serving as anchor of its flagship evening news program All Things Considered from 2002 to 2015."
February 8: Emily Witt - investigative journalist and author
"Emily Witt is the author of Future Sex (2016), a brave, first-hand investigation of the many varieties of sex and dating in 21st century America. In candid fashion, the 30-something author shares her search for love in a confusing world of dating apps, transient hook-ups, and novel sexual cultures."
February 9: A Celebration of the Life and Legacy of James Baldwin, featuring Darryl Pinckney / I Am Not Your Negro Film screening with commentary by Darryl Pinckney
"Darryl Pinckney, novelist, playwright, essayist, and author of the acclaimed new novel Black Deutschland (2016), will provide commentary on selections from the works of James Baldwin, one of the iconic authors of the 20th century. Selections will be presented on stage by UAlbany students."
"Based on James Baldwin's unfinished memoir, Remember This House, this Oscar-nominated documentary presents his meditations on the history of racism in the United States and his perspectives on slain civil rights leaders Medgar Evers, Malcolm X, and Martin Luther King, Jr. The Guardian called it, 'one of the best movies about the civil rights era ever made.'"
February 16: Entre Nos - film screening with commentary by commentary by co-directors and screenwriters Gloria La Morte and Paola Mendoza
"A powerful film about the experience of new immigrants, ENTRE NOS presents the story of a Colombian woman and her two young children struggling to survive on the streets of New York City."
February 21: Randy Cohen, comedy writer and host of the Person Place Thing podcast
"Randy Cohen hosts a Person Place Thing podcast with Pulitzer Prize winner, Writers Institute founder and Executive Director William Kennedy."
February 28: American Place Theatre performance of If Beale Street Could Talk
"Adapted and directed by Elise Thoron for American Place Theatre, this 'Literature to Life' offering is a verbatim adaptation of James Baldwin's powerful novel of the same name, one that remains disturbingly poignant even sixty years after it was first published."
$15 general public / $10 students, seniors & UAlbany faculty-staff
March 6: Joachim Frank - poet, fiction writer, and 2017 Nobel Prize winner in Chemistry
"Joachim Frank, long-time UAlbany faculty member in the Department of Biomedical Sciences and founder of the field of single-particle cryo-electron microscopy, shared the 2017 Nobel Prize in Chemistry. Currently on faculty at Columbia University, Frank lived and worked in the Capital Region for more than three decades."
March 7: The Creative Life: Frédéric Brenner - photographer
"Frédéric Brenner, renowned photographer of the Jewish diaspora, is best known for his magnum opus, Diaspora: Homelands in Exile (2004), the result of a 25-year search in forty countries to create a visual record of the Jewish people at the end of the 20th century. His collaborative project, This Place, on display at the University Art Museum (February 1- April 7, 2018), brings together twelve international photographers taking part in a visual survey of Israel and the West Bank."
March 23: Patricia Smith - four-time National Poetry Slam winne
"Patricia Smith, four-time winner and the most successful poet in the history of the National Poetry Slam, is also a playwright, essayist, professor, and journalist."
March 27: Archer Mayor - bestselling mystery author; Rabi Musah - UAlbany chemist
"Archer Mayor, bestselling mystery author, has also worked for decades as a death investigator for Vermont's Office of the Chief Medical Examiner and as a detective for the Windham County Sheriff's Office."
"Rabi Musah is UAlbany Professor of Chemistry and Director of the Musah Research Lab, where she is pioneering a process to pinpoint a corpse's time-of-death based on a chemical analysis of blow fly eggs."
March 28: The Creative Life: Garth Fagan - The Lion King choreographer
"Jamaican-born Garth Fagan is founder and artistic director of the award-winning and internationally acclaimed Garth Fagan Dance, now in its 47th season. His innovative choreography for Disney's musical The Lion King was honored with a Drama Desk Award, Outer Critics Circle Award, Tony Award and the Laurence Olivier Award."
April 2: Authors Theatre presentation of Southern Haunt, followed by Q&A with playwright Kathryn Walat and director Portia Krieger
"Kathryn Walat, playwright and UAlbany Theatre Program Assistant Professor, presents a staged reading of her play-in-progress, Southern Haunt, 'a spooky-sexy Southern gothic play set in Savannah.' Following a reading by professional actors, the audience will be invited to share reactions with the playwright."
"Portia Krieger is a New York-based director. For the theatre company Clubbed Thumb, she recently directed The Tomb of King Tot (2016), which was named a New York Times 'Critics' Pick.'"
April 3: Rosa Alice Branco - Portuguese poet; Alexis Levitin - translator
"Rosa Alice Branco is a major Portuguese poet whose work has appeared in translation in more than forty literary journals around the world. Her collection Cattle of the Lord, translated in 2016 by Alexis Levitin and presented in both Portuguese and English, won the prestigious Espiral Maior de Poesia Award in 2009."
"Alexis Levitin has translated more than thirty works of writers from Portugal, Brazil, and Ecuador and his translations have appeared in well over 200 magazines, including Partisan Review, Kenyon Review, and Prairie Schooner."
April 6: UAlbany Symposium: "Incarcerating Girls and Women: Past and Present"
"Film screening and discussion of Incarceration Nation with Susan Burton, former inmate, author, and prison reform activist."
April 10: Andrea J. Buchanan - bestselling YA and children's author, and memoirist
"Andrea J. Buchanan is the co-author of the million-selling The Daring Book for Girls series, an empowering set of how-to manuals for girls with a sense of adventure. ... Her new memoir, The Beginning of Everything (2018), recounts her harrowing experience with a real-life neurological mystery after a coughing fit led to brain trauma and months of cognitive impairment."
April 12: Paul Harding - Pulitzer Prize-winning novelist
"Paul Harding received the 2010 Pulitzer Prize for Fiction for Tinkers (2009), a father-and-son story about itinerant peddlers in the backwoods of Maine. ... His second novel, Enon (2013), is the story of one man's enduring love for his daughter, and was named a best novel of the year by The Wall Street Journal and the American Library Association."
April 17: Sara Novi? and Peter Golden - acclaimed novelists
"Sara Novi?, acclaimed first-time novelist, is a notable fig­ure in the American deaf community, founder of the deaf rights and culture website, REDEAFINED.com, and an elo­quent explainer of the riches of the deaf experience. Her debut novel, Girl at War (2012), a finalist for the Los Angeles Times Book Prize, tells the story of a girl's coming of age during the collapse of the former Yugoslavia."
"Peter Golden is the author of the new novel, Nothing Is Forgotten (2018), about a young man from New Jersey who travels to Khrushchev's Russia, where he discovers love and the long-buried secrets of his heritage."
April 19: Salman Rushdie - award-winning novelist
"Salman Rushdie is widely recognized as a leading figure of world literature. ... This will be Rushdie's first visit to the Institute since cancelling his scheduled 1988 appearance due to the controversies surrounding his novel, The Satanic Verses. His new novel is The New York Times bestseller, The Golden House (2017), a parable of contemporary America set against the backdrop of current American culture and politics."
April 21: Marc Guggenheim - screenwriter, TV producer, comic book writer, and novelist
"Marc Guggenheim, UAlbany alum, has helped to transform the landscape of American primetime television as a developer and "showrunner" of imaginative TV shows inspired by DC comic book worlds, including Arrow (2012-present) and Legends of Tomorrow (2016-present), two of the most popular shows on The CW network."
April 24: Women and Power in America
"Influential women in the fields of broadcasting, journalism, and politics will discuss the challenges and opportunities facing women in America today." Moderator: Cokie Roberts. Panelists: Danielle Belton (editor-in-chief of The Root), Jill Stein (Green Party presidential nominee in 2016 and 2012), Kathy Sheehan (Albany mayor).
April 26: The Creative Life: Pattie Lupone - Grammy and Tony award-winning actress
"Patti LuPone, one of musical theatre's most beloved leading ladies, returned to Broadway in 2017 with a Tony-nominated performance as cosmetics pioneer Helena Rubinstein in War Paint. "
April 27: Nina G - comedian, disability rights activist, and author
"Nina G, the "Stuttering Comedian," is also a professional speaker, storyteller, writer, and educator. She brings her humor to help people confront and understand disability culture, access, and empowerment."
April 30: Eugene Lee - set designer for Wicked and Saturday Night Live
"Eugene Lee, legendary Broadway set designer, has won three Tony Awards for his work on Leonard Bernstein's Candide, Stephen Sondheim's Sweeney Todd, and Gregory Maguire's Wicked. Lee has also served as the production designer for Saturday Night Live for more than forty years since its 1975 premiere."
May 1: David Tomas Martinez - prize-winning poet
"David Tomas Martinez, prize-winning poet, is a former San Diego gang member and teenage father whose work addresses themes of street life, poverty, masculinity, drugs, and violence in the barrio, and the redemptive potential of art, poetry, and self-knowledge."
May 4: This Is Your Life, William Kennedy, Celebration
"The Writers Institute will celebrate its founder in his 90th year with appearances by special guests, to be announced, prerecorded video tributes by major authors and filmmakers, and a slideshow of photographs documenting significant milestones in a singular and eventful life."
Say Something!
We'd really like you to take part in the conversation here at All Over Albany. But we do have a few rules here. Don't worry, they're easy. The first: be kind. The second: treat everyone else with the same respect you'd like to see in return. Cool? Great, post away. Comments are moderated so it might take a little while for your comment to show up. Thanks for being patient.