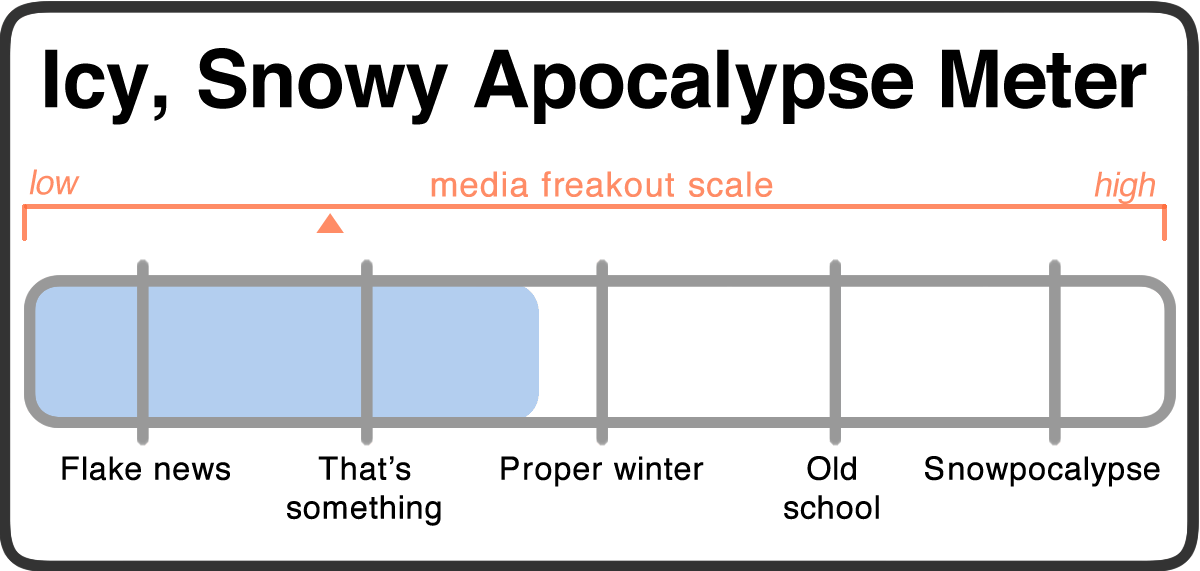 How lucky are you feeling? Because the Icy, Snowy Apocalypse Watch is going to roll the dice.
The paraphrased forecast for the next few days:
Thursday: Some snow. Low 50s. What's the big deal?
Thursday night: Rain, maybe changing over to snow. Lows in the upper 30s.
Friday: Some sort of mix of snow and rain. Maybe 3 inches of snow during the day. Highs in the low 40s.
Friday night: Probably more of the snow/rain mix. Windy. Lows around 35.
Saturday: Cloudy, maybe some rain. Highs around 40.
OK, here's the important thing to know about the weather over the next day or two: No one seems to know exactly what's going to happen.
The signs are pointing to what the NWS Albany forecast discussion calls a "potent coastal storm" moving up the East Coast. Somewhere along the line it's going to meet colder air moving in from the west. It's just not clear exactly how that's all going the shake out. And you know about coastal storms -- a little shift one way or the other can make a big difference.
What's all that mean for what's going to happen here? Well, again we turn to our absolute favorite National Weather Service page: (trumpets) the probabilistic snowfall forecast maps. The "expected" snowfall forecast for the Capital Region core is 3 inches -- but the totals increase steeply to the west. Westerlo's pegged at 15 inches! And Canajoharie's tagged for 8.
Sometimes that happens, especially in the Hill Towns. But here's the part that should really catch your attention -- the probabilities for larger snowfalls in Albany:
+ >= 6 inches: 38 percent
+ >= 8 inches: 27 percent
+ >= 12 inches: 11 percent
+ >= 18 inches: 2 percent
While those (much) larger amounts aren't predicted to be the most likely -- a 6-8 inch total isn't exactly unlikely, either. And larger than that? What we're saying is, there's a chance.
So we're marking this Icy, Snowy Apocalypse Watch just short of the "proper winter" category because of the uncertainty and upper-end potential. It could end up being not much. Or it could be a lot. There's an extra ugh factor because it's probably going to be wet, heavy snow. Also: We've tasted spring and going back, even for a few days, will not be pleasant.
Shovels at the ready, hardy upstaters.
Media freakout forecast: Caveats.
Necessary note: You should take this all with an enormous bag of rock salt. AOA has absolutely no weather forecasting expertise. At all. That said, the world will probably not end because of some snow. Most likely.
Earlier: Very well acquainted, too, with matters mathematical, they are the very model of a modern forecast meteorological
Say Something!
We'd really like you to take part in the conversation here at All Over Albany. But we do have a few rules here. Don't worry, they're easy. The first: be kind. The second: treat everyone else with the same respect you'd like to see in return. Cool? Great, post away. Comments are moderated so it might take a little while for your comment to show up. Thanks for being patient.