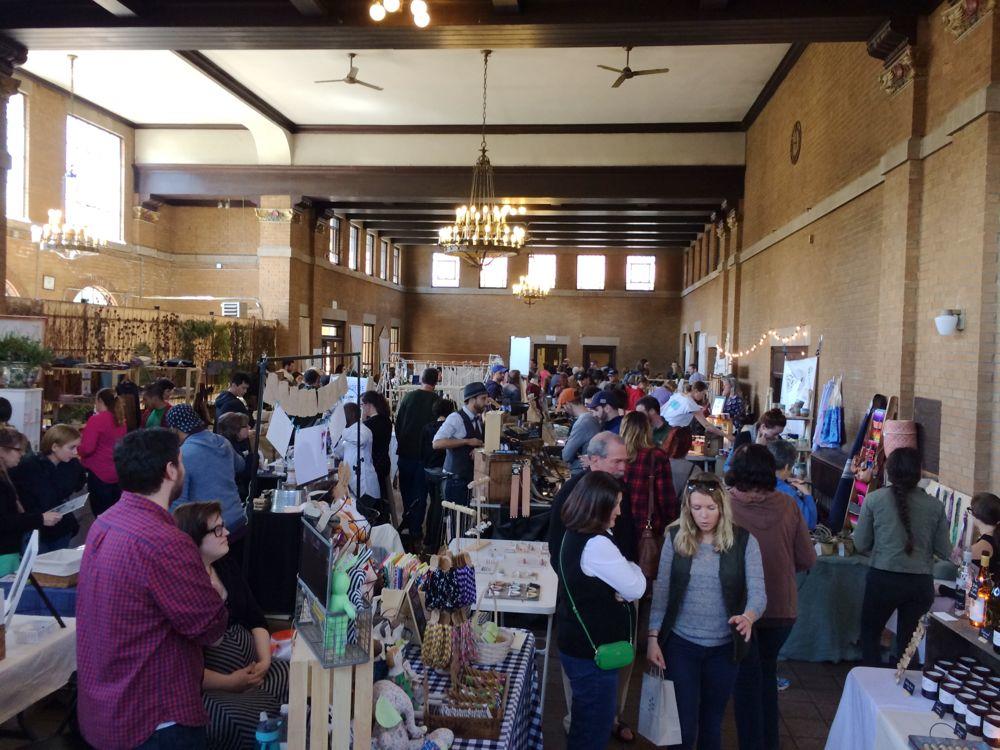 The weekend is around the corner, and spring is making an effort -- so we're good. How about you?
We've got your list of stuff to do this weekend all ready to go. You'll find it below.
Planning something that didn't make our list? Tell us about it in the comment section.
And whatever you're up to, have a fantastic weekend!



Troy Night Out
Friday: Shops and galleries are open late in Troy for April's Troy Night Out. This month there's an Earth Day theme. Here are a few things happening:
+ FLUXISTENTIAL -- a one-night-only lighting art show at the Gurley Building by the students and staff of RPI's Lighting Research Center.
+ The Ithaca College Wind Ensemble presents a free performance at Troy Savings Bank Music Hall.
+ The Underground Railroad History Project presents Americana, gospel, and blues music at the Troy Public Library.
Collar City Craft Fest
Friday-Saturday: The Arts Center of the Capital Region hosts theCollar City Craft Fest. Artists and crafters from around the Capital Region will display and sell handmade jewelry, scarves, art, clothing and more. Friday 11 am-9 pm, Saturday 11 am-5 pm -- $5
Half Moon Market
Friday-Sunday: The Half Moon Market returns to the Washington Park Lake House this weekend, with handmade goods from more than 40 local and regional vendors. There's a party Friday night with a DJ, food trucks, craft beverages, and more. Friday from 5-9 pm, Saturday and Sunday 11 am-6 pm -- free admission
Tour of the Battenkill
Saturday: The annual Tour of the Battenkill cycling event returns to Washington County with a new format. "It's a back-road journey through open farmland, narrow canopies of trees, and a covered bridge -- the kind of naturally car-free, rural roads you wish you could ride everyday." Registration is now closed, but there will be many opportunities to watch the road race. Saturday various times
Baby animals
It's spring, and the baby animals at area farms are accepting audiences.
Albany All Stars Roller Derby
Saturday: The Albany All Stars take on Suburbia Roller Derby at the Albany Capital Center in the 2018 season opener. Saturday at 7 pm -- $15 / $5 for kids 10 and under
Albany Patroons
Sunday: The Albany Patroons take on Ohio Bootleggers in the playoffs at the Washington Ave Armory. Friday 7 pm -- $10 and up
Rugby
Saturday: The Albany Knicks Women's Rugby team takes on the Village Lions. Saturday at noon at Dick Green Field in Albany -- free admission
Stage
Patti Lupone: Don't Monkey With Broadway
Friday: Broadway diva and two-time Tony winner Patti Lupone brings her one-woman show about Broadway, where it came from and where it's going, to Proctors. Friday 8 pm -- $25 and up
And The World Goes Round
Friday-Sunday: Not So Common Players presents a beautiful production of the Kander and Ebb review And the World Goes Round at the Clifton Park-Halfmoon Public Library. Friday and Saturday 8 pm, Sunday 2 pm -- free
King Lear
Friday-Sunday: Confetti Stage presents Shakespeare's King Lear. Friday and Saturday 7:30 pm, Sunday 2 pm -- $15
Love in Firenze
Friday-Sunday: The Addy theater at Proctors presents the world premiere of the musical Love in Firenze. Friday-Sunday -- $22.50
Blithe Spirit
Friday-Sunday: Capital Repertory Theatre's production of Noel Coward's Blithe Spirit continues. Friday 8 pm, Saturday 3 pm and 8 pm, Sunday 2 pm -- $20 and up
Mine
Friday-Saturday: Creative License presents Mine -- a contemporary thriller that explores the boundaries of certainty, reality, and madness. Friday and Saturday 7:30 pm -- $15
Arsenic and Old Lace
Friday-Sunday: Curtain Call Theater continues a production of the classic comedy Arsenic and Old Lace. Friday and Saturday 8 pm, Sunday 3 pm -- $25
Joseph and the Amazing Technicolor Dreamcoat
Saturday-Sunday: Home Made Theater in Saratoga Spa State Park presents Andrew Lloyd Webber's musical Joseph and the Amazing Technicolor Dreamcoat. Saturday 7:30 pm and Sunday 2 pm -- $26
School House Rock Live!
Sunday: School House Rock Live, the stage show based on the Saturday morning cartoon series, comes to The Palace. Sunday at 2 pm -- $20 / GE Kids Get in Free day with special tickets available at the Palace box office
Shall We Set About Some Revels?
Sunday: Lucas Confectionery hosts Will Kempe's players performing party scenes from Shakespeare plays in Shall We Set About Some Revels. Sunday 7 pm -- $10
Bing Bamboo Room Burlesque
Saturday: The Bing Bamboo Room returns to Hudson Harbor Steak and Seafood with a superhero-themed burlesque review hosted by Scooter Pie. Saturday 8 pm -- $20
Comedy
Nina G
Friday: Comedian Nina G will be at UAlbany for a performance as part of the NYS Writers Institute visiting writer series. "A member of the comedy troupe, The Comedians with Disabilities Act, Nina G. is the author of the children's book, Once Upon An Accommodation: A Book AboutLearning Disabilities, that helps children and adults advocate for their rights as a person with a disability, and the upcoming memoir Stutterer Interrupted (2018)." Friday 7 pm, Campus Center Ballroom -- free
Guy Torry
Friday-Saturday: The Albany Funny Bone hosts actor/comedian Guy Torry (Russell Simmons' Def Comedy Jam on HBO Funny Money, American History X). Friday and Saturday, various times and prices.
Gary Gulman
Friday-Saturday: The Comedy Works hosts Gary Gulman. "Gulman's comedy centers on absurd observations about daily occurrences. He has performed on The Tonight Show with Jay Leno, Late Show with David Letterman, "The Late Show with Stephen Colbert", The Late Late Show with Craig Ferguson, Jimmy Kimmel Live!, Conan, Just for Laughs, and John Oliver's New York Stand-Up Show." Friday-Saturday, various times and prices
Pretty Much the Best Comedy Show With Doug Smith
Saturday: Pretty Much the Best Comedy Show returns to Proctors with headliner Doug Smith, "a rising New York comic who just made his late night debut on Conan." Saturday 8 pm -- $15 advance / $20 at the door

Maestro at MopCo
Friday: The MopCo Improv theater presents Maestro: One Improviser to Rule Them All. It's a comedy elimination showdown where improvisors create scenes, songs and games based on audience suggestion. Saturday 8 pm -- $15 / $6 kids, students, seniors
Mick Treadwell's 10 North Jay
Saturday: MopCo presents Mick Treadwell's 10 North Jay -- an improv variety show with games, songs and scenes based entirely on audience suggestion. Sunday 5 pm -- $10 / $5 kids, students, and seniors
Music
Friday: darker at EMPAC
"Pulitzer Prize-winning composer and Bang on A Can co-founder David Lang brings his pensive evening-length piece, darker, to EMPAC." 7:30 pm -- $18
Friday: Daymé Arocena at The Egg
"From Havana, Cuba, Daymé Arocena's powerful singing and buoyant music defy expectations, drawing on the rhythms of Afro-Cuban traditions, the nimble athleticism of jazz, and the catchy hooks of pop melodies." 8 pm -- $28
Friday: Kansas at The Egg
Carry on wayward son. 8 pm -- $49.50 and up
Friday: Tom Chapin at Caffe Lena
Grammy-winning singer/songwriter. 8 pm -- $30
Friday: The Molice at The Low Beat
New wave from Japan. With: Bruiser and Bicycle, Postage, Odd Cadre. 8 pm
Friday: Hartley's Encore at The Hollow
"A buzz-worthy funk/soul band." With: Victory Soul Orchestra. 8 pm -- $12
Friday: Solidarity: Charlie King, Magpie, and George Mann at Proctors
Folk. An 8th Step show. 7:30 pm -- $24 and up
Friday: Jarrod Lawson at Helsinki Hudson
"Singer-keyboardist Jarrod Lawson blends blue-eyed soul and smooth jazz..." 9 pm -- $25
Friday: The Music of Joni Mitchell at HVCC
"Producer and bassist Scott Petito assembles a world class ensemble of the region's most well-respected musicians to interpret the timeless music of Joni Mitchell..." 7 pm -- $10
Saturday: 24-Hour Drone at Basilica Hudson
"24-HOUR DRONE 2018 will span genres, continents and centuries in honor of one of the most ancient forms of ritual and communion." Saturday noon to Sunday noon -- $36 ahead / $48 at the door
Saturday: Move Music Festival
The festival is one day this year, at three venues in downtown Albany. The headliner is Diet Cig. $25
Saturday: Alan Jackson at TU Center
Country music hall of famer. With: Randy Houser. 7:30 pm -- $39.99 and up
Saturday: The Fab Faux show at The Egg is sold out
Saturday: Gramatik at Upstate Concert Hall
Electronic producer/DJ. With: Mome, Balkan Bump. 8 pm -- $25 ahead / $30 day of
Saturday: The Steel Wheels at Helsinki Hudson
Roots. 9 pm -- $20
Saturday: Aztec Two-Step at Caffe Lena
Folk rock. 8 pm -- $30
Saturday: Formula 5 + Space Carnival
Jam. 7 pm -- $12
Sunday: School House Rock Live at The Palace
"The Emmy Award-winning 1970's Saturday morning cartoon series comes to life and features classics like 'Just a Bill,' 'Lolly, Lolly, Lolly' and Conjunction 'Junction.'" 2 pm -- $20 / kids 12 and under free
Sunday: Company of Thieves at Lucky Strike Jupiter Hall
Indie rock. 7 pm -- $15
Sunday: Leo Kottke at The Egg
"Leo Kottke's astounding virtuosity on six- and 12-string guitars is never less than awe inspiring and his unique musical vision has placed him among the foremost acoustic guitar stylists of our era." 7:30 pm -- $38.50
Sunday: John Gorka at Proctors
Folk. An 8th Step show. With: Amelia K. Spicer. 7 pm -- $26 and up
Sunday: ESYO Youth Orchestra: Adler & Bernstein Birthday Bash at Troy Music Hall
"The Empire State Youth Orchestra, led by Music Director Helen Cha-Pyo, salutes Samuel Adler and Leonard Bernstein! ESYO will pay tribute to two of America's revered composers and conductors..." 3 pm -- $20
Drive-ins
Drive-in movie season has returned. Here's what's playing for opening weekend:
+ Malta: Screen 1: Avengers, Black Panther / Screen 2: I Feel Pretty, A Quiet Place
+ Hollywood: Avengers, Black Panther
+ Jericho Drive-in: Avengers, Black Panther
Museums/galleries/talks
Imagining Slavery, Envisioning Freedoms
Thursday-Friday: Albany Law and UAlbany are hosting a two-day symposium reflecting on the 30th anniversary of Toni Morrison's Beloved, which was published while Morrison was teaching at UAlbany. Thursday and Friday various times and locations
State Museum
The State Museum opens its new Art of the Erie Canal exhibit Saturday. And there's less than a month remaining for Votes for Women, about the women's suffrage movement in New York.
The Tang
Friday: The Tang hosts its annual Tang Party with "site-specific installations across the Tang grounds created by students from across class years and majors." Friday 8 pm -- free
Hyde Collection
The Hyde Collection recently a opened an exhibit of work by Rockwell Kent. (On display through July 22.)
Albany Institute
Well-Dressed, an exhibit of high fashion from the 19th century, continues at the Albany Institute of History and Art. It also recently opened Along the Eastern Road: Hiroshige's Fifty-Three Stations of the Tokaido.
How Do We Know If It's Working: Science in the Pine Bush
Sunday: The Albany Pine Bush Discovery Center has a hike with ecologist and entomologist Amanda Dillon talking about efforts to restore and maintain the Pine Bush's fragile ecosystem -- and the ways scientists are tracking whether those efforts are working. Sunday 1 pm -- $3 / $5 family
Wheels at Work
The Saratoga Auto Museum hosts a Wheels at Work exhibit featuring tractors, tow trucks, taxi cabs and other vehicles that went to work.
The Art of Childhood
The Rensselaer County Historical Society hosts The Art of Childhood, an exhibit of selected images of children from babies and toddlers to teenagers on the edge of adulthood selected from their collection. (Through August 21)
Farmers markets
+ The Troy Waterfront Farmers Market is indoors at the atrium. Saturday 9 am-2 pm
+ The Saratoga Farmers' Market is indoors at the Lincoln Bathhouse Saturday 9 am-1 pm
+ The Schenectady Greenmarket is indoors at Proctors. Sunday 10 am-2 pm
+ The Spa City Farmers' Market is inside the Lincoln Baths. Sunday 10 am-2 pm.
Troy Makers Market
Saturday: Local craft vendors will display and sell wares at the Troy Makers Market in conjunction with the Troy Waterfront Farmers Market. Saturday 9 am to noon
The Albany Institute, Mop & Bucket Company, Downtown Troy BID, and Troy Music Hall advertise on AOA. And AOA is a media sponsor for Creative License and the Half Moon Market.
Say Something!
We'd really like you to take part in the conversation here at All Over Albany. But we do have a few rules here. Don't worry, they're easy. The first: be kind. The second: treat everyone else with the same respect you'd like to see in return. Cool? Great, post away. Comments are moderated so it might take a little while for your comment to show up. Thanks for being patient.