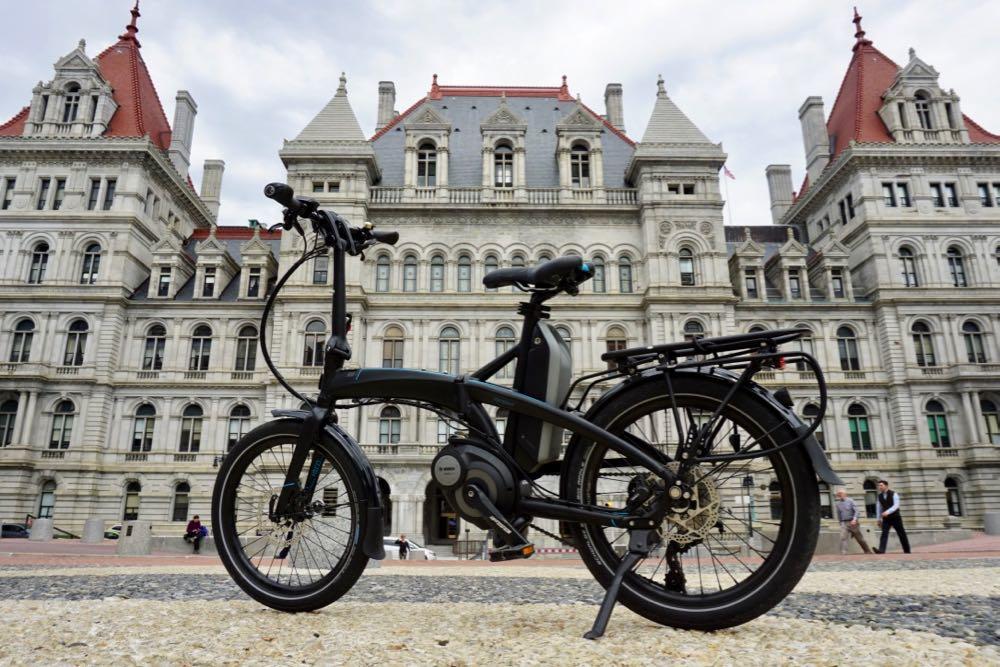 Bikes can be a good way to get around. They don't take up a lot of space on roads. They're environmentally friendly. They're fun.
There are also some drawbacks that prevent people from embracing bikes as an everyday transportation option: the relatively slow speed of travel, the sweat, just the general physical exertion of riding.
E-bikes -- which give riders a little help thanks to an electric drive -- can address a lot of these issues. Riding one feels a little bit like magic. And their popularity is on a big upswing.
But there's a snag: New York State doesn't have clear rules for e-bikes.
And that casts some doubt on their future here.
What the heck is an e-bike?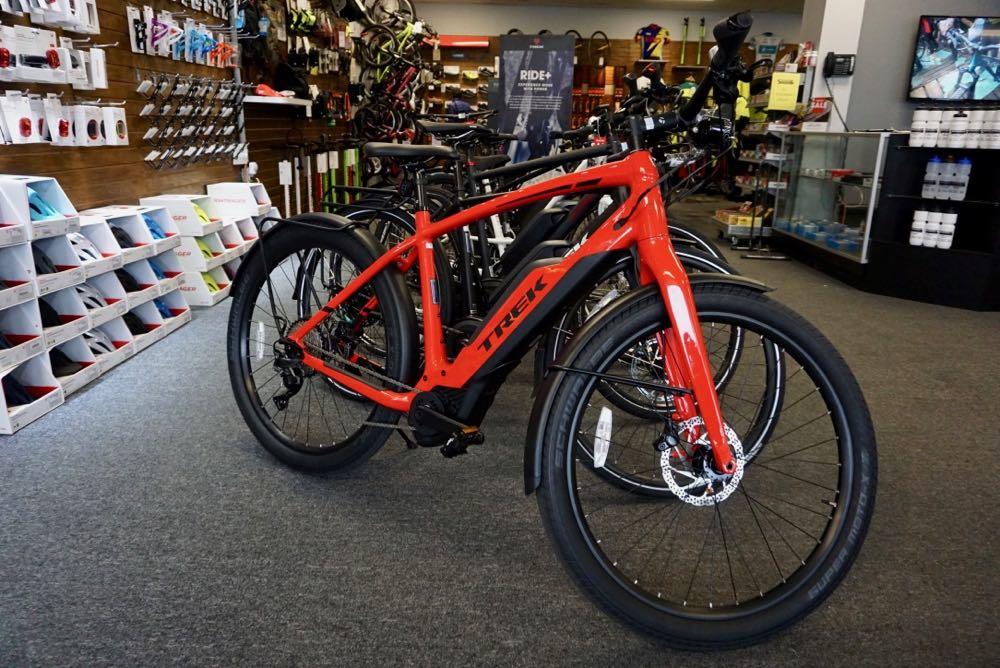 E-bikes at Steiner's in Glenmont.
The definition of what constitutes an e-bike can get a little complicated, but on a basic level: An e-bike has a small electric drive (and a battery) allowing it to assist the rider with propelling the bike forward.
There are different types of e-bikes, though. And they're categorized by class according to how they assist riders and the speeds they can reach. There's a good explainer over at Electric Bike Review. A quick, boiled-down overview: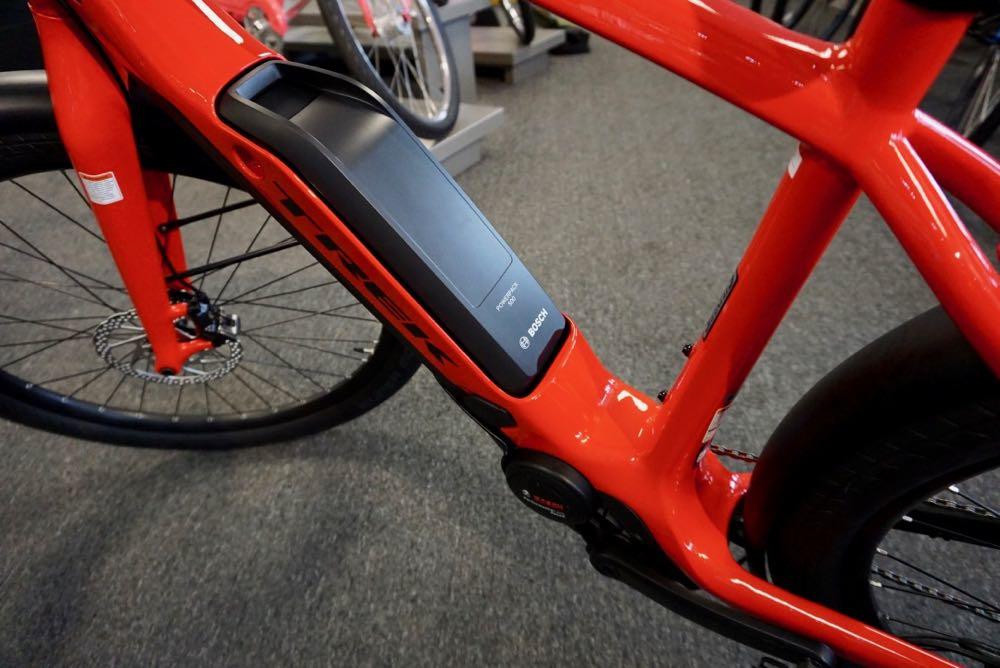 + Class 1 (pedal-assist): The bike just helps you pedal, and the assistance usually tops out when the bike is going 20 mph. They have a range of about 30-70 miles depending on the bike and conditions and the level of assistance.
+ Class 2 (throttle): These bikes can be pedal-assist, but they also offer a throttle to move the bike forward without pedaling.
+ Class 3 (s-pedelec): These are like Class 1 bikes, but the assistance doesn't top out at 20 mph, allowing a rider to go faster.
One of the questions that comes up while sorting through the classifications: When does a bike stop being a bike and become a moped or something else? And should these no-longer-bikes be subject to more stringent rules and registration?
There seems to be a general consensus among bike people -- and policy makers in places like California -- that Class 1 e-bikes are pretty clearly bikes (and not something else).
And it's that class -- the pedal-assist bike -- that's the subject of the push here in New York State. (More on that in a second.)
Why ride one?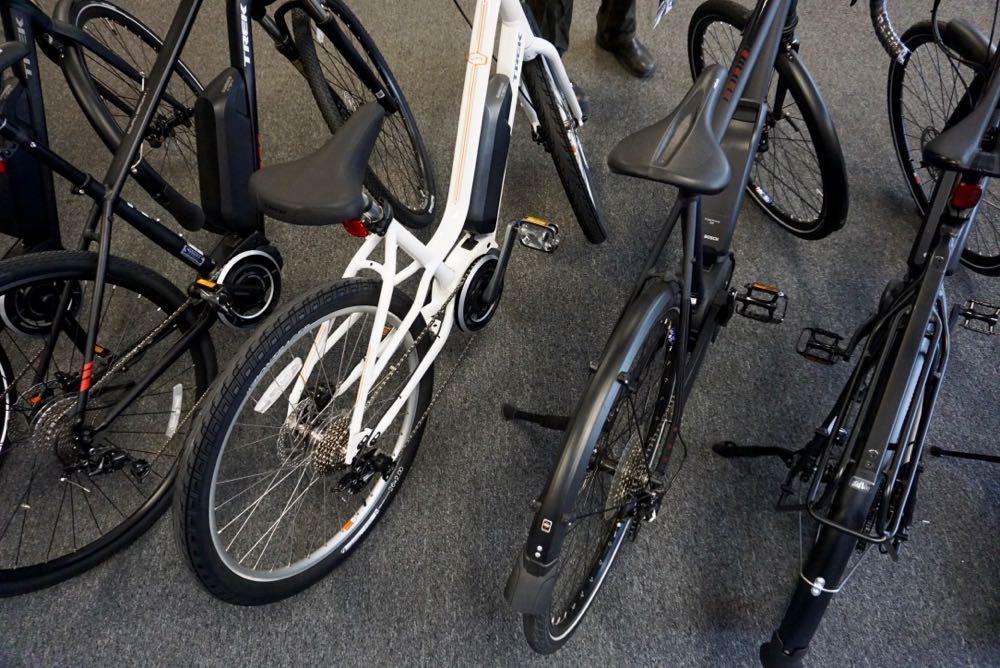 Bikes are already good at their job. So why an e-bike?
"The biggest difference is that it makes you feel like you're 18 again," said David Endy. He's the owner of Steiner's Sports in Glenmont. We stopped there recently to talk e-bikes with him and ride one. "Hills are absolutely no issue. It doesn't matter what kind of hill you come to, it's as easy as riding on the flat. That's a real big plus about it. Everybody likes to ride a bike, but if you're not in super shape, it's difficult, especially on hills, and this is where this comes through."
An e-bike feels a bit magical. You hop on, start to pedal, and something feels... different. You're pedaling smoothly and with little resistance, but the bike is gliding forward like the laws of physics have been bent. We literally laughed out loud when trying the bike at Steiner's. (Endy said pretty much everyone has that same reaction the first time.)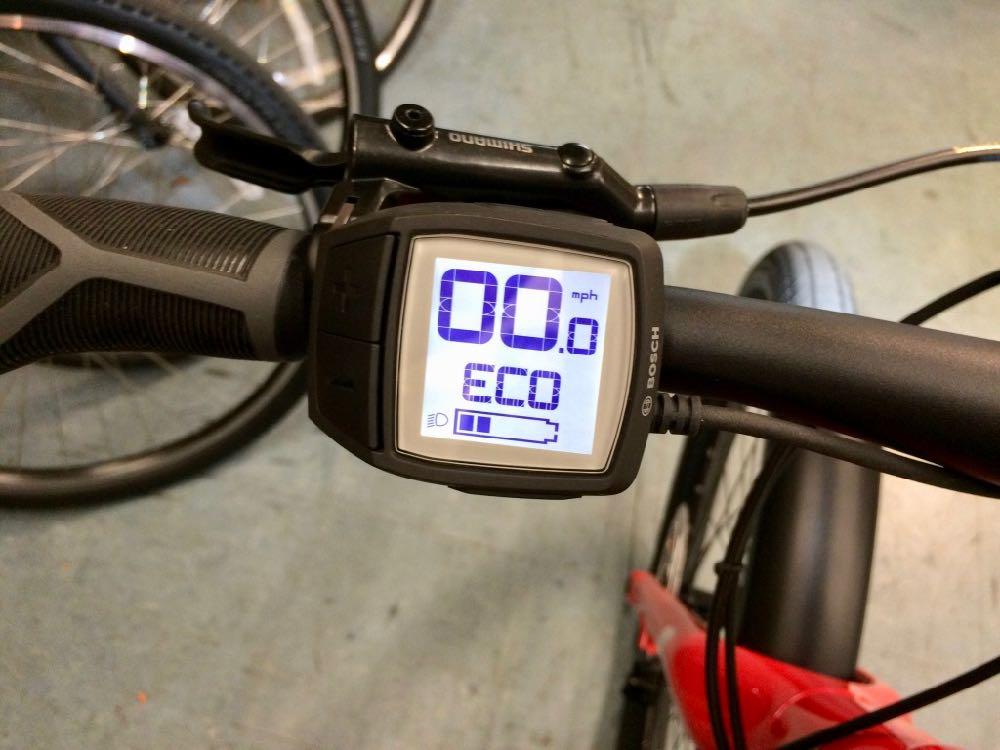 The electric assist makes the bikes attractive to a range of people, from bike commuters to people who want to tool around on the weekend.
"These bicycles, you could ride 20 miles and get to work and not be at all sweaty. And that's a big plus. And then if you want a better workout on the way home, turn the assist level down or off and then you'll get the workout you want, for sure," David Endy said. "We've sold several bikes to people with medical conditions. A lot of people who can't ride like they used to, so medical conditions or people getting older who get 15 miles out and then worry they can't get back. Spouses who want to keep up with their other spouse. Lots of different reasons."
Endy's been selling e-bikes for about 10 years -- he now carries Trek e-bikes, with Bosch and Shimano components -- and said they've been getting steadily more popular. "Four years ago Trek had 3 e-bike models and now they have 30-40. It's growing. It's huge in Europe and it's continuing to grow in the States. They're just fun to ride."
On the very low end an e-bike might cost $1,000. Endy said the bikes he carries start at about $2k, with the upper end around $5k.
The gray area

At the NYBC e-bike demonstration at the ESP.
That's not a small amount of money to drop on a bike. And it's further complicated by the fact that in New York State e-bikes -- even the Class 1 pedal-assist bikes -- aren't explicitly legal.
The rules for e-bikes have been a hot topic in New York City in recent years because of the popularity of the bikes -- especially the Class 2 throttle bikes -- with delivery workers. There have been complaints and crackdowns. But last month the DeBlasio administration announced it will issue rules making pedal-assist bikes legal.
That doesn't address the rest of the state, obviously. And the New York Bicycling Coalition has been pushing for state legislation that would explicitly make pedal-assist e-bikes legal, which it believes will prompt wider adoption of the bikes. It held a demonstration of e-bikes on the Empire State Plaza this past Tuesday.
"NYBC wants to have as many people riding bikes as possible. So it provides an opportunity for more people to ride bikes," said Leah Golby, the coalition's board president. (She is also, of course, a former Albany Common Council member.) "It just opens up options."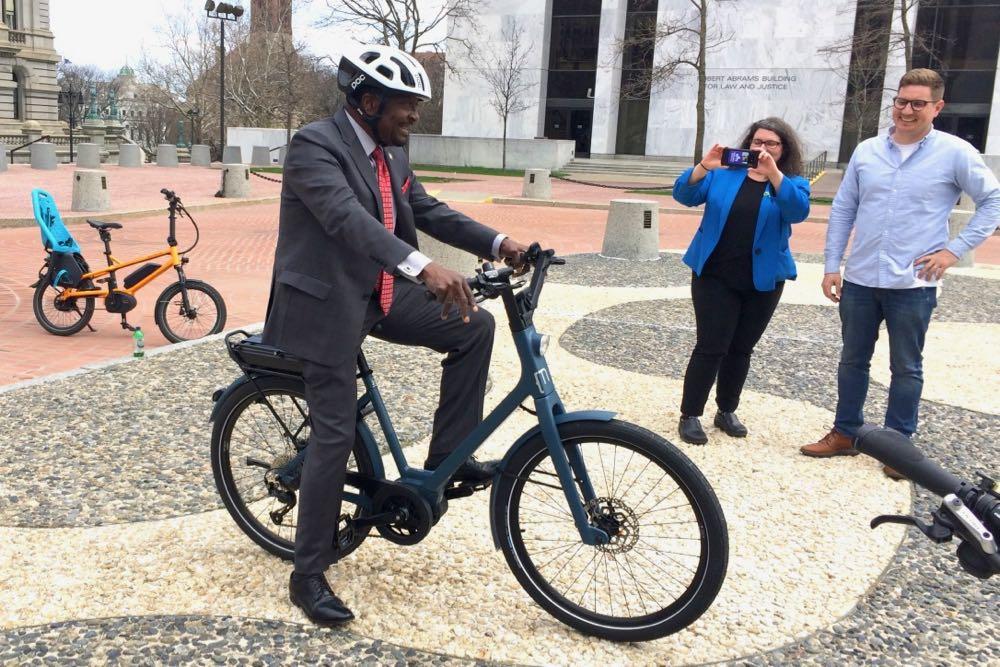 Assemblyman Perry trying out one of the e-bikes.
NYBC is supporting a bill -- sponsored by Assemblyman Nick Perry of Brooklyn -- that would define Class 1 pedal-assist e-bikes as bikes and exempt them from motor vehicle regulation. It also, notably, would not require a helmet or place an age restriction on riders or passengers.
That second part is important because there's another e-bike bill -- sponsored by David Gantt of Rochester, chair of the Assembly's transportation committee -- that would require riders to wear a helmet and would place an age restriction (16 years old) on riders and passengers. And as committee chair, Gantt is a key gatekeeper for this sort of legislation.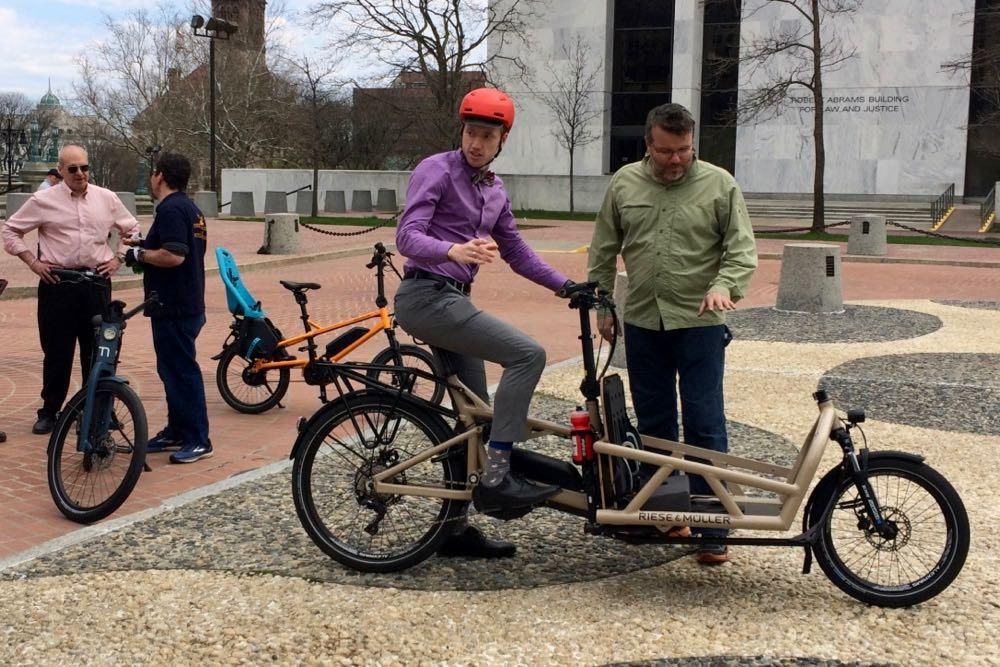 This is a cargo bike -- the space in the front is for transporting kids.
"The Gantt bill is very well meaning, but it's just unworkable because of the helmet requirement and age requirement, even for passengers," Leah Golby said, pointing to the effect those provisions would have on bike share for e-bikes or using them to transport kids. "The Perry bill treats pedal-assist electric bicycles as bicycles. The Gantt bill treats it more as a different mode of transportation with new requirements. So we'd like for Assemblyman Gantt to see the benefits of the Perry bill and move that through the Assembly."
Staffers from Assemblyman Gantt's office stopped by the NYBC demo on the ESP Tuesday (they declined to make an official comment). And Assemblyman Perry also came by to try out an e-bike.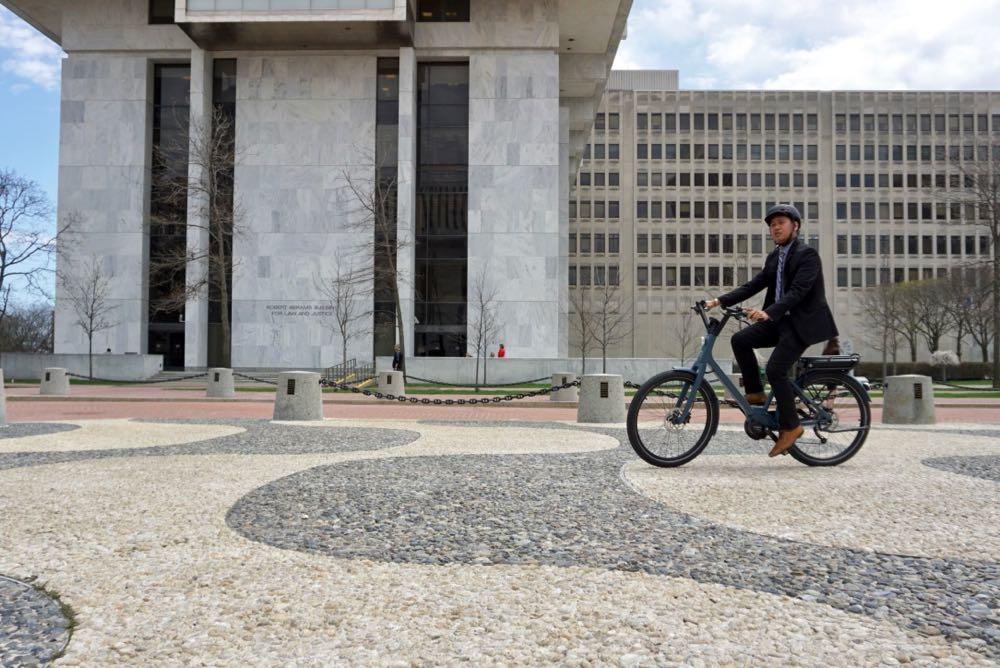 Golby said she's "hopeful" the Perry bill can be passed this session. Its Senate version passed during the last session and she said NYBC expects it will be approved again.
Pedal-assist e-bikes are fairly inconspicuous -- the chance that someone would be stopped for riding one in a place like Albany is probably small right now. (The Albany Police Department did not respond to requests for comment.) But they are very much in a gray area until there's a law.
Stretching the idea of what a bike can be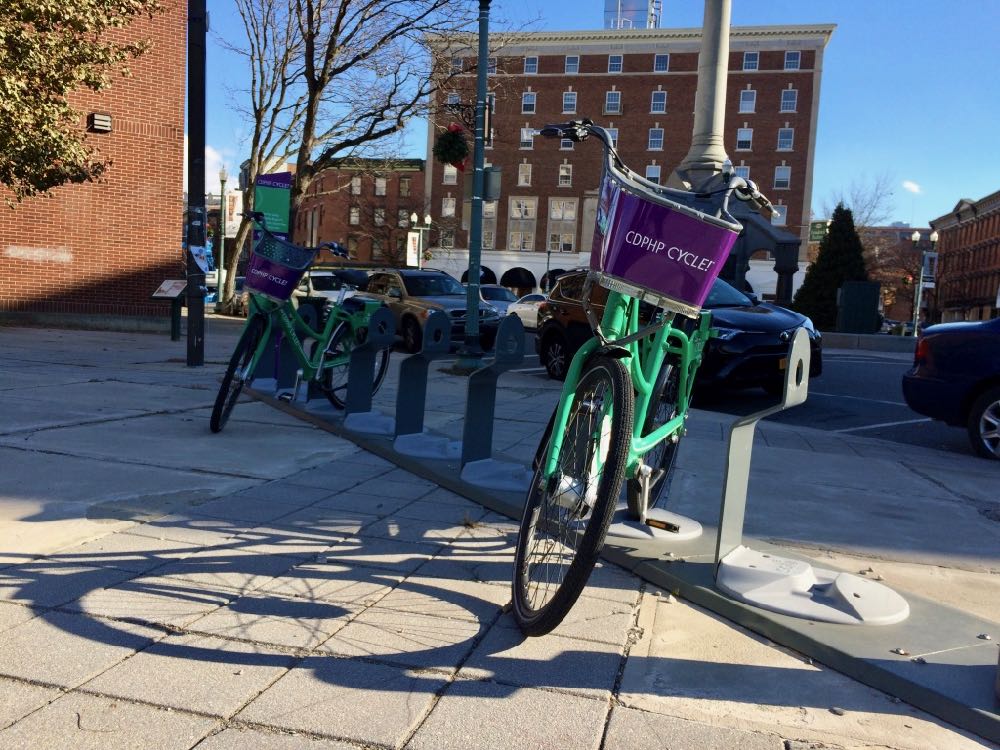 Maybe e-bike share someday?
E-bikes aren't the most important transportation issue, but they're interesting because they start to stretch the idea of what a bike can be, potentially making bikes more of a substitute for cars or riding the bus.
That could be especially true when e-bikes are paired with bike share, providing the option to people who can't afford to spend $2,000 on a bike -- but could still get a lot of use out of one.
"We are fully supportive of e-bikes," said Jaime Watson, CDTA's director of corporate communications, in an email. "E-bikes would provide another mobility option for the Capital Region and one we would look to incorporate through bike share."
That idea of providing options to people is a big topic in public transportation right now -- different types of buses, shuttles, ride hailing, bike share. And e-bikes could flexibly fill gaps in the network in a way that would be accessible to more people than a regular bike. But transit orgs probably aren't going to adopt the bikes without their legality formally established.
"This is going to help people who can't afford cars, who live in cities where they're putting in bike share systems, so they will have the option," said Leah Golby. "If you live down in the South End, but you work at Albany Med, and you don't want to wait for your bus to come -- but there's a bike share station where you can ride an e-bike, it's a lot easier."
Say Something!
We'd really like you to take part in the conversation here at All Over Albany. But we do have a few rules here. Don't worry, they're easy. The first: be kind. The second: treat everyone else with the same respect you'd like to see in return. Cool? Great, post away. Comments are moderated so it might take a little while for your comment to show up. Thanks for being patient.