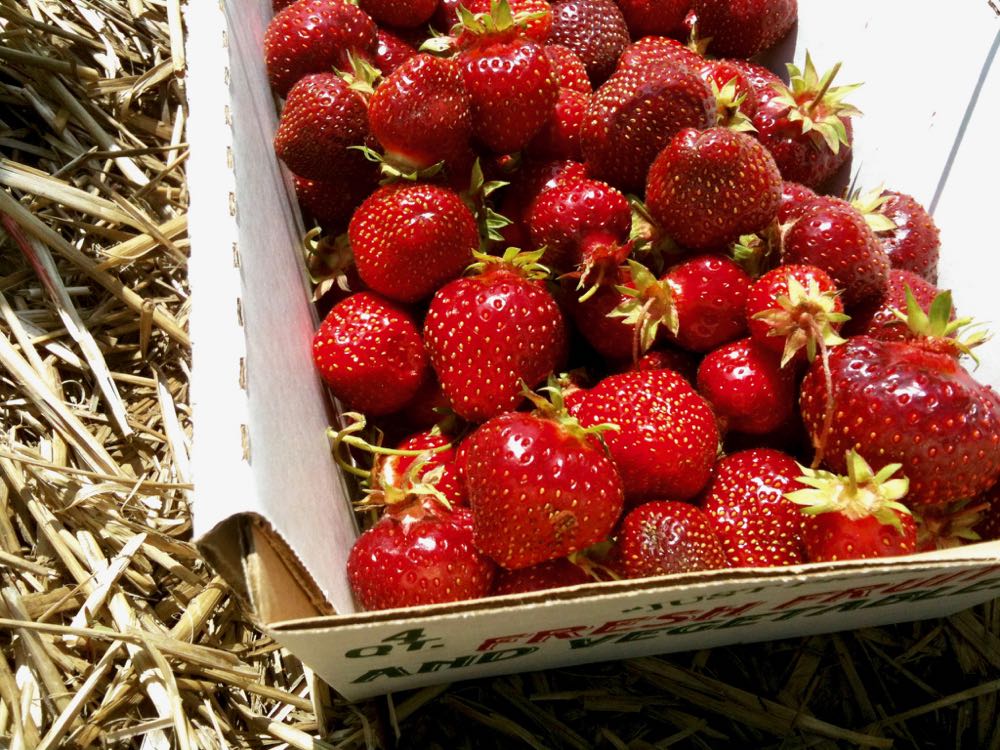 Strawberry season is here! A few farms opened their pick-your-own strawberry fields this past week, and a bunch of others will be doing so this week or next.
It seems like this year's season is more or less on schedule, though a few farms have noted that some cold and wet weather earlier this year delayed things a little bit.
A typical strawberry season at many farms in this area only lasts a few weeks, though some farms have strawberries for longer stretches -- even most of the summer -- because their fields include a range of varieties that produce at different times. When you're at the farm stand, ask about the varieties the farms are growing. In our experience people are happy to talk about what's available, for how long, and why. It's also a good idea to call ahead or check the website before heading out.
Here are a handful of places in the greater Capital Region that you can pick your own strawberries. Know of a good place not on this list? Please share!
Important: You should call or check online ahead the day you're heading out to get the conditions.
Also -- bring: water, sunscreen, a hat. Strawberry fields have little or no shade.
Albany County
Altamont Orchards
6654 Dunnsville Road Altamont, NY 12009 (map)
(518) 861-6515
Weekdays 8 am-noon, weekends 8 am-3 pm
Pick your own starts June 12. PYO strawberries are $2.75/pound. Cash only. "Please bring your own containers. Tupperware type bowls are perfect." The orchard also has picking trays and baskets for purchase.
Indian Ladder Farms
Indian Ladder Farms stopped growing strawberries after the 2016 season. But it will have PYO blueberries and raspberries later in the season.
Columbia County
Samascott Orchards
5 Sunset Ave, Kinderhook, NY (map)
(518) 758-7224
Pick your own starts June 13.
Monday-Sunday 8 am-6 pm
PYO strawberries start June 15. They're $3 per pound (2.50 per pound if you pick more than 15 pounds.) Bring your own containers (have them weighed before heading to the field) or buy them there. Four-quart containers are 75 cents. There's a $5 per person minimum. Pea and rhubarb picking also starts then (both $1.25 per pound).
Samascott has multiple strawberry fields with multiple varieties, and it often has some strawberries after the typical June harvest. Also: Don't sleep on the ice cream.
Thompson-Finch Farm
750 Wiltsie Bridge Rd, Ancram, NY (map)
(518) 329-7578
Monday-Sunday 8 am-5 pm
Pick your own started June 10 and usually continues into early July. Strawberries are $4 per pound.
Thompson-Finch is a certified organic farm. It posts daily updates on its website and Facebook page about whether strawberries are available that day (they sometimes are picked out before the farm closes for the day). Check before heading out.
Rensselaer County
The Berry Patch
15589 NY 22, Stephentown, NY (map)
(518) 733-1234
Expecting to open June 15. Keep an eye on the Facebook page.
Best Berry Farm
1078 Best Road, East Greenbush, NY (map)
(518) 286-0607
Hoping to open within the next week (as of June 10), according to its Facebook page. The farm provides day-by-day updates there about berry availability.
Best also has blueberry and raspberry picking later in the season.
Engelke Farm
1463 Garfield Rd, Brunswick, NY 12180 (map)
(518) 478-4939
Monday-Sunday 9 am-6 pm
PYO strawberries have started. They're $3 per pint. Keep an eye on the farm's Facebook page for updates.

The Farm At Kristy's Barn
2385 Brookview Rd. Schodack, NY. 12033 (map)
(518) 477-6250
Monday-Friday 9 am-7 pm, Saturday 9 am-6 pm, Sunday 10 am-5 pm
Hoping to start PYO strawberries June 15. (Pricing to be determined.) Watch the farm's Facebook page.
Swartz Farm
1581 Eleanor Drive, Castleton, NY (map)
(518) 858-1174
The last update to the farm's Facebook page on June 7 indicated the season was running a little bit behind. (Swartz usually has detailed updates about the season.)

Saratoga County
Ariel's Farm
194 Northern Pines Road, Wilton, NY 12831 (map)
(518) 584-2189
Open 9 am-6 pm.
PYO strawberry season has started, according to answering machine. (Call for updates.) PYO strawberries are $2.95 per pound.
Ariel's also has raspberries and blackberries a little later in the season.
Bowman Orchards
141 Sugar Hill Rd, Rexford, NY (map)
(518) 371-2042
Monday-Saturday 9 am-5 pm and Sunday 12-5 pm
PYO strawberries start June 13, according the farm's Facebook page. (Cold, rainy weather held things back a bit this year.) (PYO strawberries were $3.49/lb per pound last year.) Bowman typically has strawberries until the first frost.
Schenectady County
Buhrmaster Farm
180 Saratoga Road Route 50, Glenville, NY (map)
(518) 399-5931
PYO strawberries starts June 14, according the farm's FB page. Check for availability and hours. (Strawberries were $4.50 per quart -- and six for $25 -- last year). PYO is at the corner of Swaggertown Road and Worden Road.
Greene County
We added Greene County in recent years by request. If there are other farms from Greene we should include, please mention them in the comments.
Story Farms
4640 Route 32, Catskill, NY 12414 (map)
Monday-Sunday 9 am-5 pm
PYO strawberries started June 6, according to the farm's Facebook page. They're $2.25 per pound.
Schoharie County
Bohringer's Fruit Farm
3992 State Route 30, Middleburgh, NY (map)
(518) 827-5783
Hoping to start PYO strawberries this week (of June 11), according to the farm's Facebook page -- keep an eye there for updates. (They were $3.25 per quart last year). They stand also sells already-picked strawberries.


Washington County
Hand Melon Farm
533 Wilbur Avenue, Greenwich, NY -- between Schuylerville and Greenwich (map)
(518) 692-2376
Monday-Friday 8 am-5 pm, Saturday-Sunday 8 am-4 pm
PYO strawberries starts June 15. They're $3.25 per pound.
Hand also has PYO blueberries later in the season. And, of course, the farm also grows Hand melons. If you've never had one of the melons, you should give them a try. They're fantastic. When the melons become available, usually a little later in the summer, you can get them at the farm stand across from the Washington County Fairgrounds.
Say Something!
We'd really like you to take part in the conversation here at All Over Albany. But we do have a few rules here. Don't worry, they're easy. The first: be kind. The second: treat everyone else with the same respect you'd like to see in return. Cool? Great, post away. Comments are moderated so it might take a little while for your comment to show up. Thanks for being patient.