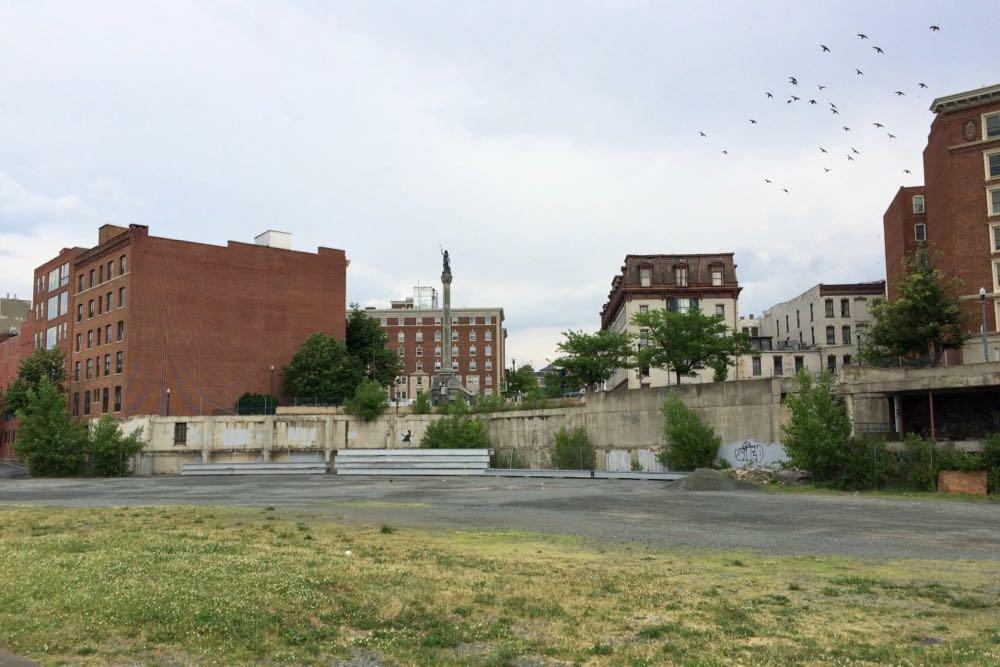 Monday night the city of Troy had a public workshop to kick off the fifth major attempt to redevelop the 1 Monument Square site. Yep, the fifth -- and the old city hall was only knocked down at the end of 2010.
Given all that's happened since -- arguments over form and function, allegations of incomplete disclosure, infrastructure complications, legal threats -- what hope is there that this time will be any different?
"Oh, you have to hope. We have to hope that it's going to be different," said Troy deputy mayor Monica Kurzejeski. "I think people are ready to come to the table. They're ready to have conversations. It's just the negativity is starting to -- you know, it's starting to be boring a little bit. Now we have to have some positive outreach."
For this fifth attempt, here are five takeaways from Monday's discussions...
Flipping the process around
"We feel like we were hired to work for you," Margaret Irwin of Troy-based River Street Planning and Development told the crowd of about 100 people at the Arts Center of the Capital Region. Her consultancy is teaming with the urban design/landscape architecture firm PLACE Alliance on the new planning process.
"We're not developers, we're not selling a strategy. We haven't been part of any of the development teams that have proposed over the years. We were hired to work for the citizens of Troy who are concerned, interested, and have ideas about how the site can be used. So the more you can put in our heads about what's important to you, the better chance we have of giving you back ideas to react to that can potentially move forward and create a space on Monument Square that everyone will feel proud of."
The city of Troy had another public event to gather input about 1 Monument Square almost two years ago. People said they were interested things like public space, access to the river, housing, a grocery store, and parking. The next attempt at the site was the movie theater project -- which had some prominent supporters but also prompted strong pushback from others for the way it used the site.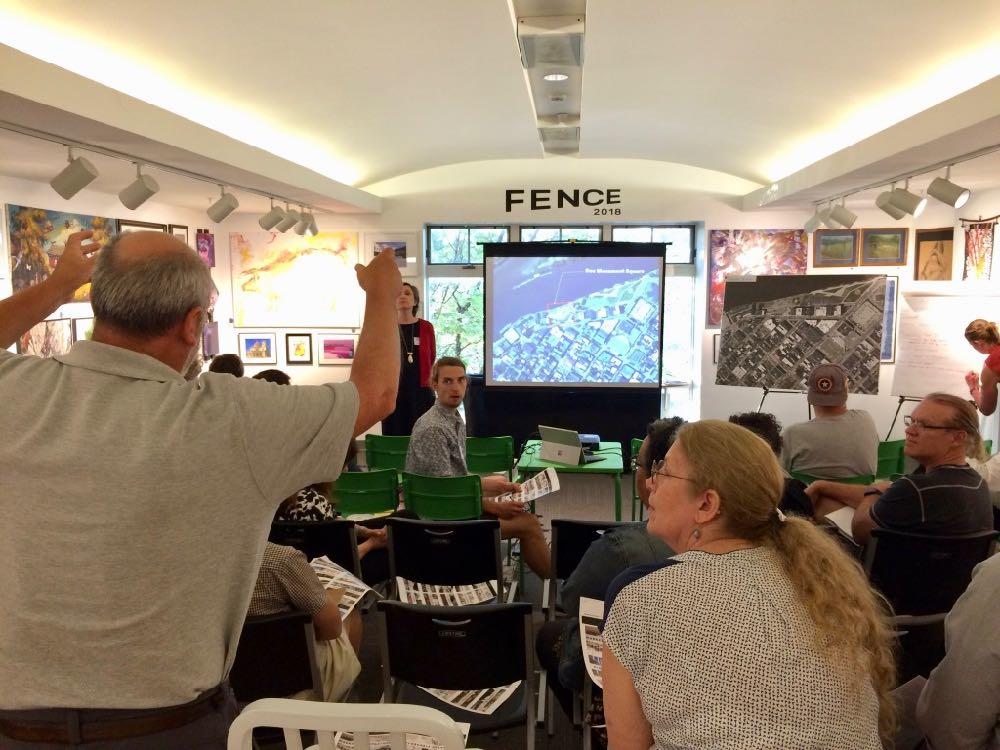 This new series has a different goal: To develop a consensus concept for the site that will be used to prompt proposals from developers.
In other words: In the past, the city of Troy (more or less) asked developers what they'd like to build at 1 Monument Square and then fought over the idea after it was on the table. This time around, it wants to have that fight (er, productive public discussion) first, come up with a specific idea, and then ask which developers want to execute that plan.
"This [process] will help build that consensus in the community and hopefully become allies in this project and that's what we're looking to do, is build allies so that we can get this across the finish line," deputy mayor Monica Kurzejeski said. (Mayor Patrick Madden was not there Monday night -- a spokesman said he had a family obligation.)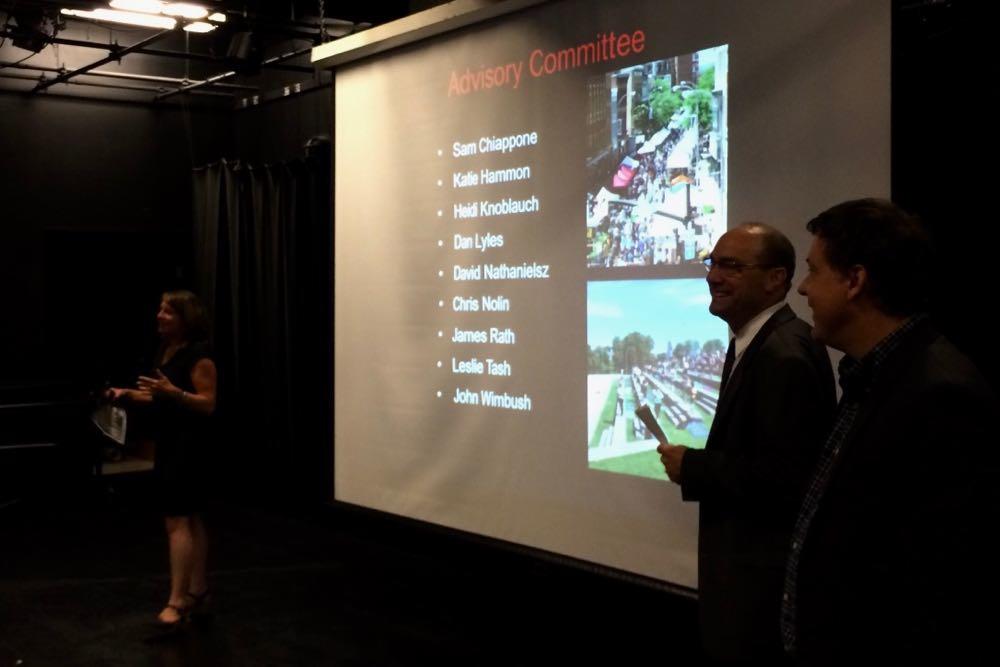 Toward that end, the current process is not only gathering input from the public, the consultants are also talking with stakeholders. And there's an advisory committee to provide immediate feedback.
That said, "the market" could still play a role in shaping the project. Because if the consensus concept is something that developers don't want to build -- or there's not funding available -- that will be an influential feedback signal.
Complications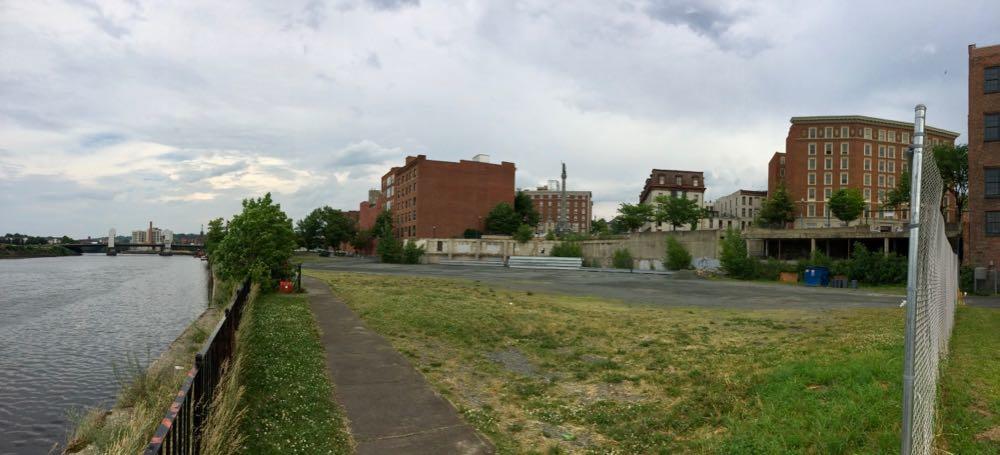 One Monument Square is one of the most high-profile pieces of real estate in the entire Capital Region. It's in the heart of downtown Troy, which has been on an upswing over the last decade. It's right on the river. And it's essentially a blank canvas.
But, as has surfaced during previous attempts, there are actually a fair number of complications to developing the site. Among them:
+ A 50-foot setback must be maintained by the city along sea wall at the river.
+ There's a large water line that passes through the site. If anything's built over it, the structure must allow enough access and clearance so that construction crews could perform maintenance or replace it someday.
+ There's an 18-foot change in grade between River Street and the lower level.
+ The lower level has flooded in the past, and will probably again in the future.
+ Through-access must be maintained in some way for Front Street.
+ There has been enough space for fire trucks to maneuver.
+ There are access requirements for some of the adjacent property.
+ And the city is also requiring a some sort of public access and a view of the river.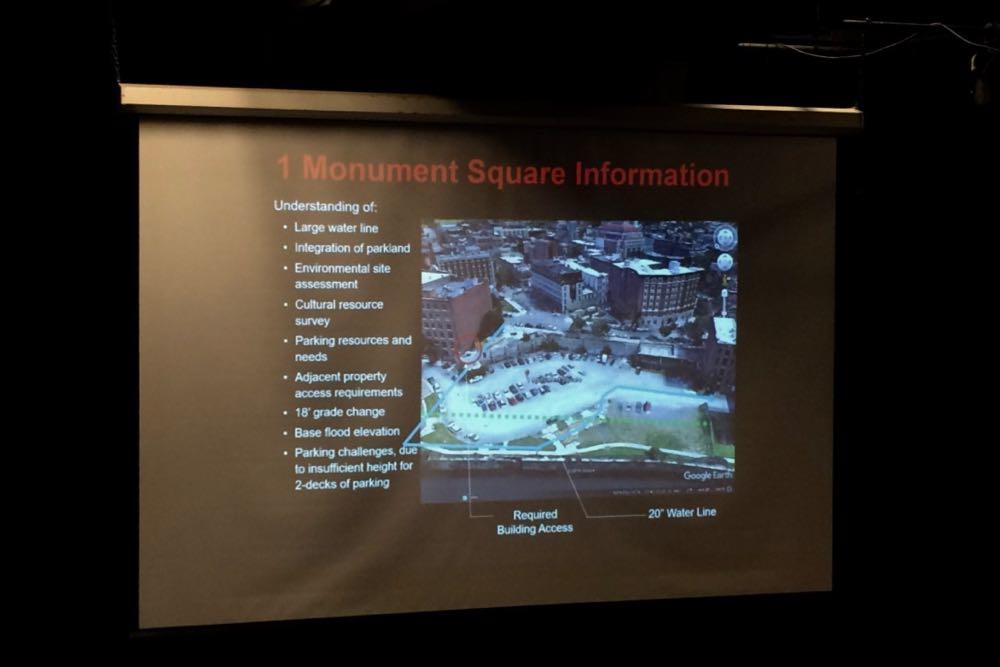 Some of these issues, like potential flooding, just are what they are. Others, like Front Street, are design puzzles. And some are a matter of how much money people want to spend. Example: The consultants said it would cost $200,000 to move that water line. Would that be worth it? Maybe it would, depending on what people want for the site. (The consultants seemed to be leaning toward moving the line.)
Public space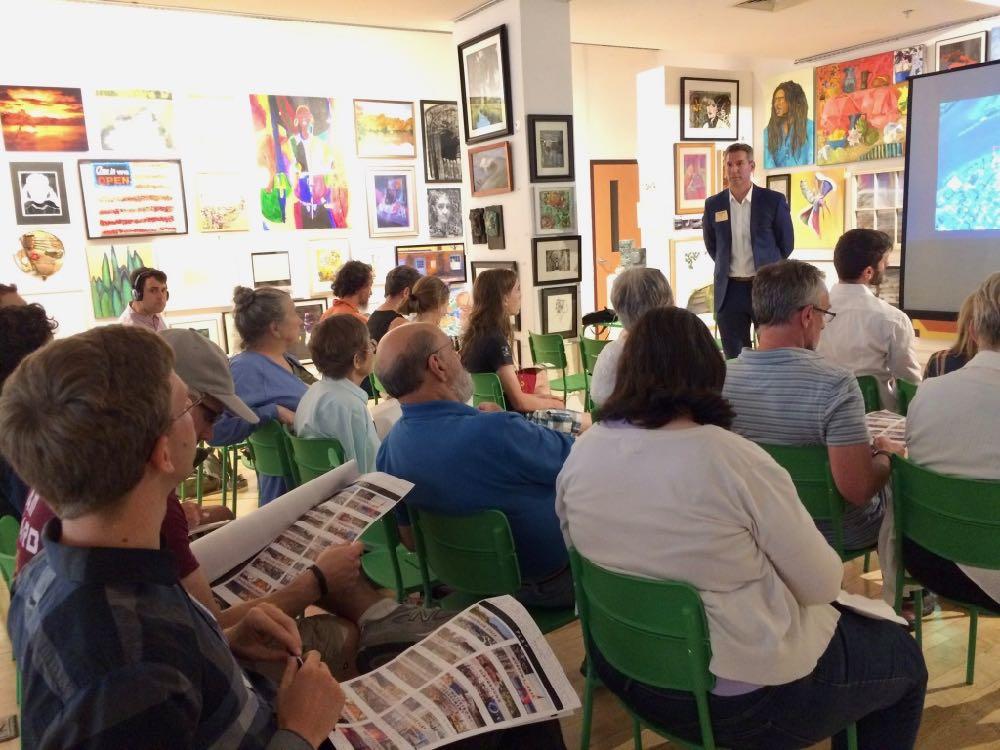 All the usual stuff -- apartments, a grocery store, gathering space, entertainment space -- was bubbling up during the three group discussions Monday night. But a frequent theme that we noticed while floating from group to group was a desire for the site to have extensive and multiple public uses. And that's understandable. The site is right at the heart of Troy, a central point for the city's neighborhoods. It could serve a role for the whole city.
One idea that's surfaced again is to provide for some sort of permanent location for the Troy Waterfront Farmers Market. That idea was originally part of the third attempt at the site, and it's gotten another push this time around as the farmers market has been publicly advocating for it.
A public option (if that's the right phrase) is, potentially, a significant departure from each of the previous proposals, which have included some public space, but mostly been about intensive private development, whether it was mixed-use or single purpose. It also prompts some hard questions about how to pay for it all.
Is there public funding out there to make it happen? Or is there some way to have substantial public use of the site while also incorporating private development to help cover the cost? And if that's the case, how would that be structured -- physically, legally, financially? Could there be a condo-type arrangement in which the city holds a part with private holders holding the other(s)?
Parking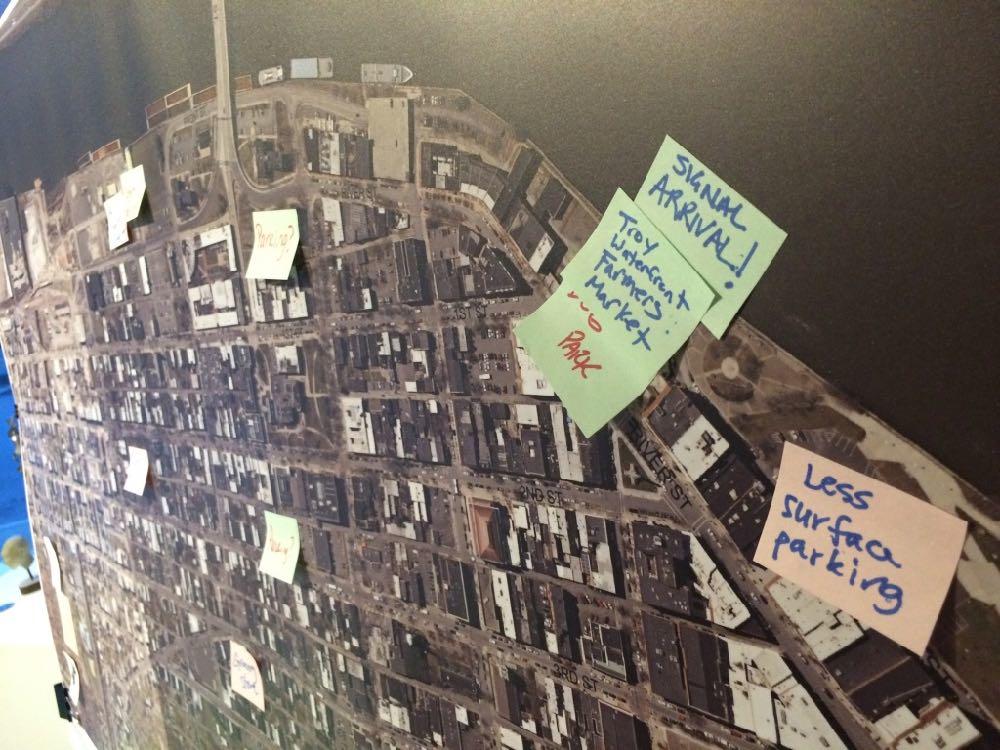 Because, yeah, it always comes back to parking.
Previous plans have included parking decks/garages, and there's always a vocal vein of people to call for more parking in downtown Troy.
Between the change in grade at the site, and the river setback, and the through-access for Front Street, there's not really a ton of room for parking if you want to fit it under the building. The most recent proposal -- for the Bow Tie movie theater -- included roughly 100 parking spots.
So one of the important questions is whether it's worth sacrificing space on the site for parking. Complicating that decision is the fact that a portion of the $3 million grant money the city is sitting on for the site is tied in part to... parking.
Zooming out a bit, the 1 Monument Square discussion again highlights that Troy needs to get its act together on the downtown parking issue. This past spring the Madden admin announced a group of planned actions intended to make better use of on-street parking. But there's probably still a need for a comprehensive overall assessment and plan for parking to both address demand for it -- and to help people understand the actual state of the parking issue.
Longterm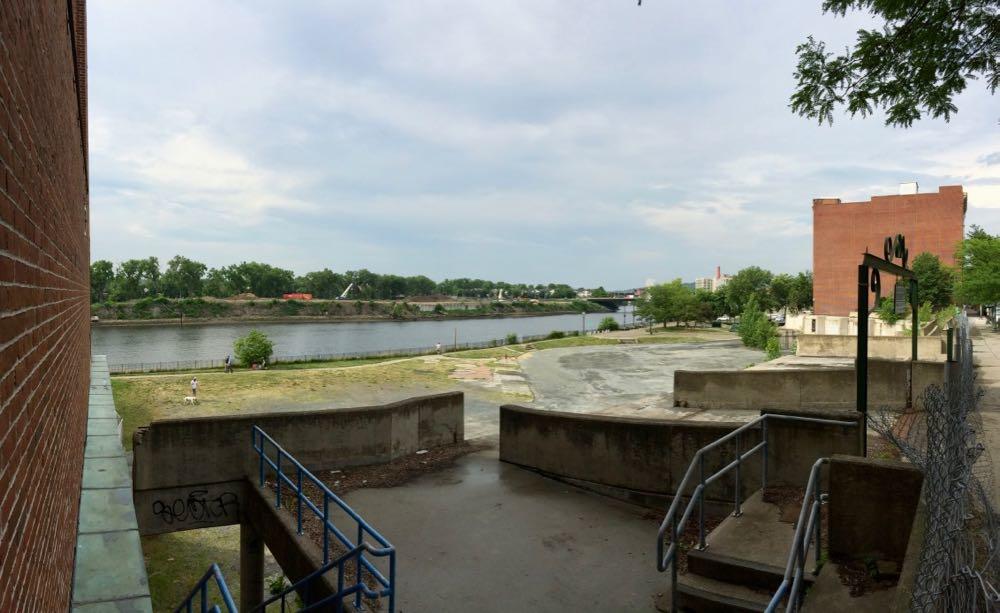 Toward the beginning of Monday's event, Rensselaer County and Troy city historian Kathy Sheehan presented a short visual history of Monument Square and its immediate surroundings. It was interesting to see how much the square and its architecture has -- and has not -- changed.
The role of history is another prominent theme in this discussion. Whatever form 1 Monument Square takes next could be its shape for another 50 or 100 years.
"I think it's important that the city of Troy actually has something that everybody is happy with because whatever happens there it's going to have a profound impact on downtown Troy and indeed the city of Troy not just for the near future, but for decades," said developer Sam Judge just before the meeting. He owns the properties on both sides of 1 Monument Square, and has been a prominent character in the ongoing saga involving the site, including legal action. "So it has to be carefully thought out, planned, and done right. We get one shot so we better be happy with what the result is."
And maybe history can be a guide for the future. Most of the buildings around Monument Square have experienced a series of uses throughout their lives as the city and its needs have changed. They've been renovated, left behind in some cases, and revived. Their structure has allowed that.
So it's worth thinking not just about how whatever ends up at 1 Monument Square will be used over the next decade, but how it could be used in the years beyond -- and whether there's a way to design for that future flexibility.
What's next
This week
There are two more public events at the Arts Center this week as part of this planning process:
+ Wednesday there's an open house to discuss the design ideas the consultants are developing. It's from 5-8 pm.
+ Thursday there's community design review event to go over the consultants' work from the week. It's from 6-8 pm.
Later this year
The consultants will then take the designs and feedback from this week and refine them with the hope of arriving at some consensus designs in September, which will be presented to the public.
And the city is hoping to put out an RFP for, at the very least, the work involving the strip along the river -- what it's calling the esplanade -- by the end of the year.
Earlier
+ Here's a ton of stuff about what's happened up to this point in the 1 Monument Square saga.
Say Something!
We'd really like you to take part in the conversation here at All Over Albany. But we do have a few rules here. Don't worry, they're easy. The first: be kind. The second: treat everyone else with the same respect you'd like to see in return. Cool? Great, post away. Comments are moderated so it might take a little while for your comment to show up. Thanks for being patient.