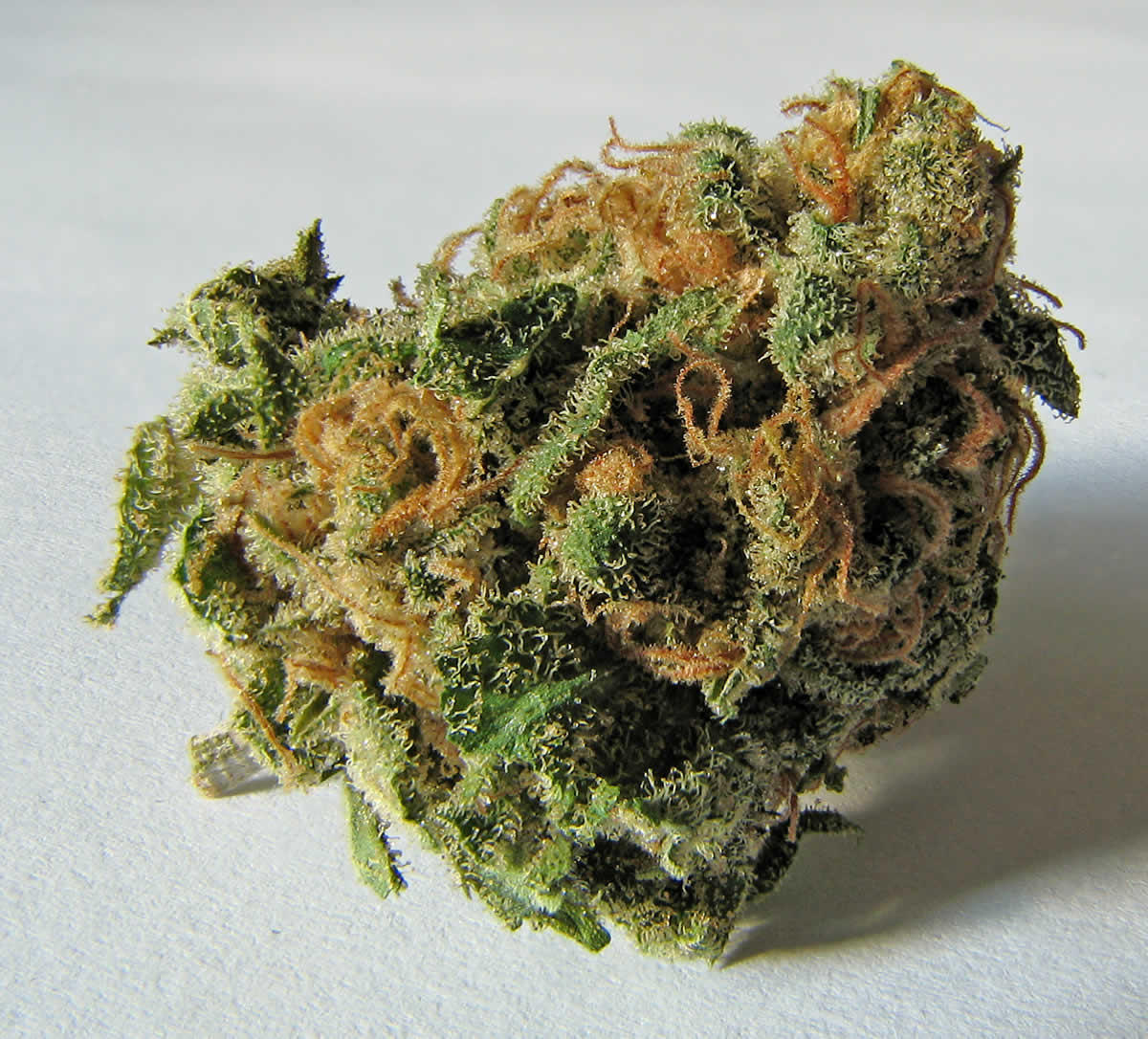 The New York State Department of Health released its report on regulated marijuana Friday -- and it argues for legalizing recreational marijuana. Here's a chunk for the report that largely sums up the argument:
The positive effects of regulating an adult (21 and over) marijuana market in NYS outweigh the potential negative impacts. Harm reduction principles can and should be incorporated into a regulated marijuana program to help ensure consumer and industry safety. Legalizing marijuana could remove research restrictions in NYS, which will enable the State to add to the knowledge of both the benefits and risks. In addition, NYS would be one of the largest regulated marijuana markets. As such, there is potential for substantial tax revenue in NYS, which can be used to help support program initiatives in areas such as public health, education, transportation, research, law enforcement and workforce development. Tax revenues can also support health care and employment. Finally, legalization of marijuana will address an important social justice issue by reducing disproportionate criminalization and incarceration of certain racial and ethnic minority communities.
Whatever the political machinations at work surrounding this report, it is a remarkable document. Pretty much anyone over the age of, say, 20, has grown up with government/law enforcement/schools warning against the dangers of pot. And in this report the state Department of Health essentially says, yeah, pot has some downsides, but they're probably not as bad as they've been made out to be and our society would be better off it we made it legal and kept an eye on it.
Anyway, we read through the report and pulled out handful of highlights -- about potential benefits, opioids, mental health, criminal justice, and tax revenue -- for easy skimming...
Potential benefits of a regulated market for recreational marijuana
Consumers purchasing marijuana on the unregulated market are at a severe disadvantage for understanding the nature (e.g., potency and safety) of the product they are acquiring. In an unregulated market where there is no standardization or quality control, there are many opportunities for unsafe contaminants to be introduced, such as fungi spores, mold, bacteria, heavy metals, pesticides, and growth enhancers. As such, regulated marijuana introduces an opportunity to reduce harm for consumers through the requirement of laboratory testing and product labeling. Similar protections are in place for the alcohol and tobacco industries. In a regulated environment, individuals know what they are consuming and can choose a product accordingly. Trained employees can provide guidance and education at point of sale. [pdf p. 6]
Marijuana as therapy
Evidence supports the efficacy of marijuana's therapeutic benefits. Growing research has demonstrated that marijuana is beneficial for the treatment of pain, epilepsy, nausea, and other health conditions. The medicinal benefits of marijuana have been acknowledged. The negative health consequences of marijuana have been found to be lower than those associated with alcohol, tobacco and illicit drugs including heroin and cocaine. [pdf p. 7]
Marijuana and opioids
Research indicates that regulating marijuana can reduce opioid use (legal and illegal). Medical marijuana has added another option for pain relief which may reduce initial prescribing of opioids and assist individuals who currently use opioids to reduce or stop use. Legalization may ease access to marijuana for pain management. [pdf p. 7]
Marijuana and mental health effects
Subject matter experts noted that there are many possible confounding factors when examining the relationship between marijuana use and various health outcomes, and we should, therefore, be careful about stating as fact that one thing causes another. Others noted there is substantial evidence of the effects of marijuana use on persons at risk for psychotic illnesses, and there is controversy about its effects on people with less serious mental illnesses such as milder depression and anxiety. [pdf p. 8]
Will legalization lead to more marijuana use?
Subject matter experts noted that there is no conclusive evidence about whether legalizing marijuana increases use. It was pointed out that as with alcohol, use varies. Subject matter experts noted that brief increases in use in Colorado and Washington leveled out. They noted that such increases are, at least in part, the result of tourism. People in states without legal access are willing to travel to states where marijuana is legal. As more of the country legalizes, these increases will fade. [pdf p. 9]
Or increased use among teens?
Meta-analysis of existing literature does not support the hypothesis that recent changes to marijuana laws have led to an increase in marijuana use prevalence in adolescents. According to the 2016 U.S. Substance Abuse and Mental Health Services Administration National Survey on Drug Use and Health, rates of marijuana use among the nation's 12- to 17-year-olds dropped to their lowest level in more than two decades. According to a 2016 report from the State of Oregon, recent trends in youth use have been stable during the period following the enactment of adult-use regulations. A Washington State evaluation report states that across grades 6, 8, 10, and 12, marijuana use indicators have been stable or fallen slightly since legalization. The Monitoring the Future Survey conducted by the National Institute on Drug Abuse (NIDA) found that lifetime and current marijuana use among 8th and 10th graders fell substantially between 1996 and 2016 and remained stable among 12th graders nationally. [pdf p. 10]
The criminalizing of marijuana and racial disparities
Subject matter experts noted one of the biggest drivers of racial disparities in criminalization and incarceration rates is marijuana, and the best way to address it is to legalize marijuana. A great majority of arrests are for violations or misdemeanors that most people no longer view as criminal behavior. It is rare that these arrests lead to the discovery of guns or violent crimes. Subject matter experts also noted that continued prohibition of public consumption will reduce the impact of regulated marijuana on arrests. They highlighted a recent media report that described an analysis of NYC police data which found that while marijuana-related arrests have dropped, across NYC, individuals who are Black were arrested on low-level marijuana charges at eight times the rate of White, non-Hispanic people over the past three years. Individuals who are Hispanic were arrested at five times the rate of individuals who are White. [pdf p. 13]
What to do about past convictions for marijuana-related crimes
We recommend NYS address prior criminal convictions for marijuana possession. Some jurisdictions are working toward expunging previous drug-related offenses, such as San Francisco and San Diego, where district attorneys announced that they will review, recall, resentence, potentially dismiss, and seal misdemeanor and felony marijuana convictions. Seattle's district attorney made a similar announcement. This will have lasting social justice implications, as there has been disproportionate criminalization of certain racial and ethnic groups. We recommend NYS expunge the criminal records of individuals with marijuana-related offenses. [pdf p. 26]
Instead of the illegal market
Subject matter experts emphasized the need to address the economy of the unregulated market. Regulating marijuana would provide an opportunity to direct resources to workforce development and job creation. Subject matter experts representing law enforcement said that rather than spending time on marijuana arrests, police could devote more time to other aspects of their work, such as community policing and building trust. [pdf p. 13]
Marijuana use and driving
Subject matter experts corroborated the concern that marijuana can lead to impairment and discussed the effective anti-DWI efforts that can be expanded to include education about driving while under the influence of marijuana. Law enforcement has changed the cultural dialog on drinking and driving, and their expertise will be critical in effectively addressing the issues of driving while impaired from marijuana. There was consensus that resources must be made available to support education and address law enforcement budgetary needs with the establishment of a regulated marijuana program. [pdf p. 14]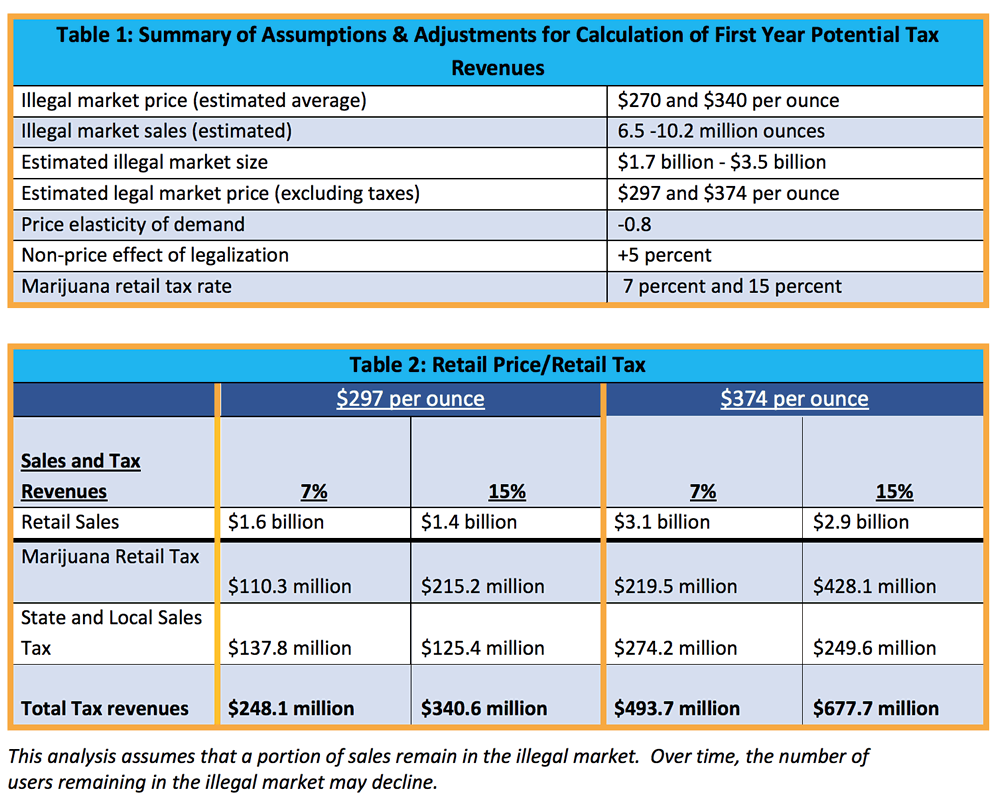 Two tables from the report that rough out the possible tax revenue from a legal, regulation market for recreational marijuana in New York State.
Potential tax revenue from legalized marijuana
Based on this analysis, the estimated potential total tax revenue in the first year with a price of $297 and illegal market consumption of 6.5 million ounces ranges from $248.1 million (with a 7% tax rate) to $340.6 million (with a 15% tax rate). The estimated potential total tax revenue with a price of $374 and illegal market consumption of 10.2 million ounces ranges from $493.7 million (with a 7% tax rate) to $677.7 million (with a 15% tax rate). [pdf p. 20]
How to regulate marijuana
The overarching goal of regulating marijuana in NYS must be the incorporation of harm reduction strategies. Implementation of a regulated marijuana program will require considerable planning as to the regulatory mechanisms needed to protect public health, provide consumer protection, and ensure public safety. At the same time, a well thought out program should address the social justice issues associated with criminalization, provide opportunity for community revitalization, and establish a system to capture and invest tax revenue. Ultimately, the system should be designed to reduce the utilization of the unregulated market. Implementation of a regulated marijuana program will require legislative and regulatory approaches that address the diverse needs of the State and the differing needs of a regulated marijuana program in rural regions compared to those in urban areas. [pdf p. 24]
Bottom line
The positive effects of a regulated marijuana market in NYS outweigh the potential negative impacts. Areas that may be a cause for concern can be mitigated with regulation and proper use of public education that is tailored to address key populations. Incorporating proper metrics and indicators will ensure rigorous and ongoing evaluation. [pdf p. 28]
____
Of course, this is just a report. Actual legislation is a whole different matter. But between this report, the fact that neighboring states are legalizing recreational marijuana, and the way public opinion now leans in favor of legalization, it wouldn't be totally unexpected to see something happen in New York in the next few years.
Earlier
+ New York's moving closer to marijuana legalization -- thinking about what could that mean for local communities
Say Something!
We'd really like you to take part in the conversation here at All Over Albany. But we do have a few rules here. Don't worry, they're easy. The first: be kind. The second: treat everyone else with the same respect you'd like to see in return. Cool? Great, post away. Comments are moderated so it might take a little while for your comment to show up. Thanks for being patient.