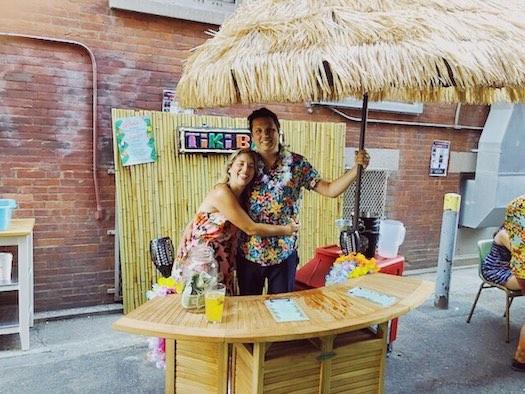 AOA is on summer break. So we'll have new follow-ups with people we've met and covered during the last year.
Four years ago Heidi and Frank Sicari started renovating the old Knights of Columbus building on 3rd Street in Troy. They've since turned the place into a popular venue for weddings and events called Takk House.
And six months ago they opened a new venture in the basement of Takk: the Franklin Alley Social Club, with a bar, shuffleboard, bocce ball, and old-school games.
They've made the leap from full-time jobs to full-time business owners and they've even managed to hire a staff. So, how's it going?
So what's new?
Heidi: We're open! We are officially bar owners.
It's been great so far. We've had lots of events. Before we were never open to the public. So now we have regulars and we're meeting people who live in the city or live in Albany and come over whenever. So it's only building on our community base. Now we get to greet people and host them every day. Where Takk House was very event- and ticket-based stuff. Also, we are people's bosses which we've never really been before. So that's interesting.
Frank: With all the moving pieces that's a whole other element. Managing a person isn't like clicking on a spreadsheet. Managing a person is a whole other job in itself. And then to add that to everything else is quite a challenge.
Heidi: And we are now nocturnal.
Frank: We left our day jobs in the last year. No more paycheck coming every single week guaranteed. We've got to make our week.
What have you learned in this process?
Heidi: That we are an unstoppable force. (laughs) Yeah. I mean, Takk House plays into it but it's crazy to have like 400 people under one roof at one time with no staff upstairs -- just me -- and then having just staff downstairs and knowing that we are capable of doing crowd control on that many people. We've accomplished crazy things.
Frank: I think time management. We're still learning it. But figuring out all the juggling of so many things at once. Two businesses with employees and everything is a lot of juggling. We don't have kids, but we have pets. You can't leave them home all day. So it's a lot of figuring it out week by week but also like day by day -- how we can make it all kind of work and when everything is going to get done and everything is going to paid and everything's going to get, you know, just finished. Or started.
Heidi: When we're going to sleep, see our family and friends, take care of ourselves.
Frank: How much caffeine we can take in in one day.
What is one frustration that, if you could just wipe it away it would make things so much better?
Frank: I feel like the city and the state have been great for the most part, but sometimes... I would love if they'd let a business that's really just starting out... trying to get their feet on the ground...
Heidi: Cut you some slack sometimes?
Frank: Yeah. Or just like give us a little, just help to get there versus just getting pounded, right? Regulations and permits. We got our liquor license the day we opened because there was just so much back and forth between the [State] Liquor Authority and the city.
Heidi: But everyone has protocol. But it can be frustrating sometimes. Also, it'd be great if bills just went away altogether. Like if money wasn't a thing. (Laughs)
What has felt like a win?
Frank: Everyday I stand near the door and I can watch people's reactions when they come in here for the first time. We're still getting so many new people to discover us, and just watching their reaction when they walk in is great. Or if they've been here before and they're bringing in a friend -- they slowly bring their friend in and do that "Huh? Check It out!" thing, and their friend's jaw drops. That is a win every single time.
Heidi: We had this one specific day that was just flukey where we actually had to stop letting people in. We had one-in-one-out for the first time which was crazy because we hold 150 people. So to be looking at our security guard saying we can't have more people in here -- the bar was packed the, hallway was packed. There were people on the games. There was nowhere else for people to go. So being able to say like we can't let anyone else was kind of cool. And that was a couple of months in.
What has surprised you in all of this?
Heidi: Every day is full of surprises. I think the most surprising is how fast we all just snapped into place. With just a few days of training before we opened all of our staff just hit the ground running. It was like we had been here for years. I think hiring strong out of the gate is very important.
What's next?
Frank: I think it's alright now to keep building on this momentum we're having. We're going to announce some new events upstairs and down here. We're going to be doing more events in the alley.
Heidi: The city helps us out a lot because that's their property. So we've been barricading it off to make a patio for events.
Frank: We've done that a couple of times and we'll do it a couple more times this summer.
Heidi: Also, right now we have a very limited menu. We're working out a full food menu. We're adding some new cocktails. We have a cruise ship theme so Frank came up with this idea to focus on rums and tequilas. So we've been slowly collecting rums from around the world -- mostly in the Caribbean. Soon we'll be doing flights so that people can kind of take a cruise and try different rums from around the Caribbean, which is kind of fun. We are reinventing ourselves everyday so who really knows.
Do you have advice for jump off something do you?
Heidi: Do it. Don't wait. Do it. I mean obviously have your ducks in a row. But life is short. You should do something that you love.
Say Something!
We'd really like you to take part in the conversation here at All Over Albany. But we do have a few rules here. Don't worry, they're easy. The first: be kind. The second: treat everyone else with the same respect you'd like to see in return. Cool? Great, post away. Comments are moderated so it might take a little while for your comment to show up. Thanks for being patient.