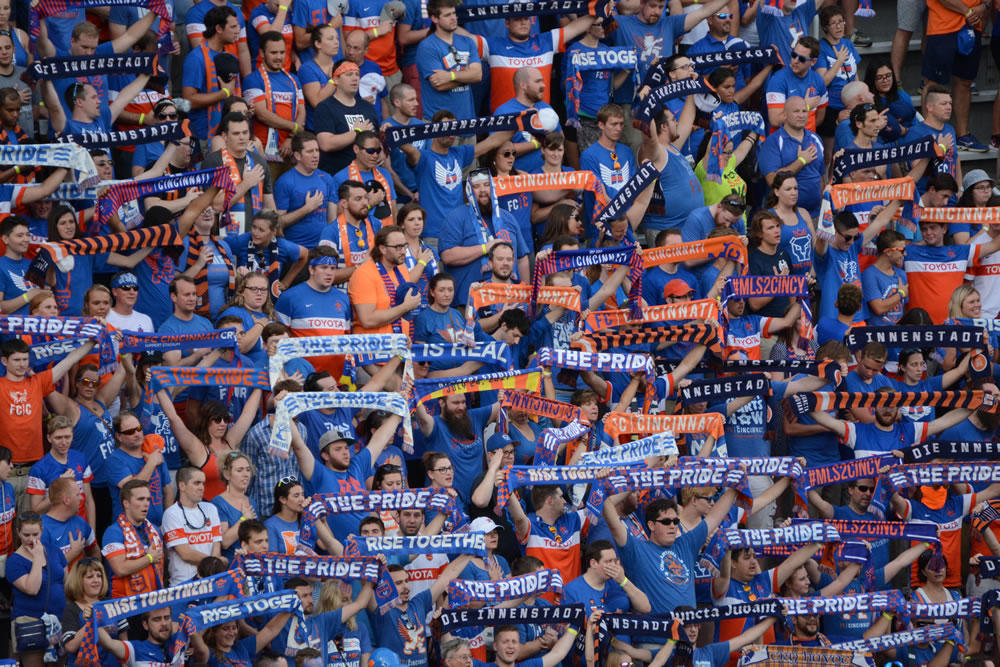 Every now and then we see the idea of the Albany area getting a pro soccer team pop up during a discussion.
And, yeah, that could be a lot of fun.
Of course, when most people think "pro soccer" for the United States, they think MLS. And that... well, that's not going to happen in the Capital Region anytime soon (if ever).
Here's why, along with some other options for pro soccer that look a lot more likely.
MLS for the Capital Region? Almost certainly not.
Let's just play this direct: The Capital Region would not be in line for an MLS franchise because it just doesn't have the population.
The table below is a list of the current and soon-to-be MLS teams along with the size of their home metro areas and their stadia capacity. (It's sorted by metro size.)
Albany metropolitan area population = 886,188
Team info via Wikipedia. | Metro populations via US Census and Statistics Canada.
The smallest MLS metro, by far, is Salt Lake City. And the Albany metro is still more than 300k people smaller than that. Also: The Salt Lake media market is the #34 media market nationally, compared to #59 for Albany. (And that's important because the modern sports business is built in large part on aggregating crowds of media viewers.)
Also: a stadium
As it happens, a lot of the modern soccer-specific stadiums used by MLS teams aren't really all that big. The smallest, in terms of fan capacity, only seat about 18,000 people. And while the Capital Region doesn't have a venue that big, it probably wouldn't be too hard to upgrade a place like UAlbany's Casey Stadium to about that size.
That said, it's unlikely MLS would be on board with one of its team sharing a non-soccer-specific stadium with a college. FC Cincinnati, which is joining MLS next season, currently plays at a University of Cincinnati stadium and draws very well there, but getting its own $200 million soccer-specific stadium was a key part of getting accepted into MLS.
Also also: a lot of money
Another thing a Capital Region MLS team would need: A very rich person (or people) who's interested in soccer -- or, at least, sees a team as a worthwhile or diverting investment.
The entrance fee for joining MLS for Cincinnati and Nashville (which will join in 2020) is $150 million. That's on top of a stadium and, you know, actually running a team.
To go along with that, an MLS team would require corporate sponsorship and a bunch of people willing to pay for season tickets.
There are other options for professional soccer
MLS isn't the only the option, though. There's also the United Soccer League or USL. It's officially sanctioned as a second devision league by the governing body for US Soccer. Second division in that it's one level below MLS on the country's soccer "pyramid." It's sort of like the Championship to the MLS's Premier League. Sort of. More on that in a second.
Though it's not MLS, it's most certainly pro soccer, with paid players and coaches and all that. In fact, some MLS teams -- among them FC Cincinnati -- have grown out of USL. And a handful of MLS franchises have what are essentially farm teams playing in USL.
And looking at the list of USL teams and their markets, Albany wouldn't be too atypical:
Albany metropolitan area population = 886,188
Team info via Wikipedia. | Metro populations via US Census and Statistics Canada.
Albany would be among the smaller USL markets, but not the smallest.
And many of the teams play in stadiums with capacities that range from 5,000-10,000 seats. Casey Stadium could already accommodate that, and building a soccer-specific stadium of that size probably wouldn't be a huge stretch (though it's still going to cost millions).
Even so, a USL team will take someone with a lot of coin. The USL expansion fee is said to be $5 million.
An Albany USL team is probably not likely -- but it's not a totally crazy idea, either.
A more attainable option
There's yet another option that sounds a lot more attainable: USL Division 3.
It's a new professional league, associated with USL, that will be on the third tier of the US soccer pyramid. So, again, if we're comparing it to English football, it's kind of like League One. (Sort of, with an important caveat.)
USL D3 starts up next year. League blurbage about what it's seeking for new teams:
+ Strong local ownership

+ Primary owner with a net worth in excess of $10 million and 35% or greater share of the potential franchise
+ Soccer-specific stadia

+ Seating Capacity: 3,500
+ Pitch Size: 110 yards x 70 yards???
+ Viable market size and support

+ Markets with a population between 150,000 to one million and a strong corporate and fan base for support
Sure, that could be Albany.
Again, it's going to take someone with money they're not too worried about losing, and a few other key pieces would have to come together. But a USL D3 franchise here sounds realistic.
Third division? Really?
OK, yeah, that maybe doesn't sound super exciting. But as minor league baseball has shown -- and the ValleyCats demonstrated locally -- lower-division pro sports can be fun. Also: This isn't a huge metro area, you've gotta work with what you got.
The prospect of a third-division pro soccer team could be more enticing if there was at least a glimmer of hope for something bigger. In other countries, that's present in the form of promotion and relegation. It works a little bit differently in each country, but essentially in pro/rel the top teams in each division move up the soccer pyramid after each season and the bottom teams drop down a level.
Promotion and relegation... maybe eventually
The United States does not have this system, which is the source of ongoing debate and frustration among a segment of soccer fans here. The biggest reason is that MLS is not on board, and there's a not-bad argument for that position given how precarious the state of the league has been over the years and the fact that soccer still isn't one of the country's most popular mass viewership sports. The idea of investing hundreds of millions of dollars in the league is less appetizing when your team faces the possibility of being relegated to a second division that many sports fans probably don't even know exists.
But here's the thing: The USL president has said that "it would be very interesting to look at pro-rel between" USL and USL D3.
So, let's say USL establishes both USL and D3 and they're sustainable. And let's say it institutes promotion and relegation and that works. If you squint, you can maybe see a future where those leagues end up being connected to MLS for promotion and relegation. Maybe. Sometime. Out in the future.
And then there's a path for Albany to make it to the top flight.
Or maybe this just isn't the right place
We've joked that Albany's favorite sport is politics. And this area hasn't exactly been a field of dreams for pro sports teams. Maybe this just isn't a sports town -- or, at least, not in that way.
And if that's the case, that's totally fine. An area doesn't need pro sports to be successful or interesting or noteworthy.
See also
+ Dennis Crowley, a founder of Foursquare, has been taking a more DIY approach to building a soccer franchise in the Hudson Valley, and he's been writing each season in detail about the economics and operations of Stockade FC. This sort of team is probably very feasible for this area.
+ Albany had a pro soccer team -- the Albany Capitals -- back in the 1980s.
Say Something!
We'd really like you to take part in the conversation here at All Over Albany. But we do have a few rules here. Don't worry, they're easy. The first: be kind. The second: treat everyone else with the same respect you'd like to see in return. Cool? Great, post away. Comments are moderated so it might take a little while for your comment to show up. Thanks for being patient.