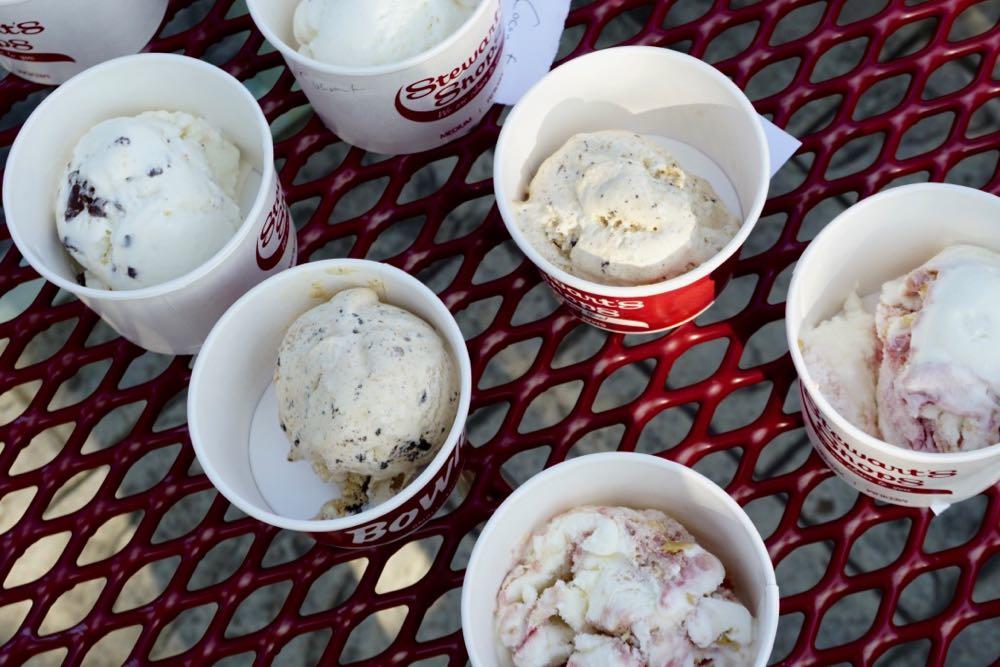 We're already into mid August and that raises a very important fact: Summer ice cream eating season will soon be gone.*
But fear not! To help guide your end-of-season ice cream eating -- which is serious business -- we recently took on the task of trying each of the limited-time seasonal summer flavors at Stewart's. Then we ranked 'em, so you can make the most of this ice cream prime time.
Let's dig in...
Tasters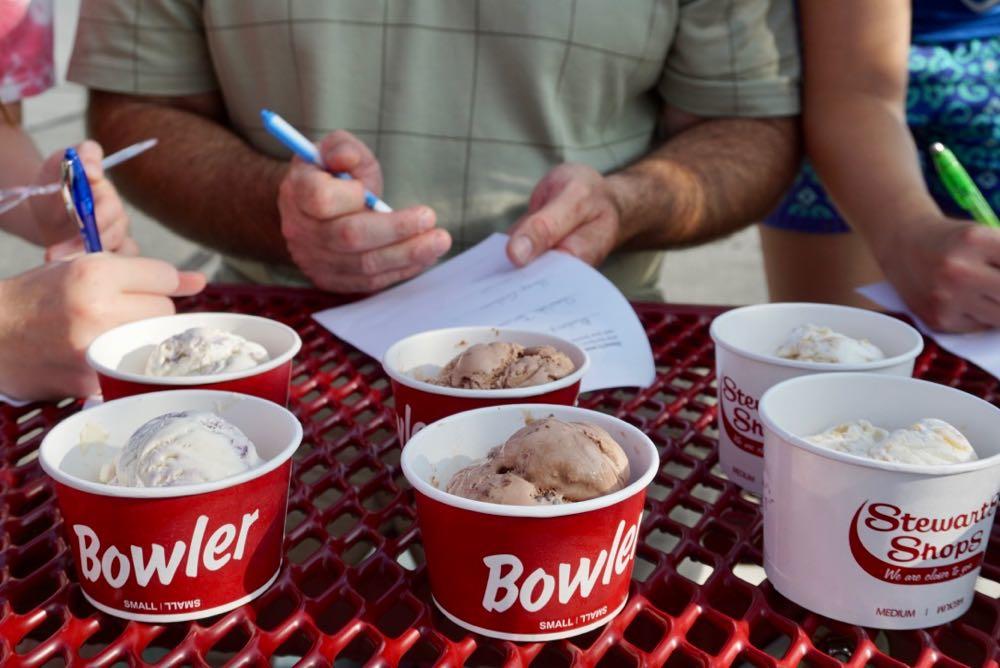 This was going to be a lot of ice cream to eat, and we were going to need some help. So we got some of the Tournament of Pizza band back together (more of a jam session than a reunion) to taste all this ice cream:
+ Daniel B from the FUSSYlittleBLOG, with Little Miss Fussy joining in on the tasting
+ And Jon in Albany brought along his whole family to take part in the tasting
The setup was simple: We bought a bunch of scoops from Stewart's, sat outside in the beautiful weather, tasted the flavors, people ranked the flavors 1-6, and scribbled a few notes.
And here are the results...
#6: Blueberry Pancake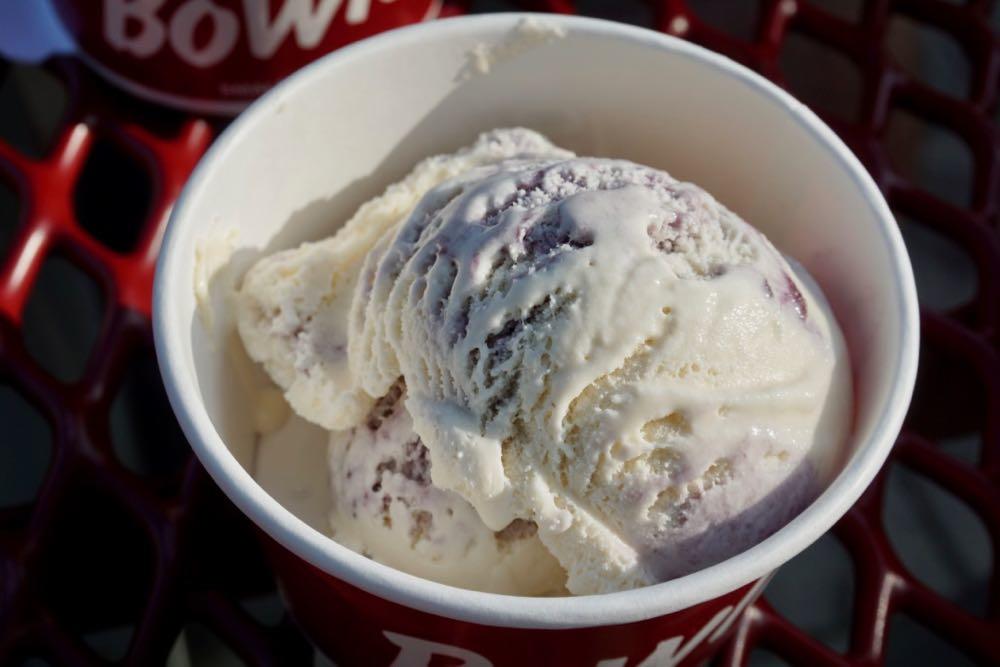 Stewart's description: "Sea salt maple ice cream with a blueberry swirl."
The tasters were not fans. Every taster ranked this last or second to last among the six flavors. "It is like blueberry pancakes -- but from a mix with 'pancake' syrup," commented one taster. The syrup flavor was an issue for multiple tasters, with many commenting that it tasted it fake and kind of weird. And a few also thought the blueberry flavor came across as artificial.
#5: Honey Grahams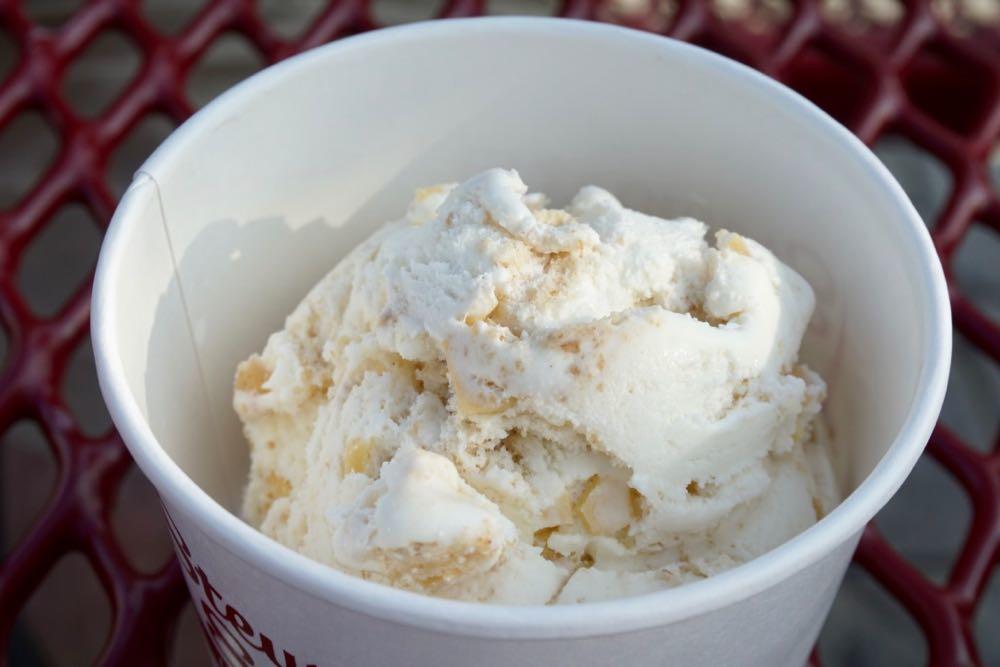 Stewart's description: "Cereal milk flavored ice cream with a graham cracker swirl and honey flakes."
Cereal milk has become one of the modern dessert world's most famous flavor concept thanks to Christina Tosi. Alas, the idea didn't seem to play well in this case, with the tasters almost universally ranking the ice cream toward the bottom of the six. Many described it as tasting overwhelmingly sweet. As one noted, "Oh dear god, that's sweet. Insulin spike." Though another commented it tasted like honey Teddy Grahams, which wasn't a bad thing.
#4: Raspberry Amaretto Cheesecake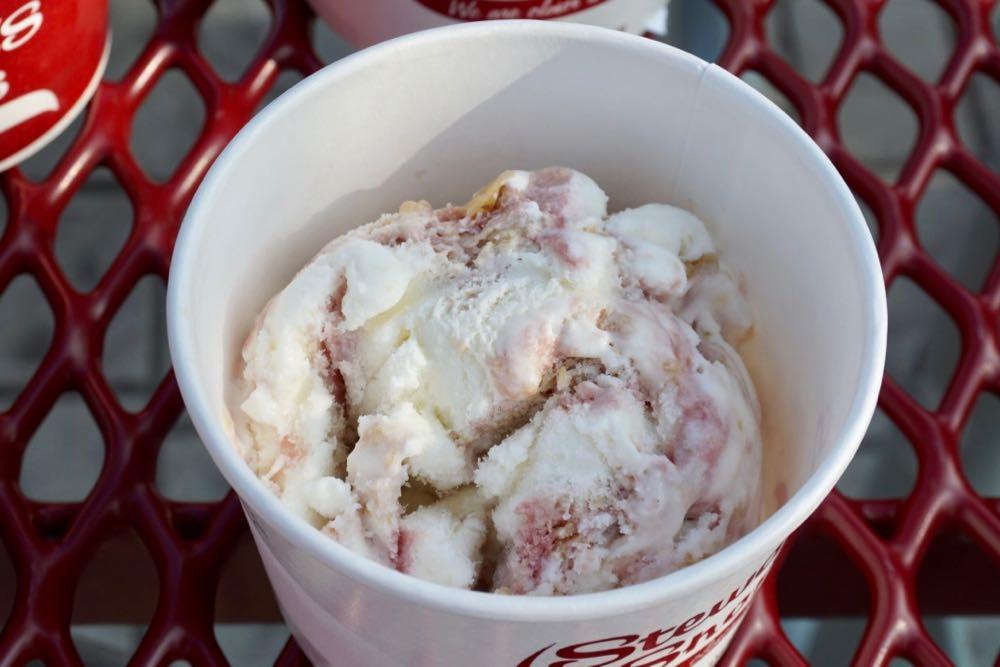 Stewart's description: "Delicious cheesecake flavored ice cream with swirls of raspberry and amaretto."
Here's where things get a little more mixed up. Raspberry Amaretto Cheesecake was, with one exception, ranked in the middle of the pack by the tasters and ended up just behind the #3 spot. Again, tasters described it as very sweet. And a few noted the ice cream delivered a distinct raspberry flavor that was pretty good, though one person thought it had a "not great" aftertaste. If not for being ranked last by one of the tasters who objected to the sweetness, it might have ranked one spot higher.
#3: Mounds of Coconut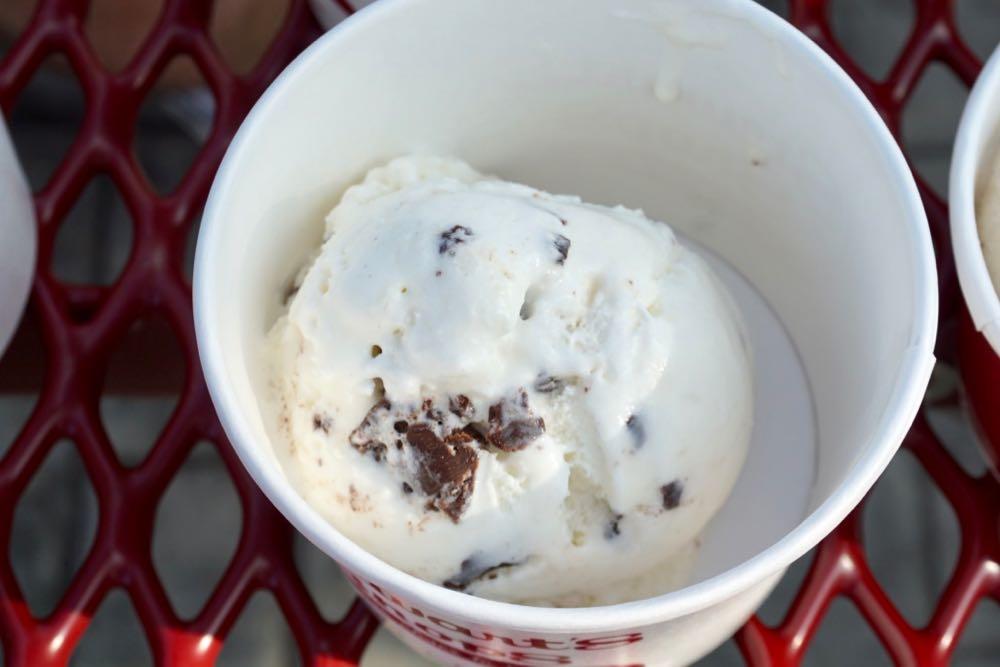 Stewart's description: "Coconut flavored ice cream with a coconut swirl and old-fashioned fudge pieces."
This ice cream split the tasters -- a few really liked it, the others not so much. (It got ranks of both #2 and #6 from tasters.) Tasters commented that it had good coconut flavor, though a few weren't fans of the ice cream's chocolate fudge pieces.
#2: Chocolate Caramel Tornado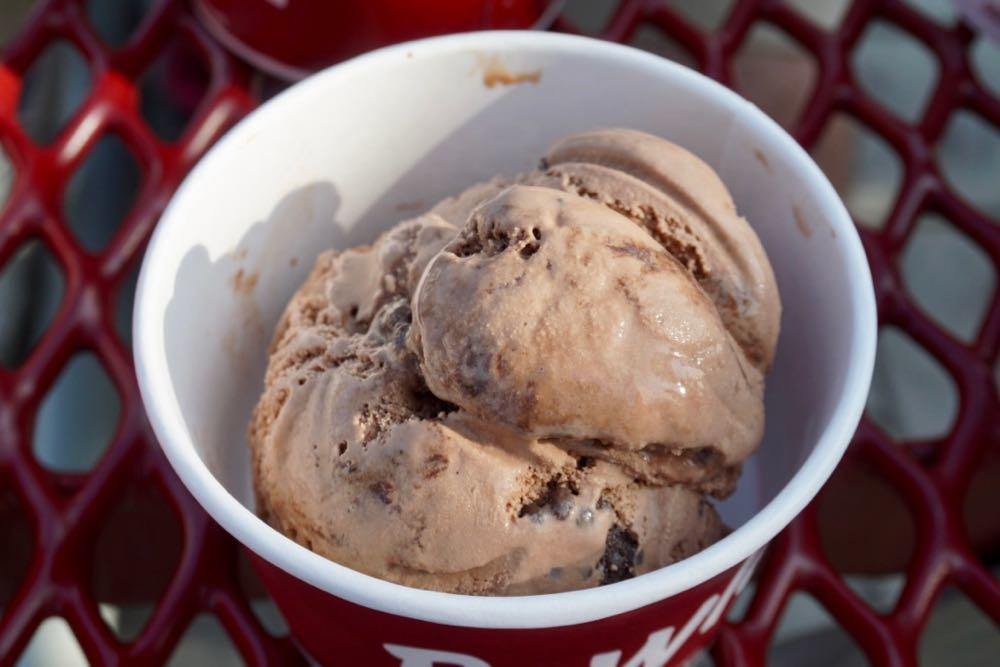 Stewart's description: "Chocolate sea salt caramel ice cream with a chocolate caramel swirl and chocolate-covered honeycomb pieces."
The tasters all ranked Chocolate Caramel Tornado at #3 or higher, with one pegging it at #1. They liked its combination of flavors that included a rich chocolate, with one calling the ice cream "nicely balanced" and praising the salt from the caramel. Other tasters liked the crunch from the honeycomb pieces. This flavor was clearly liked better the flavors ranked below it.
#1: Campfire S'moreo
Stewart's description: "Toasted marshmallow ice cream, chocolate cookie pieces, and a graham cracker swirl."
This flavor sounds gimmicky, and ahead of digging in there were tasters who admitted they were skeptical. But this was the overwhelming favorite among the tasters. It wasn't even close -- all but one had it ranked #1. One taster noted that the chocolate/Oreo/marshmallow combination was a little strange at first, but ended up working well and another called the overall flavor "complex." A few tasters noted the marshmallow flavor wasn't super strong, which seemed to work in the ice cream's flavor favor. (Perhaps a little bit of toasted marshmallow goes a long way.) A couple of tasters commented that the graham cracker really stuck out -- some liked that. But the lone taster who didn't was the one who didn't rank it #1.
But overall, Campfire S'moreo was clearly the favorite.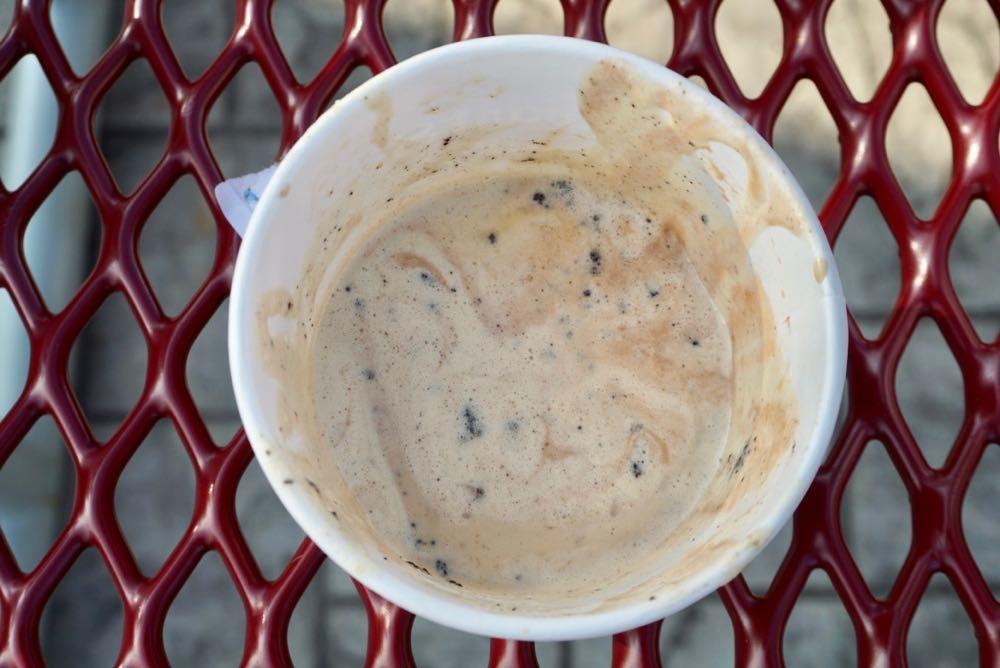 These seasonal flavors are only available at the ice cream counters inside Stewart's locations. And, of course, being seasonal flavors they're also only available for a limited time. So if you want to try them, don't wait too long.
By the way: Local ice cream stand season will also ending soon, so don't delay if you're behind on your soft-serve ice cream eating. Or, you know, just want to get ahead for next season.
Thanks!
Thanks to all our tasters for coming out and eating some ice cream with us!
____
* Then we'll just transition into fall ice cream season. Because every season is ice cream season.
Say Something!
We'd really like you to take part in the conversation here at All Over Albany. But we do have a few rules here. Don't worry, they're easy. The first: be kind. The second: treat everyone else with the same respect you'd like to see in return. Cool? Great, post away. Comments are moderated so it might take a little while for your comment to show up. Thanks for being patient.