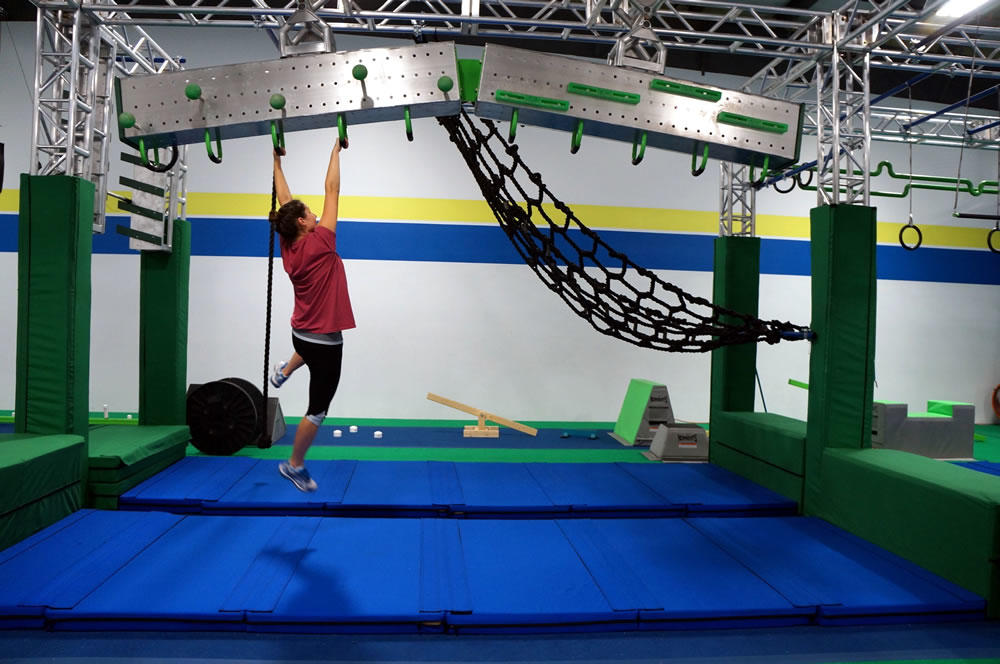 By Cristin Steding
If you've ever watched the television show American Ninja Warrior and thought "I could do that" -- -- here's your chance.
The show -- on which ultra-fit competitors run through a punishing obstacle course -- has inspired an entirely new type of workout, and now you can try it locally.
Saratoga Ninja Lab just opened in Malta, and it's part of a growing trend of American Ninja Warrior-inspired gyms cropping up around the country. Virtually unknown a couple years ago, there are now 191 ninja gyms across the United States in 43 states.

Saratoga Ninja Lab is an expansive room inside a converted warehouse. Obstacles are scattered around the space, with a party room off to the side. The space is new and the bright colors and gleaming obstacles show it -- this isn't a homemade obstacle course. On a recent open gym night, trainers milled about and occasionally gave pointers to people attempting obstacles.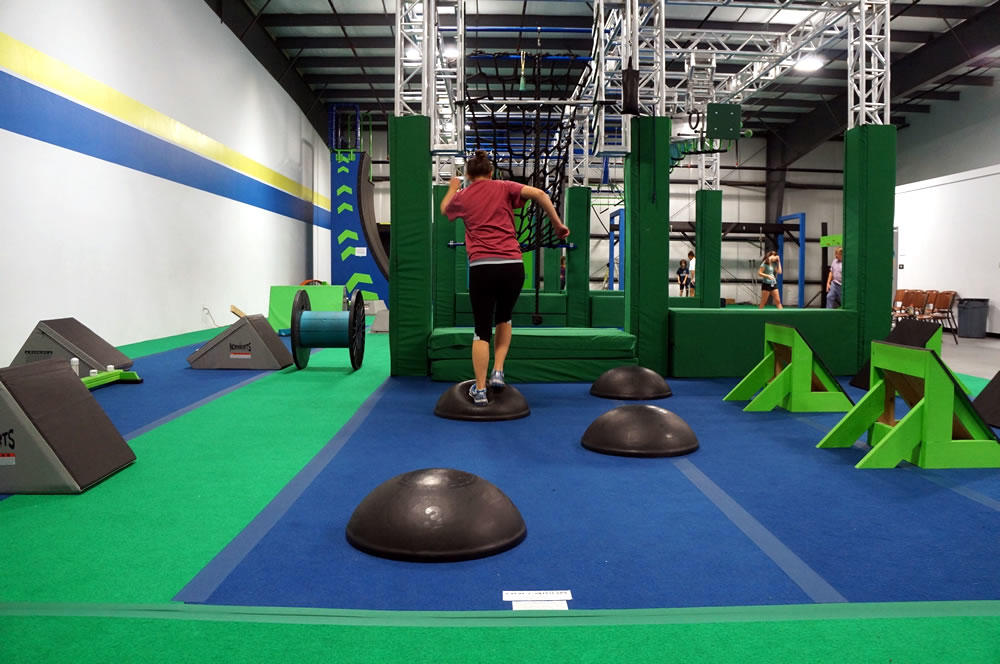 The obstacles themselves range from basic to seemingly impossible. Some of the easiest include things like a small balance beam with a seesaw mechanism, or spots on the floor to hop between, hopscotch-style. For an upper body workout, there's plenty: swing from a rope onto a cargo net, or try any number of variations of monkey bars. You can even try out the iconic warped wall and salmon ladder popularized by the TV show.

The experience of trying all the different obstacles is so fun you might not realize you were working out -- until you wake up sore the next morning.
I talked with Dan Kirchner, ninja trainer and general manager of Saratoga Ninja Lab, about what exactly Saratoga Ninja Lab is, who it's for, and what to expect for your first visit.

On the show American Ninja Warrior the people who compete are usually super fit. Are there things for beginners to do?

Yes, everything is scalable. Someone who's won American Ninja Warrior can be doing the same obstacle as an eight-year-old kid. We have ways of scaling it to make things easier -- making distances shorter, using mats.

For example, we have a 14-foot warped wall [a wall shaped like a skateboard ramp, to run up], which is pretty close to what they have on the show. Theirs is 14.5 feet. We have a 12 footer and an 8 footer, too.

When someone is visiting for the first time, what can they expect?

I usually tell people to try an open gym first so they can get a feel for the place and test out the obstacles and see what they like and what they don't and their strengths and weaknesses are.
Open gym is what it sounds like -- you can do your own thing, but we also have coaches out on the course to help you out, give you some pointers, but also you have the freedom to do it on your own. We like to call it controlled chaos, a little bit. It's not a free-for-all, but we let people do their thing and get help from the coaches.


What types of obstacles are there in general?

There's a lot of upper body, climbing-type obstacles. And then we have balance and parkour obstacles. If you know the names of the American Ninja Warrior stuff, we have the majority of what they have on the TV show: warped walls, salmon ladder, spider climbs. These things have crazy names, it took me a while to learn them. We have a good mix of things.

Do you have a favorite obstacle?

Probably the warped wall. If you haven't seen it on the show, it's like a skateboard ramp that you run up and you have to grab the top.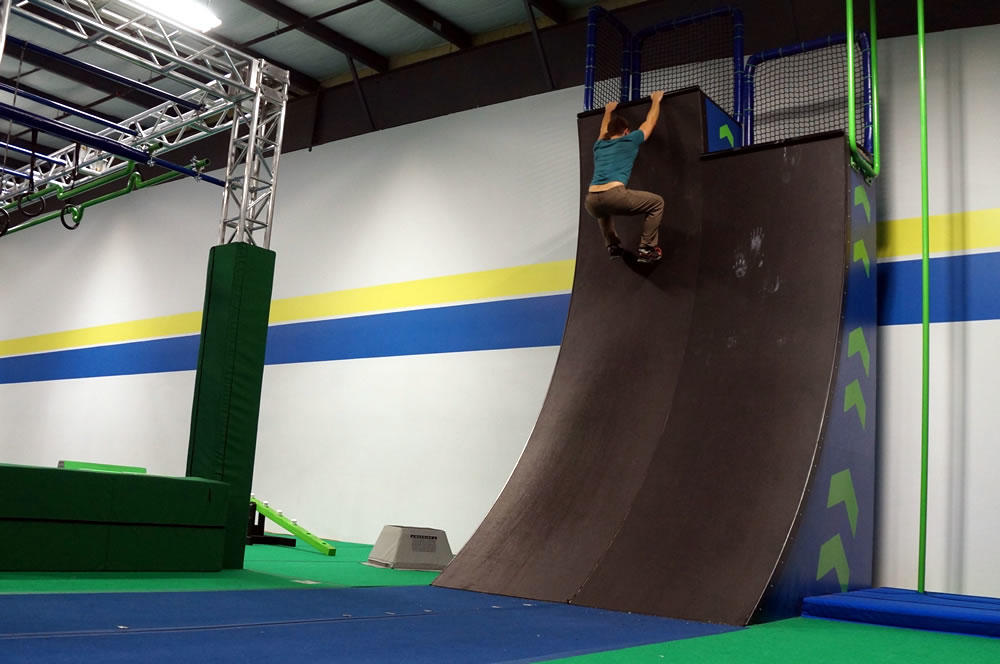 That seems to be a favorite of the kids that come in. The adults too, actually. Our open gyms are an hour and 45 minutes long, and I see some children do that for an hour and a half straight.

What types of classes do you offer?

We have kids classes now, and we're going to be doing an adult beginner class starting in September. That's an hour long and it's a little more structured. There's a head coach and a couple assistants. We lead the group through a warmup and some stations and they can learn and practice some skills. We'll put together a class at the end to put together what they've learned, then a cool down at the end.

It's a fun place to go, but there's a lot of people who do this for their fitness and training. So you can approach it with a program, to get better every time you come in, instead of just running around like crazy.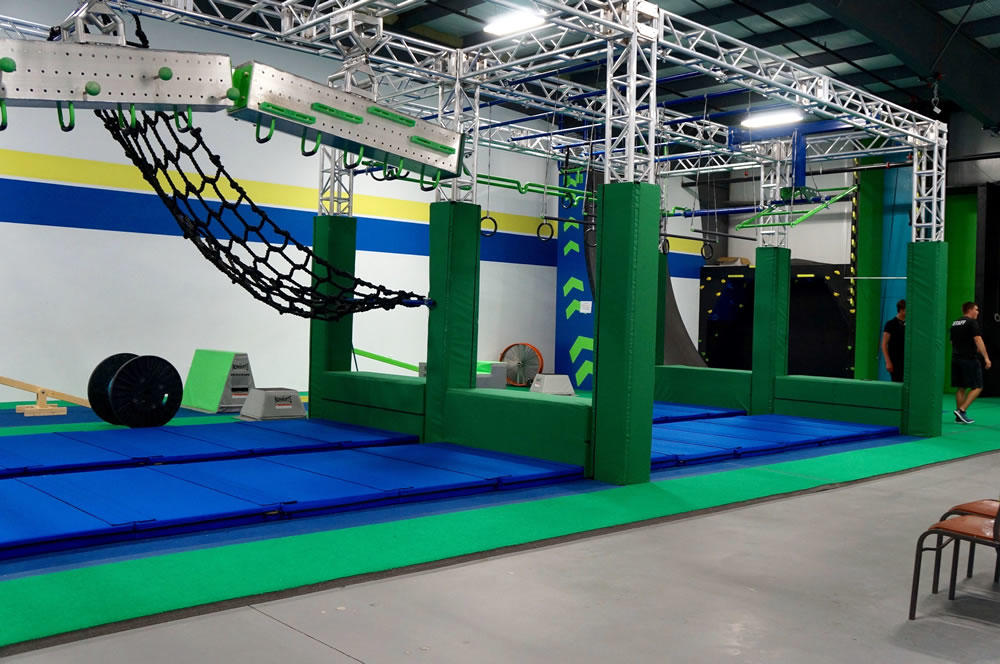 Are the classes a one-time thing, or are they ongoing?

The adult class is one-time, drop-in class right now. The kids class is an eight-week session. We're going to see what kind of response we get for the adult class and hopefully turn that into a longer session as well.

When someone comes in for an open gym, can they try all different obstacles or is there a certain course that's set?

The whole thing is open, there's no true "course" unless we make one. So in an open gym you have access to everything and you can try things individually.

There's only a course if we designate it. So only if we set one for the end of a class or a competition or something of that sort.

Is there anything else you want people to know about?

One of the main things I tell people when they ask -- when they have questions if their kids will like it, or if they'll be comfortable, of if they're out of shape, or if they can do the obstacles -- I tell them it really is for everyone, we really can scale it to make any one comfortable and try it. We can make it work.
____

To see open gym times or sign up for a class, check out the Saratoga Ninja Lab website.
Cristin Steding is a freelance writer and founder of Upstate Club, a guide to outdoor living in upstate New York. You can find her on Twitter and Instagram.
Earlier: Rock climbing at The Edge

Find It
Saratoga Ninja Lab
9 Stonebreak Rd #3
Ballston Spa, NY 12020
Say Something!
We'd really like you to take part in the conversation here at All Over Albany. But we do have a few rules here. Don't worry, they're easy. The first: be kind. The second: treat everyone else with the same respect you'd like to see in return. Cool? Great, post away. Comments are moderated so it might take a little while for your comment to show up. Thanks for being patient.