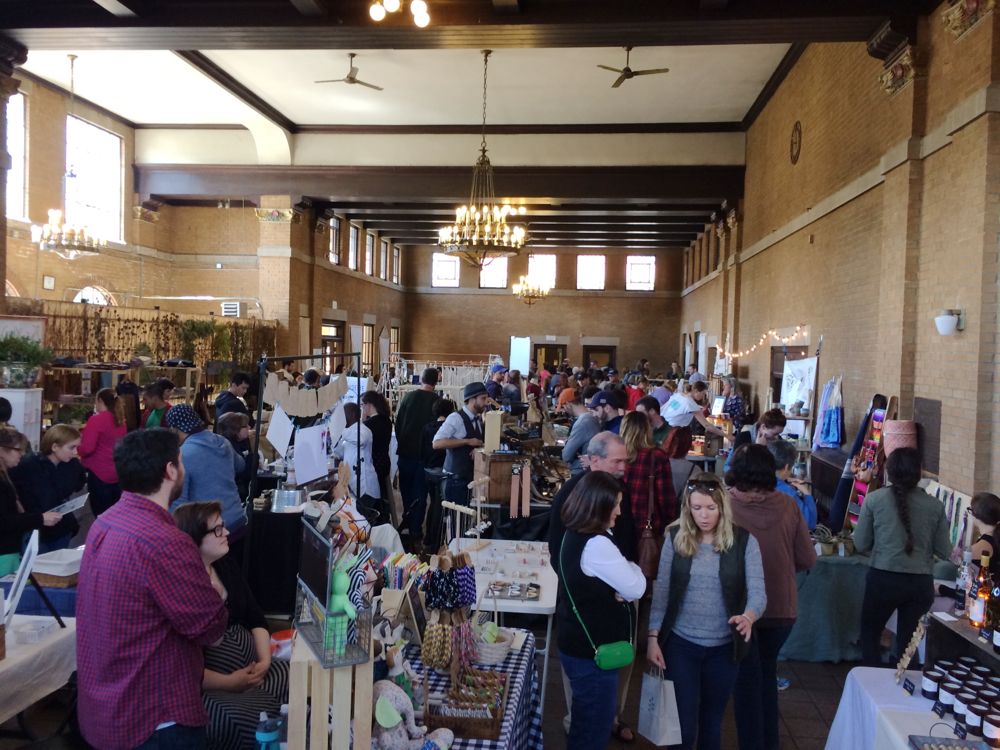 You know how you tell people that you like living here because you can enjoy four seasons?
Wait, maybe that wasn't you. Maybe it was us. Or maybe it was someone who was talking to us.
Anyway, there are people who enjoy living here because they like to enjoy four seasons. We know you've met them. And this weekend is an example of why they live here. Mid-October kind of sums up autumn in the Capital Region. So take a walk through the leaves, pick a pumpkin and decorate it. Then try something from this list of stuff to do that we raked up for you.
If you're planning something that didn't make our list, share it with the rest of the group in the comment section. And whatever you're up to, wear a cozy sweater and have a fantastic weekend.


The Half Moon Market
Friday-Sunday: The Half Moon Market returns to the Washington Park Lake House with more than 40 local and regional handmade vendors and vintage pop-ups. Friday night there's a kickoff party with a DJ, food trucks, craft beverages and more. Friday 5-9 pm, Saturday 10 am-5 pm, Sunday 11 am-5 pm -- free admission
Fusion
Friday: Albany Barn's annual Fusion Anti-Gala returns to the Barn with music by DJ Trumastr, craft beer from Druthers, and food, wine, and spirits pairings, live art making, tours, silent auctions and more. Friday 6-9 pm -- $75 and up
Schenectady County Fall Foliage Festival
Sunday: Mabee Farm hosts the Schenectady County Fall Foliage Festival with music, hay rides, pony rides, a petting zoo, dog-herding demonstrations, pumpkin carving, a craft fair, and more. Sunday 11 am-4 pm -- free admissions
Hawaiian Oktoberfest
Saturday: Indian Ladder Farm Cidery hosts a Hawaiian-themed Oktoberfest. Saturday 11 am-9 pm -- free admission
#Troyasia
Friday: The 4th Street municipal lot in Troy is the site of the annualTroyasia Night Market hosted by Sunhee's. String lights, paper lanterns, Asian food, outdoor ping pong, vendors, and prepared foods. Friday 6-10 pm -- free admission
EMPAC 10YEARS
Thursday-Saturday: EMPAC will be celebrating its 10-year anniversary with a multi-day series of events: concerts, dance, film, theater, talks. The celebration opens with a concert that will take place in each of EMPAC's performance spaces, and it ends with a 25-member ensemble performing work through a sonic dome surrounding the audience. Thursday-Saturday various times and prices
Spooky
Capitol Hauntings
Thursday-Saturday: The popular Capitol Hauntings tours continue at state Capitol. "The tour lasts about an hour, but the chilling, ghostly tales might haunt you forever." Thursday-Friday 1 pm and 5:30 pm / Saturday 1 pm -- free (but you must make a reservation and they fill up)
Historic Haunted Pub Crawl
Thursday: Historic Albany Foundation, Ten Broeck Mansion, and The Original Albany Ghost Tour have joined up for a series of historic haunted pub crawls. It starts with a ghost tour of the Ten Broeck Mansion and then heads to a trio of downtown pubs with stories along the way. Thursday 5:30 pm, 6:15 pm, 7 pm -- $25
Stockade Candlelight Walking Tour
Friday: The Schenectady County Historical Society hosts a candlelight walking tour of the city's Stockade neighborhood revealing its haunting past. Friday 7 pm -- $12
Schuyler Mansion: Spectres, Strange Sights and Visions
Saturday: The Schuyler Mansion hosts Spectres, Strange Sights and Visions, an evening of ghosts stories around a campfire and a look at 18th century beliefs in ghosts, specters and apparitions. Saturday 6:30 pm - reservations required / suggested donation $10
SFX Makeup Competition
Saturday: Proctors and The Makeup Curio host a special effects makeup contest. Spectators can get a ticket to watch as competitors create special effects with makeup. Saturday 10 am-5 pm -- $10 for a day pass
Ghosts of Albany
Friday-Sunday: Ghosts of Albany has returned and is offering haunted tours of the downtown Albany. Friday-Sunday -- $20
Ghosts in the Yaddo Garden Tours
Friday: The annual ghost garden tours return at Yaddo in Saratoga Springs. Meet in the Yaddo Gardens parking lot. Friday 5 pm -- $10 / under 12 free

Haunted Saratoga Ghost Tours
Friday-Saturday: Take a haunted ghost tour of Saratoga Springs. Friday and Saturday 7 pm-9:30 pm -- $20
Schuyler Farms Moonlight Corn Maze
Friday-Sunday: Schuyler Farms in Schuylerville has a Wizard of Oz-themed haunted corn maze (there's also a non-haunted version). Friday-Sunday various times -- $8 / under 3 admitted free
Corn maze
Thursday-Sunday: Fort Ticonderoga's corn maze is open for the season. The maze is two miles of winding trails of corn stalks. Thursday-Sunday 10 am-5 pm (last entry at 4:30 pm) -- various prices
Music
Thursday: The Moth & The Flame at Brown's Fall Sessions
Moved inside to Revolution Hall. With: The Parlor. 6 pm -- free admission
Friday: Ladama at Sanctuary for Independent Media
"Harnessing music from their respective countries of origin -Brazil, Colombia, Venezuela and the United States, the group utilizes traditional and non-traditional instruments from across the Americas, but with a modern twist, to produce Latin Alternative music." 7 pm -- $20
Friday: Mississippi Heat at The Linda
"Led by harmonica master and songwriter Pierre Lacocque, Mississippi Heat is a world-class Chicago Blues Band." 8 pm -- $20
Friday: West End Blend at The Hollow
Funk/soul. With: The Age. 8 pm -- $12
Friday: The Feelies at Helsinki Hudson
Post punk. 9 pm -- $25
Friday: Ustad Shafaat Khan at Old Songs
"His unique concert presentations include Indian classical/folk music on Sitar, Tabla and vocal, Sufi inspired compositions, and a multi-cultural fusion ranging from western classical, jazz, and rock, to pop, flamenco, and African rhythms." 7:30 pm -- $25 / $5 kids
Saturday: Albany Symphony: Ride of the Valkyries at The Palace
Opening night of the new symphony season, featuring violinist Stefan Jackiw. 7 pm -- $19 and up
Saturday: Lea DeLaria at Massry Center
"This adored and outspoken actress (Orange Is the New Black's Big Boo), comedian, singer and gay icon combines side-splitting comedy with a velvety jazz voice and sassy stage presence, mingling choice jazz standards and jazzy covers of classic David Bowie tunes." 8 pm -- $40
Saturday: The Melissa Etheridge show at The Egg is sold out.
Saturday: Atmosphere at Upstate Concert Hall
Hip hop duo. With: Dem Atlas, The Lioness, DJ Keezy. 8 pm -- $25 ahead / $28 day of
Saturday: Bonnie "Prince" Billy at MASS MoCA
Folk rock. 8 pm -- $30 ahead / $40 day of
Saturday: Sun Natives at The Low Beat
Album-release show. With: Rechorduroys, Candy Ambulance. 8 pm
Saturday: Professor Louie & the Crowmatix at Caffe Lena
"Roadhouse blues, roots rock and sweet ballads..." 8 pm -- $25
Saturday: The Plimsouls feat Cait O'Riordan at The Hangar
With: Trailer Park Moonlight, Smittix. 3 pm -- $10 ahead / $15 at door
Saturday: Strings in Harmony by Lakshay Mohan & Aayush Mohan at The Egg
"The Mohan Brothers, Lakshay Mohan & Aayush Mohan, are reviving the lost art of playing the duet of Sitar & Sarod." 7:30 pm -- $30 / $15 students
Sunday: Modest Mouse at The Palace
Looks like this show is close to being sold out. With: Tropical F*@k Storm. 8 pm -- $49.50
Sunday: Dark Tranquility & Amorphis at Upstate Concert Hall
Metal. With: Moonspell, Omnium Gatherum. 7 pm -- $22 ahead / $25 day of
Sunday: Capital Records Live! Music of 1969 at Proctors
A multi-media concert featuring local and regional artists playing iconic music from 1969. 7:30 pm -- $25
Sunday: The Hot Tuna show at The Egg is sold out.
Stage
Anastasia
Thursday-Sunday: A touring production of the Broadway show Anastasia is at Proctors. "From the Tony Award-winning creators of the Broadway classic Ragtime, this dazzling show transports us from the twilight of the Russian Empire to the euphoria of Paris in the 1920s, as a brave young woman sets out to discover the mystery of her past. Pursued by a ruthless Soviet officer determined to silence her, Anya enlists the aid of a dashing conman and a lovable ex-aristocrat. Together, they embark on an epic adventure to help her find home, love, and family." Tuesday-Sunday various times --
The Royale
Friday-Sunday: The Royale finishes its run at The Rep this weekend. "Jay 'The Sport' Jackson needs one more win to become heavyweight champion of the world, but in the Jim Crow reality of 1905 America, his greatest opponent may not be in the ring. Inspired by the true story of trailblazing boxer Jack Johnson, The Royale bristles with the thrilling rapid-fire dialogue and rhythmic punctuation of playwright Marco Ramirez (Netflix's Daredevil, Orange is the New Black)." Friday-Sunday various times -- $20 and up
Young Frankenstein
Saturday-Sunday: Home Made Theater presents Young Frankenstein, the musical version of the Mel Brooks film. Saturday 7:30 pm and Sunday 2 pm -- $26-$29
The Madwoman of Chaillot
Friday-Sunday: Schenectady Civic Players presents The Madwoman of Chaillot. Friday-Sunday various times -- $20
Biloxi Blues
Friday-Sunday: Curtain Call Theater presents Neil Simon's classic Biloxi Blues. Thursday-Saturday various times -- $25
Our Town
Friday-Sunday: The Theater Institute at Sage presents the Thornton Wilder classic Our Town. Friday-Sunday various times -- $15
Confetti Fest
Saturday-Sunday: Confetti Stage hosts Confetti Fest, its annual original short play festival, at the Albany Masonic Hall (67 Corning Place). Saturday 7:30 pm, Sunday 2 pm -- $15 / $10 students
Always Patsy Cline
Thursday-Sunday: Park Playhouse presents the musical Always Patsy Cline at Cohoes Music Hall. Thursday-Sunday various times -- $27 / $17 under age 18.
Marjorie Prime
Friday-Sunday: Theater Voices stages a reading of Marjorie Prime at Steamer 10 Theater. The play, a Pulitzer Prize finalist, is about an 85-year-old woman examining her past with the use of artificial intelligence and looks at how the ebb and flow of memory helps shape our humanity. Friday 8 pm, Saturday 3 pm and 8 pm, Sunday 3 pm
Comedy
Lynne Koplitz
Friday-Saturday: The Comedy Works hosts stand-up comic Lynne Koplitz. Friday-Saturday, various times and prices
Tony Roberts
Friday-Sunday: Actor/writer'comedian Tony Roberts (HBO's DEF Comedy Jam, Showtime at the Apollo) headlines at the Albany Funny Bone. Friday-Sunday, various times and prices
TheaterSports
Friday: The Mop & Bucket company presents TheaterSports -- part theater, part sports, all improvised. Teams of improvisors compete against each other by creating scenes, songs and games entirely based on audience suggestion. Friday at 8 pm -- $10 / $6 for students and seniors
Film
Brought to Light
Thursday: The Albany Institute will be hosting a screening of Brought to Light: Unearthing the History of an African-American Cemetery in Kinderhook, NY. "This one-hour film tells the story of how a cleanup effort of stone markers in an overgrown field lead to the rediscovery of a forgotten, "slaves' cemetery" where hundreds of African Americans were buried during the 1800s." Thursday 6 pm -- free admission
Found Footage Festival
Thursday: The Found Footage Festival returns to Proctors. "Found Footage Festival hosts Joe Pickett (The Onion) and Nick Prueher (Late Show with David Letterman) take audiences on a guided tour of their all-time favorite VHS finds. From the curiously-produced industrial training video to the forsaken home movie donated to Goodwill, the Found Footage Festival resurrects these forgotten treasures and serves them up in a lively celebration of all things found." Thursday 8 pm -- $15
Whole Grain: Ruckus Shorts: The Short Films of Red Grooms
Thursday: The Tang Museum at Skidmore College is screening four short films by artist Red Grooms. Thursday 6 pm -- free
Drive-ins
Here's what's playing at the drive-ins:
+ Malta: Screen 1: Goosebumps 2: Haunted Halloween , Smallfoot | Screen 2: Venom , Night School (Pre-show Halloween party with costume and trunk decorating contests and trunk or treating)
+ Jericho Drive-in: Smallfoot, Venom
Museums/galleries/talks/walks
Bootlegger of the Soul
Thursday: Suzanne Lance and Paul Grondahl will discuss their new book about William Kennedy, Bootlegger of the Soul -- with Kennedy -- at Northshire Bookstore. Thursday 6 pm -- free admission
Evan Narcisse and Black Panther
Friday: Comic book author/cultural critic Evan Narcisse will be at UAlbany as part of the NYS Writers Institute visiting writers series. He co-authored a recent run of the comic book Black Panther with Ta-Nehisi Coates. And he'll be taking part in a conversation and Q&A following clips of the movie Black Panther. Friday 7:30 pm, downtown campus, Page Hall -- free
Repair Cafe
+ Saturday: Bring a household item that needs repair to the Schenectady Public Library for a Repair Cafe. Learn how to repair furniture, small household electronics, clothing and other items. Saturday 10 am-2pm -- free
+ Saturday: There's also a Repair Cafe at Castleton Village Hall. Saturday 11 am-3 pm -- free
Gary Shteyngart
Saturday: Spotty Dog Books and Ale features Gary Shteyngart -- author of Super Sad True Love Story and Absurdistan -- as part of the Volume Reading Series event. The lineup also includes Maria Dahvana Headley and Michael J Seidlinger. There's a DJ set and a book signing following the reading. Saturday 7 pm -- free admission
State Education Building Tour
Saturday: Take a free tour of the NYS Education Building. Saturday 12:30 pm and 2:30 pm -- free (pre-registration required)
Albany Fall Foliage Political Memorabilia Show & Sale
Friday-Saturday: The Albany Fall Foliage Political Memorabilia Show & Sale will be at the Ramada Plaza Hotel on Watervliet Ave. On Friday the Albany Institute will bring a collection of rare political broadsides there for a free viewing. "Subjects include anti-John Adams broadside from 1800, DeWitt Clinton Presidential broadsides from 1812, New York Governor campaign broadsides for Vice President George Clinton, Chief Justice John Jay, Vice Presidents Aaron Burr and Daniel Thompson, among others." Friday, 6-8 pm -- free admission
Albany Institute
The Institute is currently exhibiting Thomas Cole's Paper Trail, Birds & Beasts: The Scary, Magical, and Adorable Animals of the Albany Institute, and A Menagerie of Whimsey: The Art of William B. Schade.
+ Sunday Rebecca Bedell, Associate Professor of Art at Wellesley College will give a lecture on The Hudson River School and our National Parks. Sunday 2 pm -- free with museum admission
State Museum
The State Museum has opened the second phase of its Enterprising Waters: New York's Erie Canal exhibit.
Opalka Gallery
The Opalka Gallery on the Sage Albany campus has Sharon Bates: Exhibit B on display.

The Fields Sculpture Park
The Art Omi Fields Sculpture Garden is a good place for a walk in autumn. It's free and open to the public.
Saratoga Auto Museum
The Saratoga Auto Museum in Spa State Park has a cars of the 1950s exhibit.
USS Slater
The USS Slater is still open for the season.
Art and Sole
Sunday: The youth arts org Young Futures has its Art and Sole auction at the Youth FX studio in Albany (25 Warren Street). A series of custom-decorated sneakers will be auctioned off as a fundraiser. Sunday 2-5 pm
Pop-Up Adventure Playground
Sunday: Washington Park will host a pop-up adventure playground event near Madison and Willett streets. There will be a collection of items -- cardboard boxes, tires, finger paint -- that kids are allowed to play with however they want. Here's more about the concept. Sunday 9:30 am-12:30 pm -- free
Markets
Farmers markets
+ The Troy Waterfront Farmers Market is outdoors on River Street. Saturday 9 am-2 pm
+ The Delmar Farmers Market is outside at Bethlehem Central Middle School. Saturday 9 am-1 pm
+ The Saratoga Farmers' Market is outside at High Rock Park. Saturday 9 am-1 pm
+The Colonie Farmers' Market is at The Crossings. Saturday 9 am-1 pm
+ The South End Healthy Market is at the Capital South Campus Center in Albany. Saturday 10 am-3 pm
+ The Schenectady Greenmarket is outdoors around City Hall. Sunday 10 am-2 pm
+ The Spa City Farmers' Market is outside at the Lincoln Baths. Sunday 10 am-2 pm.
Troy Makers Market
Saturday: Local craft vendors will display and sell wares at the Troy Makers Market in conjunction with the Troy Waterfront Farmers Market. Saturday 9 am to noon
The Albany Institute of History and Art, MopCo, and Northshire advertise on AOA.
Say Something!
We'd really like you to take part in the conversation here at All Over Albany. But we do have a few rules here. Don't worry, they're easy. The first: be kind. The second: treat everyone else with the same respect you'd like to see in return. Cool? Great, post away. Comments are moderated so it might take a little while for your comment to show up. Thanks for being patient.