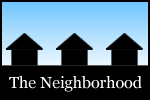 Among the topics in this most recent spin around the Capital Region's online neighborhood: Townsend Park, maple syrup bootlegging, college visits, launching into a new life, teen trick-or-treaters, Lens Lake, waterfalls, Troy Chowder Fest, chowder fries, brunch, sandwiches in Lake Placid, and the last snippets.

Carl pulled together the history of the namesakes of Townsend Park and James Street in Albany -- and furnaces.
The Friends of Albany History told a family story about maple syrup bootlegging.
Katie recapped a bunch of college visits with her daughter, and how they challenged some of her preconceptions.
Amy has launched herself into a new phase of life.
Kristi changed her mind about teen trick-or-treaters.
Jackie took in the feast of fall colors at Lens Lake in Warren County.
Here's wishing Chuck clear views of waterfalls.
Daniel ran through the many tastes at the Troy Chowder Fest.
Steve got the scoop on the origin of the chowder fries at the City Beer Hall (or, at least, most of it).
Ashley stopped in at The Local for brunch.
Otis had some tasty sandwiches in Lake Placid.
And Dominic issued his final snippets. We're sorry to see his blog ending -- we enjoyed reading it.