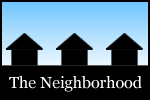 Among the topics in this most recent spin around the Capital Region's online neighborhood: feeling safe at religious services, not the enemy of the people, a threatening time that felt different, foliage, Sleepy Hollow, the South End, Dr. Woodbury's soap, Hoffman's Ferry, the joy of sports, tipping, pizza on the road, borek, salt potatoes, and a nice thing.

Daniel reflected on the Pittsburgh synagogue shooting and the safety of his family: "I can't remember precisely the first time I felt concerned for my safety and the safety of my family when attending religious services. But it goes back for decades. Long before September 11, 2001 and back to my elementary school days. For a while, there were bullet holes in the stained glass windows in the sanctuary where I became a bar mitzvah. But you can't let the threat of violence stop you from living your life. Living life requires a certain amount of bravery, and it takes more than a little faith. What it doesn't require is more guns."
Amy posted a message about being a journalist, not the enemy.
Prompted by the bomb threat at WNYT, Rob recalled the episode after 9/11 when someone was sending anthrax to politicians and media orgs and how that time felt different.
Jackie took in the fall foliage and fungi at Mud Pond.
Julie pulled together ideas for a fall visit to Sleepy Hollow.
Christopher lamented the loss of many old buildings in the South End and its effect on the neighborhood.
The Friends of Albany History told the story of Albany's Dr. Woodbury, his soap, and nose jobs.
Carl highlighted the history of the old Hoffman's Ferry in Glenville.
Katie commented on the joy of watching her daughters play sports.
Kristi questioned whether she should tip at fast casual or counter service restaurants.
Jon shared more tales of pizza on the road.
One of the Steve's readers asked about finding borek.
Otis offered a spin on a Central New York classic: smashed salt potatoes.
And Chuck suggested something nice people can do.
Hi there. Comments have been closed for this item. Still have something to say? Contact us.