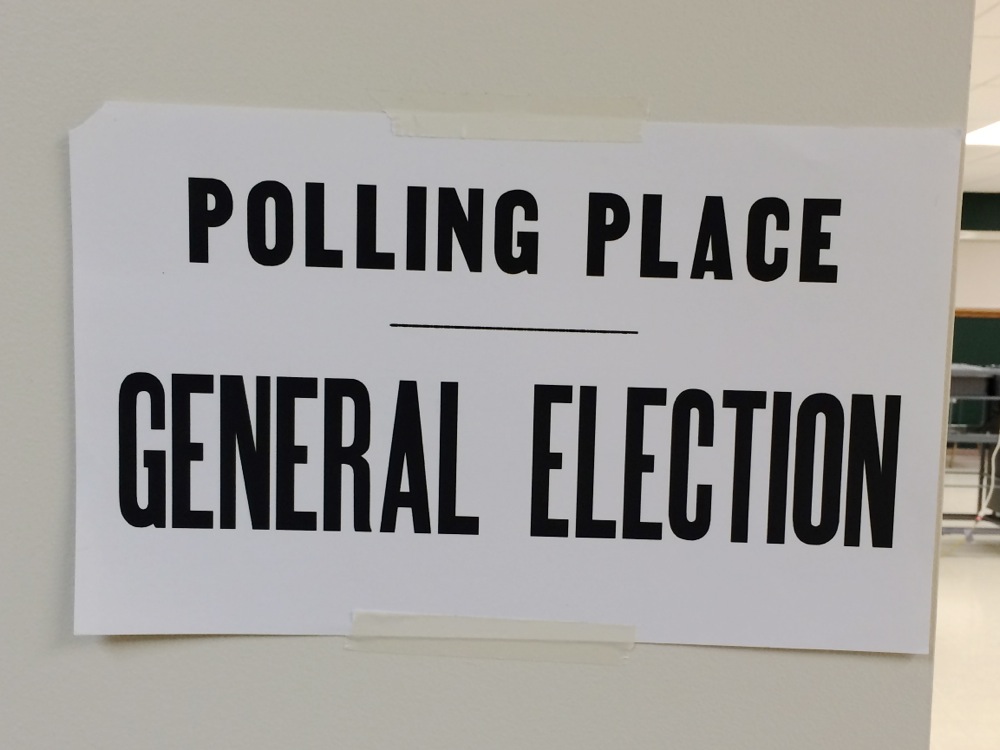 Here are a few things to keep in mind, look forward to, or keep busy with this week, from the weather (more autumn), to Election Day, to free speech, to histories, to silent film, to volunteering, to all sorts of music...



Weather
Here's the paraphrased
forecast
for this week:
Monday: Cloudy, probably rain in afternoon. Upper 40s.
Tuesday: Rain showers, upper 50s.
Wednesday: Sun, mid 50s.
Thursday: Sun, upper 40s..
Friday: Cloudy, maybe rain, upper 40s.
Autumn for another week.
Election Day
Election Day is Tuesday. Polls will be open from 6 am to 9 pm. State and federal offices are up this time around -- a few of the Congressional District elections in New York could be key in deciding which party controls the House, and control of the state Senate at stake. So, you should vote. Don't know where? Check with the state Board of Elections website. And if you'd like to see a sample ballot in order to do some research ahead of voting, check with your county board of election website.
Arts and sciences
Free speech
Monday-Thursday: Skidmore has a series of events this week centered on the topic of free speech. Among them:
+ Monday: Wendy Moore and Joyce Bell, "Challenging the Right to be Racist on Campus."
+ Tuesday: Zachary Wood, "Building Empathy and Understanding through Difficult Conversations."
+ Wednesday: Scott Jaschik, "Free Speech Contradictions: Why the Debate on Free Expression on Campus is Important, and Why it is so Misunderstood."
+ Thursday: "And We Talked" Film Viewing and Community Conversation.
Brainfood for the Curious
Tuesday: The Brainfood for the Curious series of short lunchtime talks at the State Museum continues with a talk about tourmaline. "Their transparency and variety of colors, in hues from ruby red to emerald green to electric blue, make the tourmaline one of the most versatile gemstones. Dr. Marian Lupulescu, curator of geology, will guide you on a journey through the beautiful tourmaline world." Tuesday 12:10-12:30 pm, Huxley Theater -- free
Kristallnacht commemoration
Wednesday: Holocaust survivor Marcel Zielinski will be at Union to talk about his story and commemorate Kristallnacht. Zielinski is now 84, a retired engineer, an avid cyclist. "Marcel frequently shares his story of hope and survival in the face of hatred and merciless evil. He says, 'if we aren't going to repeat it, we have to remember it. It is so important to educate and bear witness to a new generation.'" Wednesday 6:30 pm, Reamer Campus Center Auditorium -- free
Esmeralda Santiago
Thursday: Author Esmeralda Santiago -- "a founding mother of Nuyorican literature" -- will be at UAlbany to talk about her career as the part of The Creative Life series and the NYS Writers Institute visiting writer series.. She'll be having an on-stage conversation with WAMC's Joe Donahue. (There's also a craft talke at 4:15 pm.) Thursday 7 pm, uptown campus, Campus Center Ballroom -- free
Finding 48
Thursday: Historic Albany Foundation architectural historians Doug Bucher and Walter Wheeler and architectural conservator Bill Brandow will be talking about the discovery that 48 Hudson Ave is Albany's oldest building. They'll be talking with Matt Malette -- Mr. Albany Archives -- as part of a conversation recorded at Overit. Thursday 5:30 pm -- $24 HAF members / $48 non-members
Screenprint Biennial
The 2018 Screenprint Biennial is now on display at the Opalka Gallery on the Sage Albany campus. On display through December 14.
Artists of the Mohawk Hudson Region
The 2018 Artists of the Mohawk Hudson Region exhibit is on display at the University Art Museum on the uptown UAlbany campus. On display through December 8.
Film
Silent film
Proctors has two silent film-focused events this week:
+ Monday: A screening of the 1925 film The Big Parade on the main stage with live organ score played by Avery Tunningley. Monday 6:30 pm -- $10
+ Wednesday and Friday: Proctors will be screening The Great Buster, a Peter Bogdanovich-
directed documentary about Buster Keaton. Wednesday and Friday various times -- $9 / $6 students, seniors, kids
King Lear
Tuesday: Proctors is screening a production of King Lear starring the great Ian McKellen. Tuesday 2 pm and 7 pm -- $15
Just Like Being There
Thursday: The Opalka Gallery is screening Just Like Being There, a documentary about the gig poster community. Thursday 6:30 pm -- free
Zombies
Thursday: The It Came From Schenectady series at Proctors is showing Black Magic II: Revenge of the Zombies. Thursday 7 pm -- $9 / $6 students and seniors
Startup Tech Valley
Wednesday: The Startup Tech Valley series is back at Revolution Hall in Troy. And handful of startups will be showing off what they have going on. Wednesday 5:30 pm -- free (registration requested)
Ignite
Thursday: The Ignite volunteer festival is at the Albany Capital Center. It's kind of like a job fair but for volunteer opportunities. More than 30 orgs will there with info and reps ready to talk about how you can lend a hand. The evening also includes speakers (including Albany mayor Kathy Sheehan), music, and food from local restaurants. Thursday 5:30-8 pm -- free
Music
Monday: One Eleven Heavy at The Low Beat
James Toth + Nick Mitchell Maiato. With: Wovoka, Sky Furrows. 7 pm
Monday: Remembering Buck Malen: Blue Monday Blues Jam at Pauly's

"Come see the area's hottest local blues musicians jam the night away." 8 pm
Tuesday: Anderson East at The Egg
Southern rock singer/songwriter. With: The New Respects. 8 pm -- $20 and up
Tuesday: Election Night Special: Gypsy Jazz Party & Jam with the Hot Club of Saratoga at Caffe Lena
What it says on the label. 8 pm -- $15
Wednesday: GWAR at Upstate Concert Hall
With: Miss May I, American Sharks. 8 pm -- $20 ahead / $22 day of
Wednesday: Andy Frasco & The U.N. at The Hollow
Blues rock. With: Wild Adriatic. 8 pm -- $15 ahead / $18 day of
Wednesday: Zoltán Fejérvári Union College Memorial Chapel
Hungarian classical pianist. 7:30 pm -- $30
Wednesday: Hamell on Trial at The Low Beat
Starting a November residency. 7 pm
Thursday: The Wood Brothers at Troy Music Hall
Blues, folk, and roots. 7:30 pm -- $29.50 and up
Thursday: Tommy Castro & The Painkillers and Tinsley Ellis at The Egg
Blues. 8 pm -- $34 and up
Thursday: Seven Lions at Upstate Concert Hall
EDM DJ. With: MitiS, Jason Ross, Brunch Boyz. 8 pm -- $20 ahead / $25 day of
Thursday: Chase Atlantic at Lucky Strike Jupiter Hall
Alt pop rock. With: Cherry Pools, Riley, logan, MNNX & Balcony. 6:30 pm -- $15 ahead / $18 day of
Thursday: Ripe at The Hollow
Dance funk. 9 pm -- $14 ahead / $18 day of
Thursday: Stellar Young at Parish Public House
With: The Afternoon Edition. 9 pm
Friday: Everlast at Upstate Concert Hall
Whitey Ford still singing the blues. 8 pm -- $20.50 ahead / $25 day of
Friday: The Ghost of Paul Revere at The Hollow
Folk. With: Charlie Parr. 8 pm -- $12
Friday: Brett Dennen at Troy Music Hall
Folk pop. 8 pm -- $30
Friday: Yarn at The Hangar
Americana. 8 pm -- $15
Friday: Studebaker John & The Hawks
Blues. 8 pm -- $18
Saturday: New Politics at Upstate Concert Hall
Alt rock. With: The Score, Bikini Thrill. 8 pm -- $20 ahead / $23 day of
Saturday: Ornettiquette at Sanctuary for Independent Media
"Trumpeter Chris Pasin performs the music of Ornette Coleman with Adam Siegel, Michael Bisio, Harvey Sorgen and special guests Creative Music Studio founders Karl Berger and Ingrid Sertso." 7 pm -- $20
Saturday: David Bromberg Big Band at Troy Music Hall
Blues/Americana. With: Loudon Wainwright III. 8 pm -- $25.50 and up
Saturday: Sister Sparrow & The Dirty Birds at The Egg
"[B]acked by fiery brass- and gospel-infused R & B, Sister Sparrow & The Dirty Birds' rhythmic wheelhouse combines big-city grit seasoned with a dose of down-home Americana." 8 pm -- $34.50
Saturday: Kat Wright at The Linda
"Kat Wright, whose voice is both sultry and dynamic, delicate yet powerful; gritty but highly emotive and nuanced, has been described as 'a young Bonnie Raitt meets Amy Winehouse'." 8 pm -- $15
Saturday: Wurliday at The Hollow
Album release party. With: Dark Honey. 8 pm -- $12
Saturday: Everything Turned to Color at Caffe Lena
Folk/jazz. 8 pm -- $18
Saturday: Red Sun Rising at Lucky Strike Jupiter Hall
Rock. With: Spirit Animal. 8 pm -- $16 ahead / $18 day of
Sunday: Puddles Pity Party at The Egg
The "sad clown with the golden voice." 8 pm -- $35 and up
Sunday: Slothrust at Lucky Strike Jupiter Hall
Alt rock. 7 pm -- $15
Sunday: Chris Robinson Brotherhood at Upstate Concert Hall
From The Black Crowes. 8 pm -- $25 ahead / $28 day of
Sunday: Front Country at The Hollow
Progressive bluegrass. With: The Sea The Sea. 8 pm -- $10 ahead / $12 day of
Sunday: Bobby Long at Caffe Lena
Singer/songwriter. 7 pm -- $18
Sunday: Estonian Philharmonic Chamber Choir & Tallinn Chamber Orchestra at Troy Music Hall
"One of the best-known choirs in the world!" 3 pm -- $45 and up
____
These are a just a few things for this week, not a comprehensive list. Look for out "Stuff to do this weekend" list for the upcoming weekend on Friday.
Know of something people should be looking forward to this week? Please share!
Troy Music Hall advertises on AOA. And AOA is a sponsor of Ignite.
Say Something!
We'd really like you to take part in the conversation here at All Over Albany. But we do have a few rules here. Don't worry, they're easy. The first: be kind. The second: treat everyone else with the same respect you'd like to see in return. Cool? Great, post away. Comments are moderated so it might take a little while for your comment to show up. Thanks for being patient.