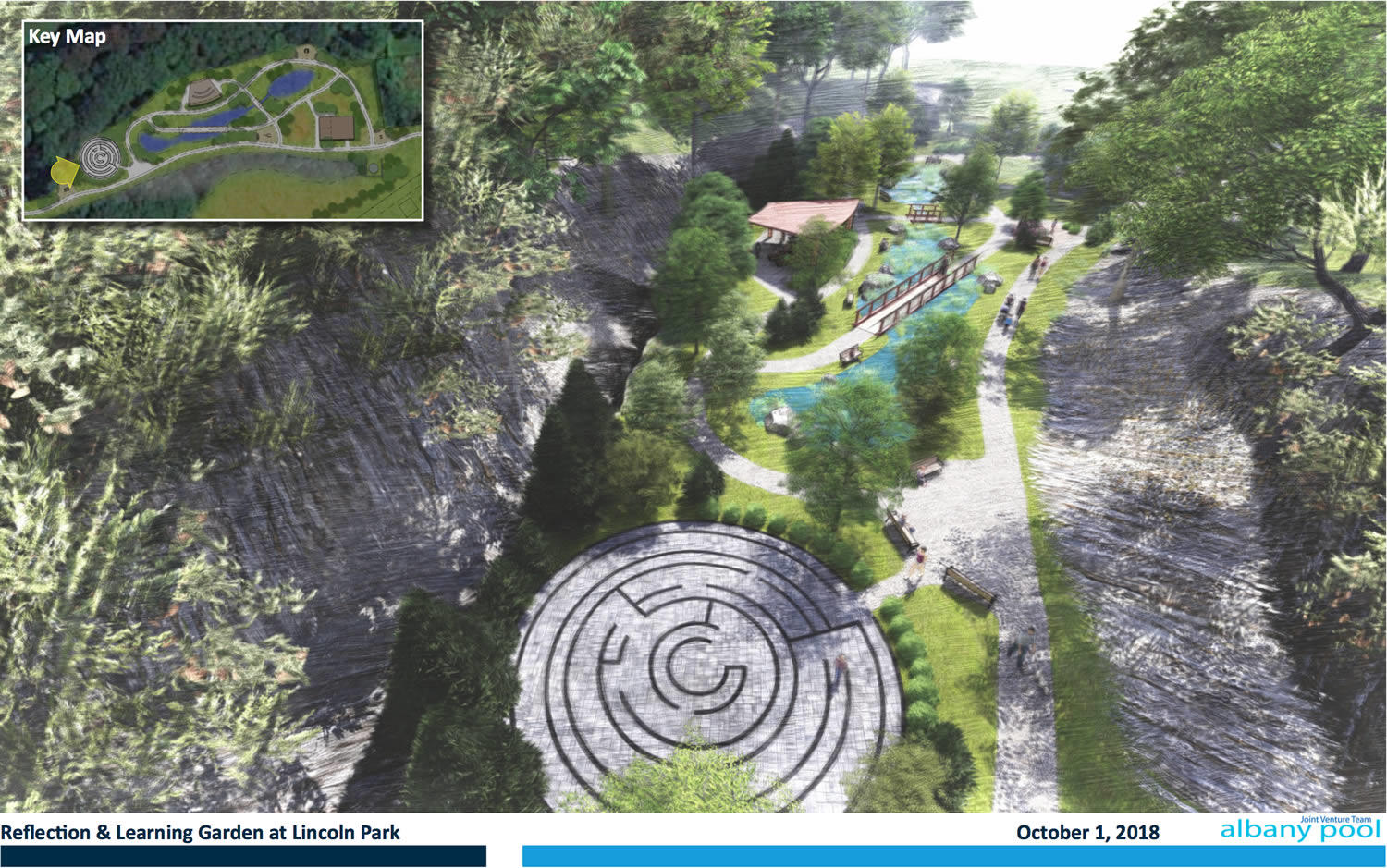 The next community meeting for the Beaver Creek Clean River Project -- the sewer facility / park space planned for a ravine in Albany's Lincoln Park -- is November 27 at 6:30 pm at TOAST Elementary (94 Delaware Ave).
Meeting blurbage:
After gathering feedback about the project proposal at a series of community and stakeholder meetings, the Albany Water Board has revised the design of the screening and disinfection facility.
In addition, the Community Advisory Committee has provided input and feedback for the design of the Reflection and Learning Garden being developed within the Lincoln Park ravine. (More information on the Committee's August 13th and October 1st meeting).
The November 27th meeting will provide an update on the new treatment design, as well as the design for the Reflection and Learning Garden in the ravine.
Back in October the city posted some new designs for the park space that's accompanying the facility, including an indoor/outdoor classroom, meditation labyrinth, walking paths, play structures, and wetland.
There's also an online survey about a name for the park space and ravine.
Background
The $45 million Beaver Creek Clean River Project is a sewer facility that would sit largely underground near the Beaver Creek ravine in Lincoln Park, screening and treating combined sewer and storm water during high volume on the Beaver Creek trunk sewer. The project is part of the ongoing -- and large scale -- effort to reduce the flow of sewage into the Hudson River. It would also address a problem with the trunk sewer in the Beaver Creek ravine.
Here's a lot more about the overall situation, along with some of the public skepticism that accompanied the announcement of the project.
Lincoln Park
The city is also currently working with consultants to create an overall master plan for Lincoln Park. There's another public meeting -- a repeat of the October 9 meeting -- this Wednesday, November 14 from 5:30-7:30 pm at the Albany Housing Authority Atrium and Community Room (200 South Pearl Street).
Then on December 4 there's another planned public meeting to present a handful of proposals.