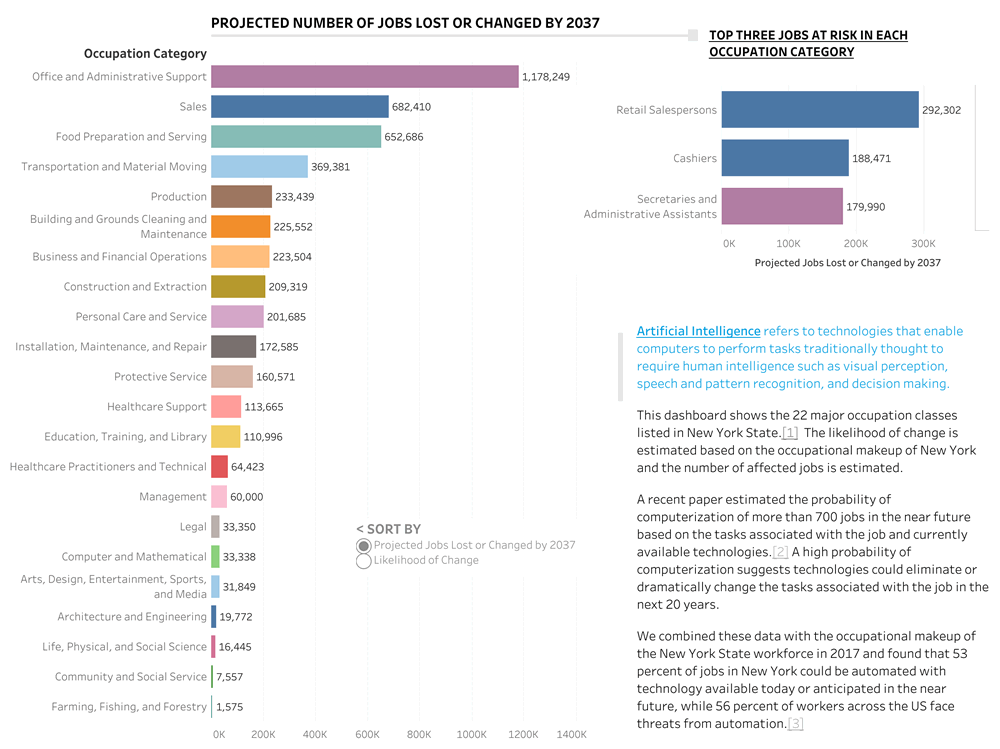 Roughly half of the jobs in New York State could be automated or otherwise significantly changed by artificial intelligence over the next 20 years. That's from an ongoing look at the issue by the Rockefeller Institute of Government here in Albany. From a post by Rockefeller's Laura Shultz:
The calculation is based on individual occupations. A recent paper by Frey and Osbourne estimated the probability of computerization of more than 700 jobs in the near future based on the tasks associated with the job and currently available technologies.[1] A high probability of computerization suggests technologies could eliminate or dramatically change the tasks associated with the job in the next twenty years. We combined these data with the occupational makeup of the New York State workforce in 2017 and found that 53 percent of jobs in New York could be automated with technology available today or anticipated in the near future, while 56 percent of workers across the US face threats from automation.[2]
Rockefeller has put together an interactive graphic that highlights the number of jobs -- by industry and type -- that could be affected around the state. (That image above is a static version of the graphic.) At the top of the list are office support, retail salespeople and cashiers, and food service -- potentially 2.5 million jobs lost or changed.
This struck us as a key clip from Shultz's post (emphasis added):
New York has a highly educated workforce with 5.8 million (43.4%) residents with a postsecondary degree. One-third of New York's workforce is employed in occupations with a low likelihood of automation (30% or below) compared with 29 percent of the US workforce. Because of the larger share of highly skilled labor, many New Yorkers will be insulated from the impacts of automation in the near future. As automation and AI are adopted in all industries, it is unlikely New York will see a net loss in jobs. New technologies generate new employment opportunities just as others disappear. The challenge is that those who lose their jobs to automation do not necessarily have the skill set and education required for the new opportunities. While New York has a high number of well-educated workers well positioned to take these new jobs, 14.1 percent of New York residents over the age of twenty-five do not have a high school degree and are likely working in occupations at high risk of displacement.
The post is quick read and includes some interesting bits about jobs generally in the state.
Forum about AI
The Rockefeller Institute has a forum about AI's "current and future effects on labor, the economy, ethics, and society" coming up November 28 at its headquarters on State Street (on Washington Park). It's free -- see that link for registration info.